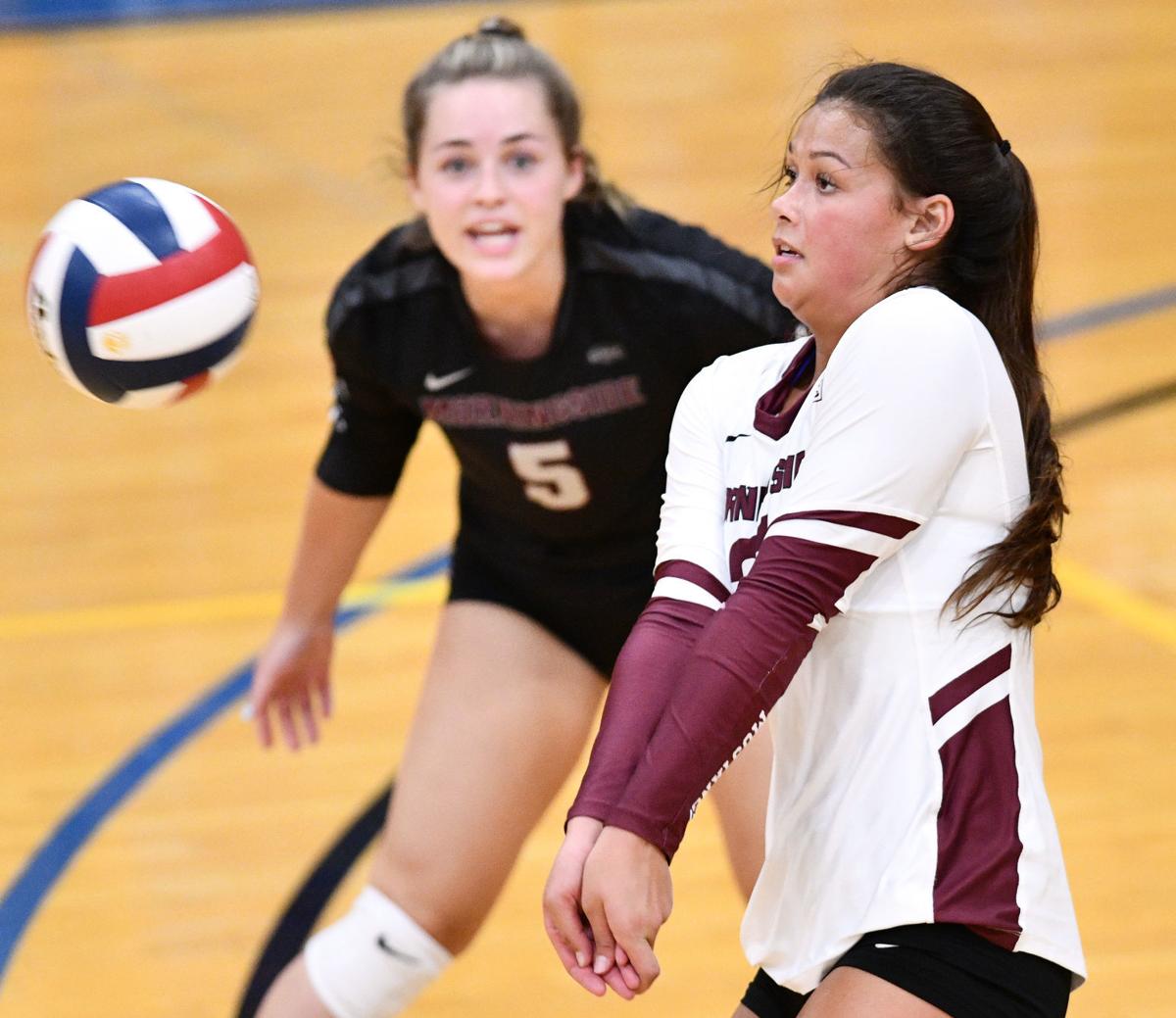 It's been almost a month since the Morningside volleyball team has stepped foot on the court for a match.
The Mustangs last match was on Nov. 9 in a first-round Great Plains Athletic Conference tournament contest against Jamestown, which is the No. 8 seed at the NAIA tournament. The Jimmies swept Morningside, which meant the Mustangs had about three weeks of practice before its match at the national tournament, which starts Tuesday at the Tyson Events Center.
But long layoffs have been a blessing more than anything this season for Morningside. After a long preseason camp, the Mustangs came out strong by winning their first six matches which included victories over two ranked teams and one that was receiving votes.
This is also the fourth straight trip to the NAIA tournament for Morningside and Mustangs coach Beth Donnelly knows how to prepare her team for these long stretches without matches.
"It's been a grind. Three weeks of practice without the competition being different on the other side of the net is a grind," Donnelly said. "We tend to do a little bit better off the long breaks. I think we get hungry in the gym. That's the way it has been at nationals as well. Hopefully we keep that tradition alive."
The Mustangs, who are 16-11 on the season, were put in the same pool as top-ranked Park and take on the Pirates at 3 p.m. on Tuesday.
Park comes in with a 28-3 record and is 18th in the nation in hitting percentage at .230. Plus the Pirates have Nada Meawad, who is sixth in the nation with 4.55 kills per set.
But Morningside has seen plenty of teams with a good amount of offensive power just in GPAC action this season, specifically Northwestern, which is the No. 2 seed in the tournament. 
"They have one really solid outside and she is legit," Donnelly said. "In my opinion (Northwestern's) Anna (Wedel) is the best. If I had to vote, she is probably the best all-around player in the country. We are lucky to see that kind of competition. The GPAC is as tough as it is. It's a grind but it prepares us for the postseason."
You have free articles remaining.
The tournament starts with pool play with eight pools of four teams each. The top two teams from each pool advance to bracket play on Friday. The semifinals and finals are on Saturday at the Tyson Events Center.
Since the six wins to start the season, it's been an up-and-down campaign since. Morningside has gone 10-11 since that six-match winning streak, including an 8-8 mark in the GPAC.
So Donnelly decided to switch things up a bit during the past three weeks of practice to try and get the team back on track.
"We mixed up rotations in terms of putting the girls with different people to give them the opportunity to be uncomfortable and playing with everyone around them," Donnelly said. "I think we get too complacent and we become better players if we can have them play with others."
Staying in system is always the key for Morningside or any volleyball team, especially at nationals.
Sophomore libero Kayla Harris will be key in keeping the Mustangs in system. She has 502 digs on the season and junior defensive specialist Ashley Boer has 245 digs.
"Serve and pass is obviously the big thing with volleyball at any stage," Donnelly said. "It allows us to run our tempo offense. If we can control our side of the net, it will give our middles one-on-one situations and kind of open up our offense a little bit. I think our defense has been the front-runner and has kept us in rallies and I see that continuing."
When the Mustangs are clicking, they have a dangerous offense with more than a few options. Morningside has a .217 hitting percentage on the season and averages 13.33 kills per set.
Senior middle hitter Emma Gerber leads the offense with 291 kills and is hitting .307 on the season. She also had 103 blocks. Junior outside hitter Krista Zenk follows with 289 kills and senior middle hitter Brittni Olson has 214 kills on .258 hitting. Junior outside hitting Caitlin Makovicka has 168 kills and sophomore outside hitter Kaelyn Giefer has 137 kills. Senior setter Callie Alberico has 700 assists.
"On paper, you look at us and Emma is only 5'10, 5'11 but she has tremendous athletism and tremendous from pin-to-pin," Donnelly said. "Caitlin is 5'8 but when she hits the slide, she has heat behind it. If we can get into system and can stay in system often, I think we can hang with anybody."