SIOUX CITY — It's been quite the successful week in the Austin Johnson/ Tyler Wingert household. 
On Monday morning, the Great Plains Athletic Conference (GPAC) announced that the Morningside football seniors had been honored as the conference's Offensive and Defensive Players of the Week.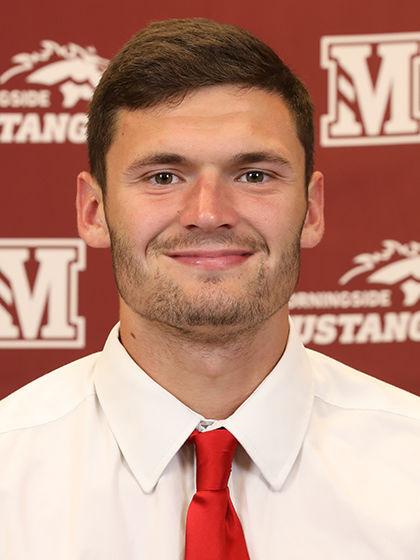 Johnson received the Offensive Player of the Week award after finishing with eight catches for 261 yards and two touchdowns in the Mustangs' 56-14 win over Doane on Saturday, while Wingert received the defensive honors after racking up 11 tackles, 1.5 sacks, and an interception against the Tigers. 
It was a historic day for Johnson, whose 261 yards was the ninth-highest single game yard total in program history. 
"It's a pretty cool accomplishment," Johnson said. "I think the crazy part is that I'm ninth with 26(1) yards, it just shows how many great receivers we've had here, and the ritual we have of having a good wide receiver group at this school. The tradition."
Johnson's award makes it the second consecutive week that a Morningside player took home the hardware, after Mustangs' quarterback Joe Dolincheck was named GPAC Player of the Week last Monday. 
On the other side of the field, Wngert, who is Johnson's roommate, earned his award after registering double-digit sacks for the third time in his career. 
"They're just all having great years," Morningside head coach Steve Ryan said. "Tyler has come out and had a great year so far, and usually you get player of the week, because you made PLAYS during the game. Both of those guys made plays this past week."
Wingert is currently tied for the team lead with 16 tackles and three sacks through two games, with three tackles for loss and one interception.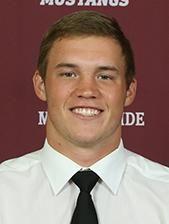 He said that he doesn't know if he can best his 11 tackles from last week, but he has higher goals than just padding his own stats. 
"Stats-wise, I don't know if I can do that, but I always want to get better," Wingert said. "Just because I won an award doesn't mean that it where the top is. I want to be better and get better every week. And our goal is not here, our goal is to make it to the national championship."
Morningside (2-0) will host Mount Marty University on Saturday at Elwood Olsen Stadium.