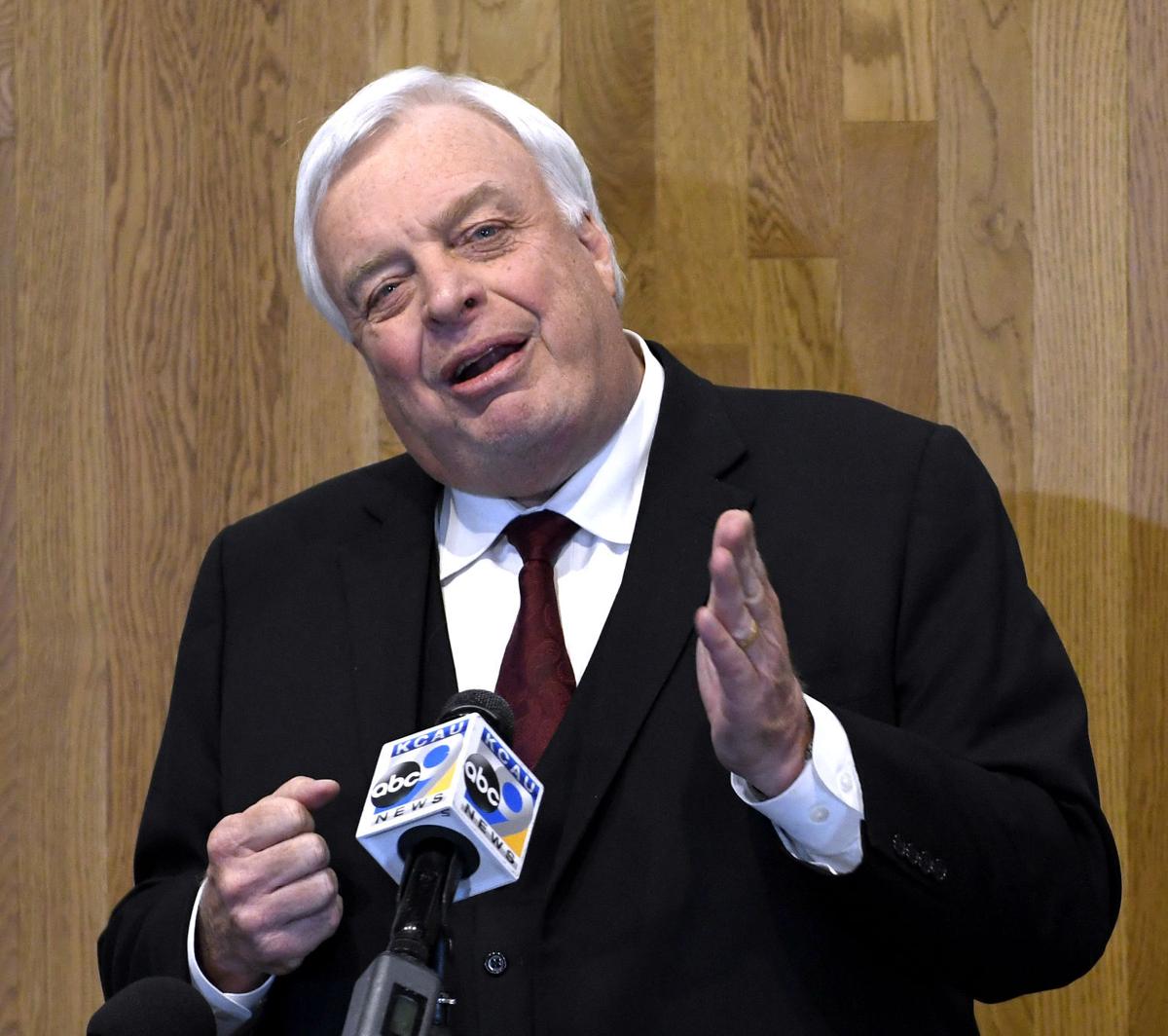 SIOUX CITY – It's time to tip the mortar board to John Reynders, who will retire June 30, 2022, as president at Morningside College, which officially became Morningside University on June 1.
After serving 21 years in this capacity, Reynders has surpassed the tenure for any of 11 previous presidents to serve the 126-year-old school, founded Dec. 5, 1894.
Earlier this month, the veteran administrator was honored for meritorious service with his induction into the NAIA Hall of Fame.
What a fitting tribute, indeed, for a wise and personable captain who has steered the Sioux City institution through an ambitious and impressive transformation ever since Jerry Israel, his predecessor, stepped down to become the president at Indianapolis University.
This actually makes Reynders the fourth individual to represent Morningside in the NAIA Hall, joining Paul Splittorff, Don Protextor and A.W. Buckingham, all of whom are no longer with us.
Protextor served 27 seasons as the Morningside head baseball coach before his untimely death in 1983.
Splittorff, a pitcher, became his most accomplishment player, logging 15 seasons with the Kansas City Royals from 1970 to 1984. He is still the Royals' all-time win leader at 166-143.
I'm still saddened to recall "Split's" passing in May of 2011 at the age of 64. It happened to hit home a little more clearly when my older brother, Bob, also just 64, died the following month after an award-winning sports writing career in Oklahoma City.
Buckingham, Morningside's athletic director for 24 years, was 94 when a remarkable life came to an end in 1984. A former head men's basketball coach, he served the school in a number of different capacities. He also spent many years on the U.S. Olympic Committee's board of directors.
Reynders' legacy will reflect an impact on all aspects of the college's growth, but my direct knowledge pertains to his choices when it came to athletics.
Overmatched on the football field in the old North Central Conference, he made a very prudent decision to pull the college out of a very strong NCAA Division II league and find them a more suitable level of competition.
As a former vice president of finance at Allegheny College, a Division III school in Meadville, Pa., many believed he would lobby for a move to Division III, the NCAA's non-scholarship tier. The perils of that option were the necessity for Morningside to add several more sports.
It has become rather ironic, I believe, that taking the NAIA alternative hasn't stopped a significant expansion in the athletic department, anyway. From 12 sports on the menu in 2000, Morningside now offers 28, nearly all of which have been quite successful.
Case in point: Since the 2006-07 school year, the Mustangs have won the Great Plains Athletic Conference all-sports trophy eight times in a 13-year span, which includes three of the last four.
Reynders has reveled in seeing his school capture four national championships in women's basketball and two in football. This doesn't count numerous individual NAIA titles in several sports.
The football champions were back-to-back winners and Coach Steve Ryan's gridders were favored to make that three in a row before arch-rival Northwestern, avenging a 35-21 setback in a season opener last Sept. 12, pulled off a 44-41 triumph in a semifinal playoff showdown.
Reynders' tenure has seen undergraduate enrollment grow from a low of 744 in 2001 to 1,329 in 2016. With an ever-expanding graduate program included in the total, Morningside now boasts more than 2,400 students.
That's certainly a job well done.
X's UPDATE
At the "quarter pole,'' 25 games into a 100-game schedule, the Sioux City Explorers remain on top in the American Association's six-team South Division.
The X's are 15-10 in spite of several injuries and Manager Steve Montgomery's patient search for replacements to patch up a few holes in his roster. A solution has yet to be found for the hole in the starting rotation when pitcher Nick Belzer was picked up by the Milwaukee Brewers. Meanwhile, veteran outfielder Michael Lang has struggled mightily at the plate, batting .125 after collecting just one hit in his last 33 at-bats.
Shortstop Nate Samson, a former league MVP, left last Saturday's game after one plate appearance, receiving word that his wife had gone into labor. He flew home to Florida to celebrate the couple's second child and is not expected back before Friday, when the team returns home for a three-game series with Lincoln.
After a day off next Monday, the Explorers visit Lincoln for another three games before returning to Lewis and Clark Park for a nine-game homestand.
BACKING SHELBY
Having covered Shelby Houlihan since her freshman year at East High, I'm quite disturbed by what seems to be a gross injustice that will keep her from competing in this summer's Tokyo Olympics and also possibly the 2024 Paris Games.
At age 28, this is a devastating blow to a world-class athlete who was favored to win the 1,500-meter run at the U.S. Olympic Trials, which get under way on Friday.
Shelby's Instagram page provides a detailed denial and an impassioned appeal on a World Anti-Doping Agency test that detected the anabolic steroid known as nandroline. She believes it was a false positive finding which she traces to a burrito she purchased from a food truck near her home in Beaverton, Ore.
The test took place in December, soon after she consumed the burrito, but she wasn't notified of a four-year ban until last Friday, a week before the Trials. I have no doubt she will be vindicated – only too late to make a difference.