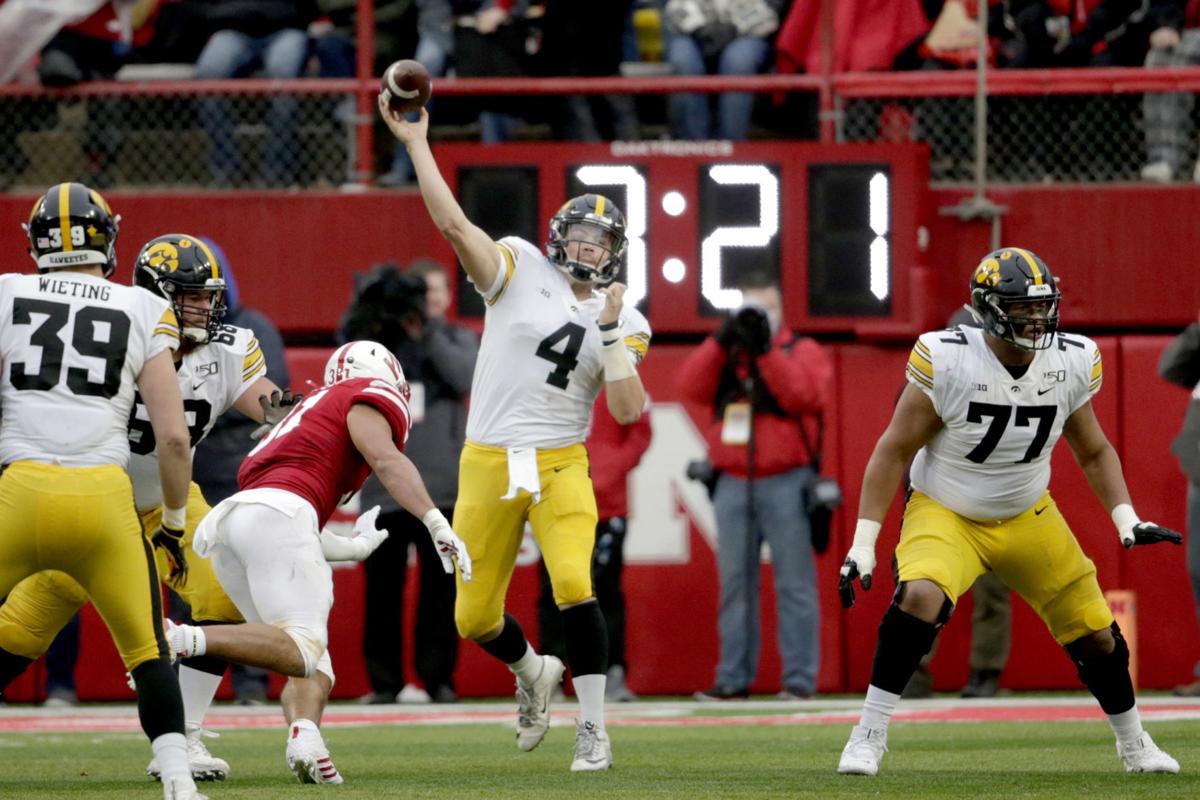 Preparing for his final start as Iowa's quarterback, Nate Stanley wants tonight's Holiday Bowl to be the culmination of what he has learned throughout his three seasons under center for the Hawkeyes.
"Every game has been a learning experience, some good, some bad, but always about learning from whatever transpires to become a more effective quarterback from one game to the next,'' Stanley said.
Stanley's objective, since the day he first stepped on campus from Menomonie, Wisconsin, has been to do whatever he could to put the Hawkeyes in a position for success.
"That's where the pride comes from, it's about doing things as part of a team,'' Stanley said. "That's always been the way I have approached the position.''
Working toward his 39th consecutive start for 19th-ranked Iowa in the 7 p.m. match-up against 22nd-ranked USC at SDCCU Stadium, that mindset has positioned Stanley among the elite quarterbacks to ever play for the Hawkeyes.
The 66 touchdown passes he has thrown rank second in school history to Chuck Long, who collected his 74 over four seasons as a starter beginning in 1982.
Stanley takes the field against the Trojans needing 204 yards to pass Drew Tate for second on Iowa's career passing yardage list.
The 6-foot-4, 242-pound Stanley has thrown for 8,089 yards during a starting career that began with a modest 8-of-15 passing effort against Wyoming in the Hawkeyes' 2017 season opener.
His effort that day was a winning one, the first of the 26 victories Iowa has celebrated with Stanley as its starting quarterback.
Only Long won more games for Iowa, and if the Hawkeyes are able to win a bowl game for a third straight year in its match-up with USC, Stanley would join Ricky Stanzi as the only Iowa quarterback to be perfect in three bowl games.
To Stanley, that would all mean one thing.
"That the team played well, that's what every win has been about to me,'' he said. "It's never been about me. Any success we've had is a result of the work that everybody on the field puts into it.''
While he has helped lead the Hawkeyes to top-10 victories over Ohio State in 2017 and Minnesota during the ongoing 9-3 season, there have been disappointments.
Iowa was unable to reach the Big Ten Championship Game by winning the West Division during his three seasons as a starter.
The inability to get past Wisconsin, the only division team Iowa did not defeat during Stanley's tenure as a starter, hasn't been easy for the Wisconsin native.
Stanley enters the Holiday Bowl with a career passing completion rate of 58.1 percent.
His percentage this season has been 59.3 percent, the highest completion rate of his career and a number that has grown with each season, but also a source of frustration at times.
"That's the one thing I would have liked to have been better at,'' Stanley said following a practice Tuesday.
"There are times when we don't throw the ball a lot and we do throw the ball down the field a lot, so you can take it with a grain of salt, however you want to look at it.''
Iowa coach Kirk Ferentz used two words Thursday to describe what Stanley has meant to the Iowa program during his three seasons as a starter.
He chose those words carefully, but settled on "steadiness and dependability'' to describe how the Hawkeyes have benefited from Stanley's presence.
"He's been so steady and dependable. They go hand in hand. He's been extremely steady and he is so dependable. He's not unlike the quarterback USC has running their system,'' Ferentz said, referencing the work of Trojans true freshman Kedon Slovis.
"Both of them are very poised and their quarterback has shown that at a very early age. Nate has been that guy for us throughout his time here.''
Stanley has worked to improve his consistency this season and has been successful in reducing his number of interceptions, cutting them from 10 to 7 this season while his completion percentage has remained essentially flat from a year ago.
"The coaches put a lot on our quarterbacks on the field to make good decisions,'' Stanley said. "We have the ability to check down on every play. I feel like that through preparation, studying the playbook and meeting with coaches, I have a good handle on that.''
Iowa offensive coordinator Brian Ferentz agrees.
He first looks at the bottom line – the win total – and Stanley heads into his finale with a 26-12 record.
He has also orchestrated an offense which has averaged 27.8 points per game during his tenure as a starter.
Only six quarterbacks in Hawkeye history have led offenses which averaged more points during their career, an effort led by the 37.3 points Iowa averaged during Mark Vlasic's eight starts in 1986.
No Iowa quarterback since Nathan Chandler led an offense that averaged 28.7 points in 2003 has directed a higher-scoring Hawkeye offense.
"Nate's come a long way,'' Brian Ferentz said. "When I think of Nate, I look at a guy who has won a boatload of games as a starter and he has done it with grace and dignity. And, he has overcome some rough challenges. That's probably his best attribute.''
Those games when things weren't going as expected and the way Stanley dealt with those situations that Brian Ferentz appreciates the most.
"If you're going to be a competitor, things aren't going to go your way all of the time. Nate has handled it all with class and grace, probably more so than other people along the way. I have a ton of respect for that.''
To Stanley, that is simply part of the job description.
It also tells Stanley that there is still work to be done.
"I don't think we've played a full 60 minutes yet and that's probably what this game is going to take,'' Stanley said. "We've played good competition, top-25 competition, and USC is up there with the teams we've seen. We have one more chance to put it all together, a full 60, and we need to get that done.''