VERMILLION, S.D. — Darin Greenfield has had plenty of sacks in a star-studded collegiate football career, but the Sheldon, Iowa, product will fondly recall the 20th on that list.
Greenfield brought University of Oklahoma quarterback Jalen Hurts to the ground in the first half of an otherwise forgettable Saturday afternoon in Norman, Oklahoma.
Hurts, of course, transferred to Oklahoma from Alabama, where he helped the Crimson Tide win a national championship a couple of seasons ago. Hurts left after losing his job to Tua Tagovailoa, who many project as the No. 1 pick in next year's NFL draft.
The Sooners rolled to a 70-14 win over South Dakota, but for one play, USD's Greenfield got his moment in the sun.
"I didn't even know it was third down, because I was just trying to catch my breath, "Greenfield said. "I pretty much came free, and Jack (Cochrane) looped underneath, which if you watch it, he (Jalen) definitely juked me. But Jack pushed him back my way and I was able to regain my balance and get him on the ground."
Hurts more than made up for the sack, passing for 259 yards and three touchdowns in just over one half. As expected, the fourth-ranked team in FBS easily pushed aside its FCS foe, but nonetheless there were lessons to be learned for the Coyotes.
And, this particular group of players got to experience something that many don't. Playing one of the most storied football programs in the history of college football at an iconic venue – Memorial Stadium in Norman.
"There were a lot more people there than I've ever played in front of," Greenfield said. "My high school coach texted me and said it's a little different than Orab Field. But, as soon as you get into the game, at least for me, I don't really ever realize the crowd."
You have free articles remaining.
Junior linebacker Jake Matthew, who established a career high with nine tackles, offered his own perspective on the once-in-a-lifetime experience.
"It was interesting," Matthew said. "The score tells the story, but to have an opportunity to play at that level, and it wasn't as different as I thought it would be. The scoreboard doesn't show that, but it was fun because for certain plays, we could stymie them.
"These first two games told us a lot about what we can do and also what we need to work on. I think moving forward, if we can continue to be a team that improves, come conference time we can be dangerous."
Matthew's comments reflect the attitude that the Coyotes must take moving forward. Sure, they weren't pleased about Oklahoma dropping 70 points on them, but it's not something worth dwelling on.
"As we move ahead and into our schedule, I told the guys after the game, it's one of the things when you get a chance to play the best, you get to gauge yourself in terms of where you're at," USD Coach Bob Nielson said. "Now, as we look at the rest of our schedule, there's no reason why after you play the best and get a feel for where you're at, you got to focus on trying to beat the rest."
There were other bright spots besides Greenfield's sack and Matthew's nine tackles.
Austin Simmons threw two touchdown passes for the second game this season and now has 29 for his career, eighth-best in program history. Simmons connected with Kody Case and Caleb Vander Esch for scoring passes.
Case had his second strong outing in as many games, finishing with six catches for 68 yards. Through two weeks, the sophomore from Southern Calhoun High School ranks fifth nationally in receptions (17), 16th in total yards (212) and third in touchdowns (3).
Vander Esch's 27-yard TD catch had to be reviewed by replay officials. He wasn't sure at first if the play would stand.
"No. Initially, I thought it was out based on everyone's reaction and what I was able to see going on, I thought it was out and the ref initially called it out," Vander Esch said. "And then they announced it was going to be reviewed and got to see it on replay. And once I saw it, I was like 'oh man, this might actually be a touchdown'."
Elijah Reed registered a career-high 12 tackles and has led the team in stops two times in the last three games dating back to last season.
Football Northern Iowa at South Dakota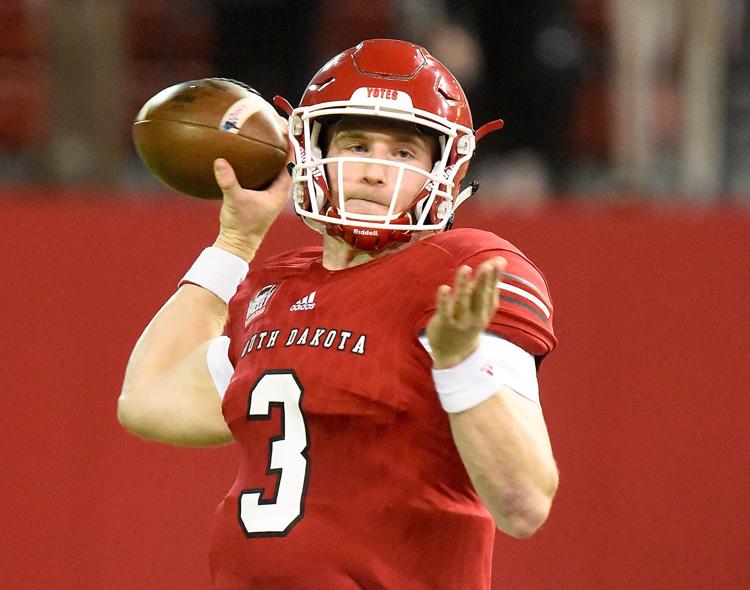 Football Northern Iowa at South Dakota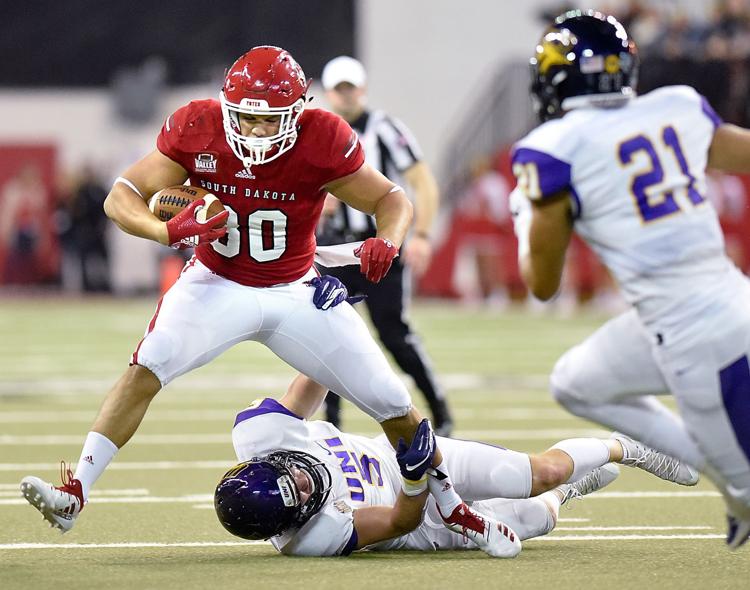 Football Northern Iowa at South Dakota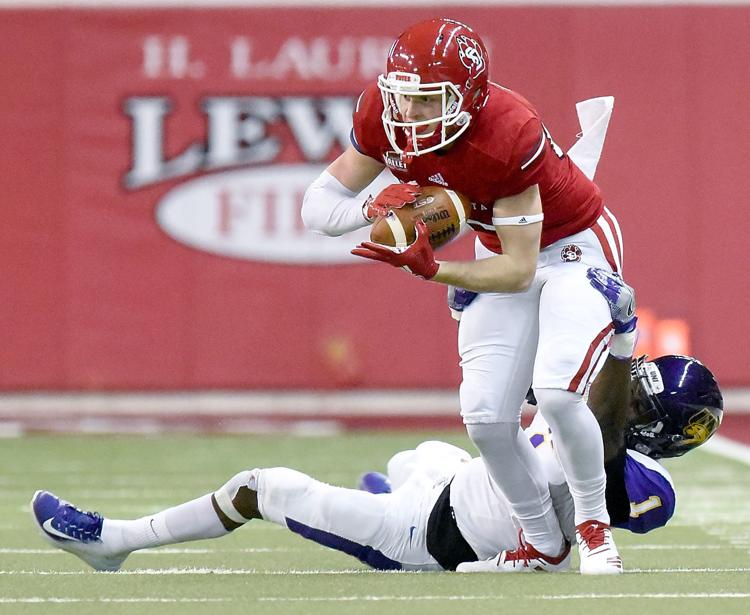 Football Northern Iowa at South Dakota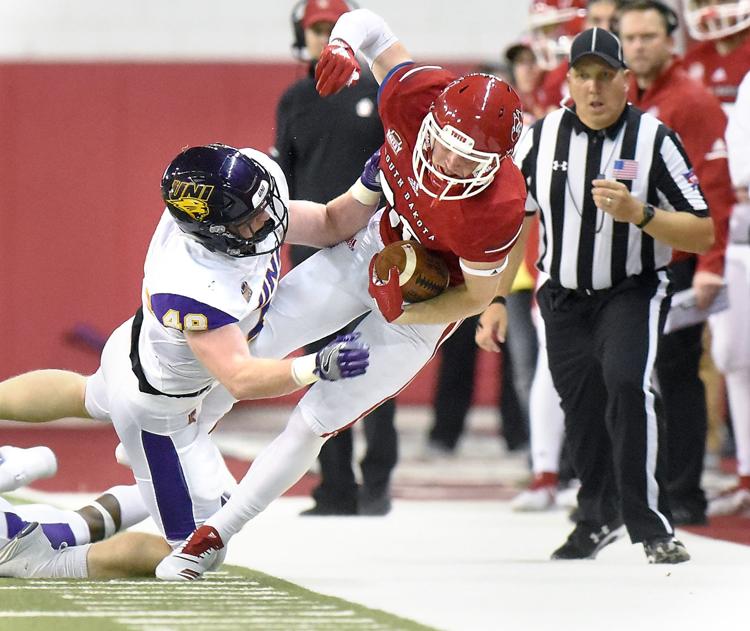 Football Northern Iowa at South Dakota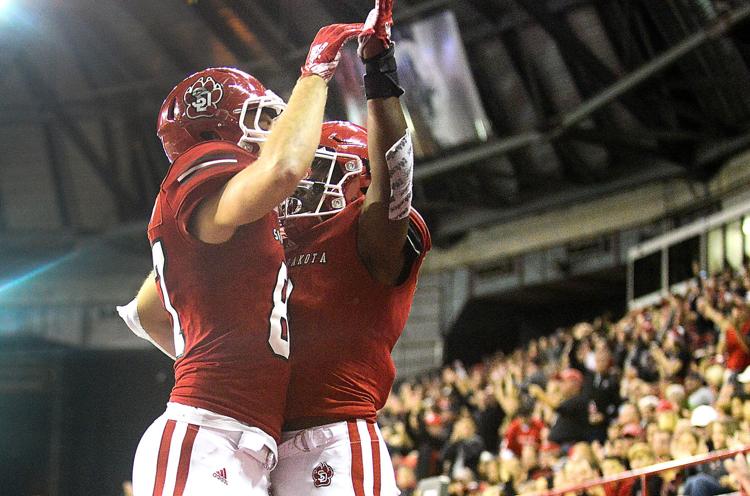 Football Northern Iowa at South Dakota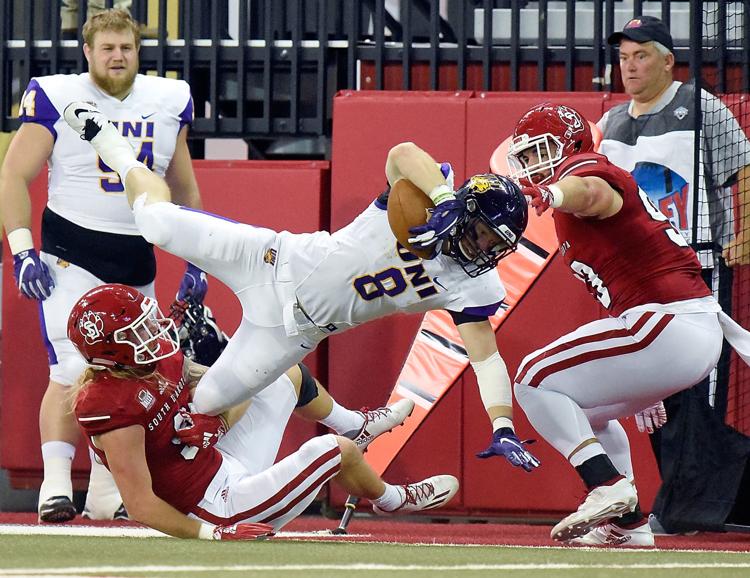 Football Northern Iowa at South Dakota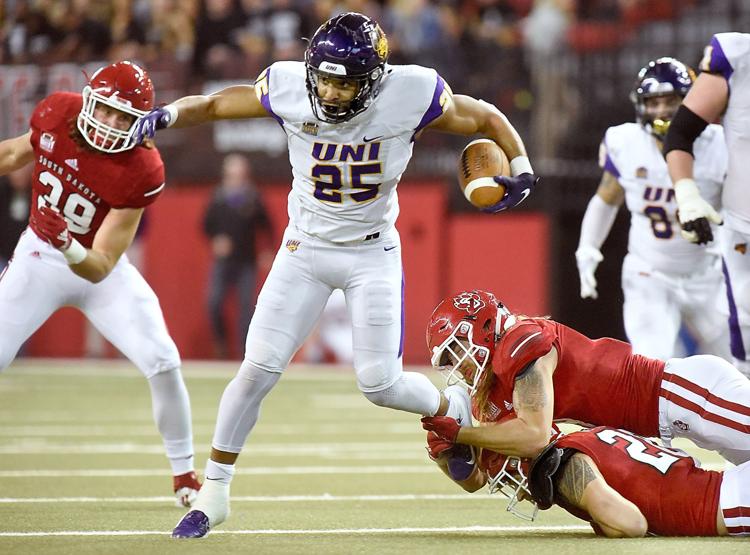 Football Northern Iowa at South Dakota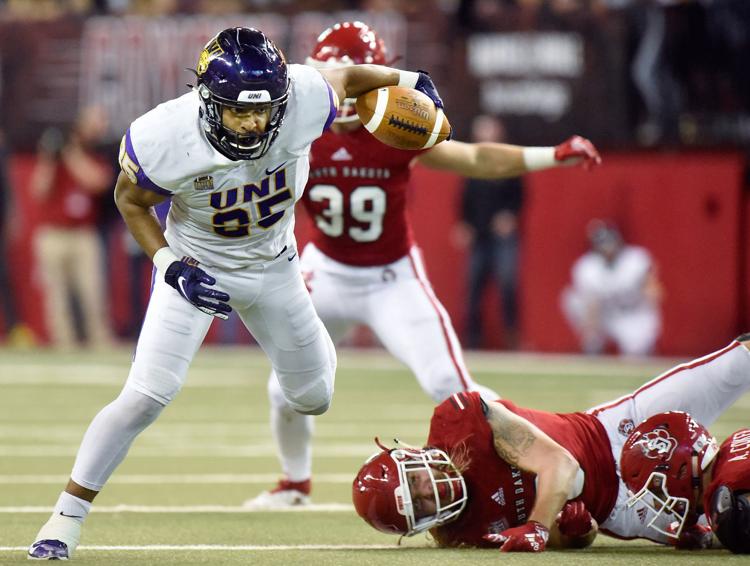 Football Northern Iowa at South Dakota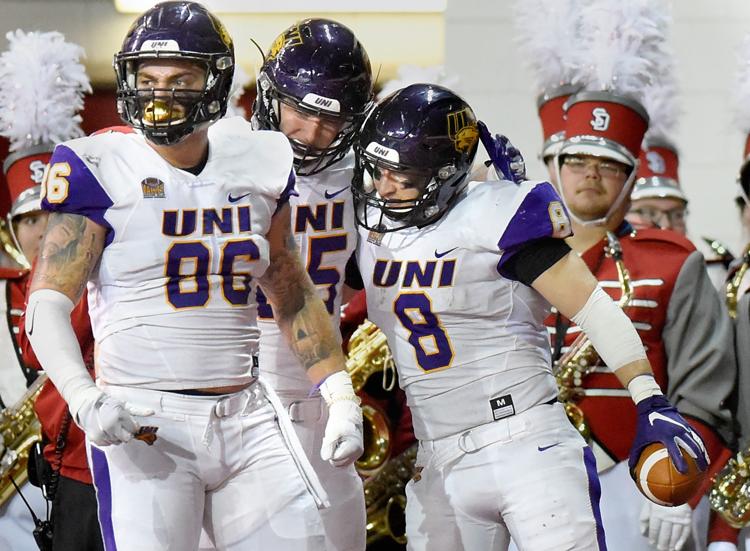 Football Northern Iowa at South Dakota