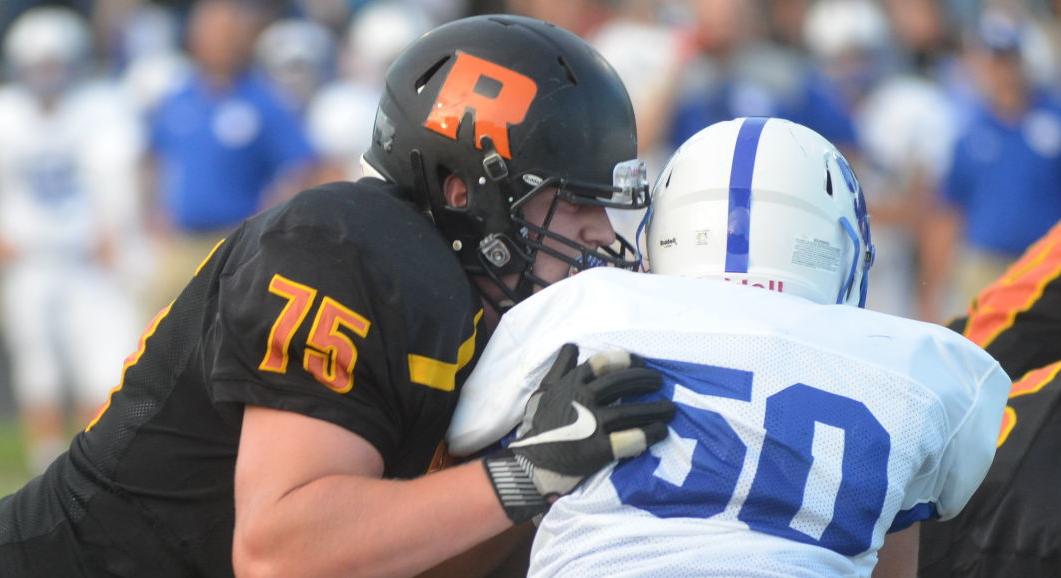 Offensive lineman Ezra Miller, a former four-star recruit who ended his University of Iowa football career in January for medical reasons, has opted to resume his career but he will do it at some other school.
Miller, a Ridge View High School graduate, announced on social media Thursday that he has entered the NCAA's transfer portal.
He also revealed that he did not leave the Hawkeyes program because of back issues, as he said back in January. Miller stated he made his decision based on his mental health condition.
"I wanted to rectify one thing. I misspoke when I said Iowa worked with me regarding the back injury," Miller said in a statement on Twitter. "That is what I told people personally. They had no part of that, it was all me. I apologize to them for that. My decision was based on my mental health condition at the time.
"In working with Iowa they allowed me to keep my scholarship, but change it to a medical waiver scholarship. The one downfall to that was that I would never be allowed to play at Iowa again due to NCAA regulations pertaining to that type of scholarship."
It has been a tough year for Miller off the field. In his Twitter statement, he said a close friend and mentor (David Kwikkel) passes away from cancer. Then his father was diagnosed with cancer but is recovering now. Miller's brother was also in a "nasty" car accident.
"These events combined with the stress provided by school and football led to some very poor self treatment and mental health struggles," Miller added in his statement Thursday. 
"After two long hiatuses and intense therapy, I believed the best solution was to leave football, as I did not think I could be a good teammate with all this going on. Now I believe, along with my support system, that I am in a state where I can play ball again. And with saying that, I am entering the transfer portal."
The 6-foot-6, 310-pound offensive lineman from Holstein, Iowa, was the first player to commit to the Hawkeyes in the 2019 recruiting class, announcing his plans to play for the Hawkeyes as a high school sophomore in April 2017.
He enrolled early in January 2019, but did not see any action as a freshman last fall and remained enrolled in classes even after leaving the football program in January 2020.
In his statement, Miller praised the coaches, players and medical staff at Iowa as "amazing mentors and caring people."
"I must commend Iowa, the coaching/medical staff, and my teammates as being amazing mentors and caring people," Miller said. "I have nothing but the utmost praise for every single one of them," he said.
Be the first to know
Get local news delivered to your inbox!