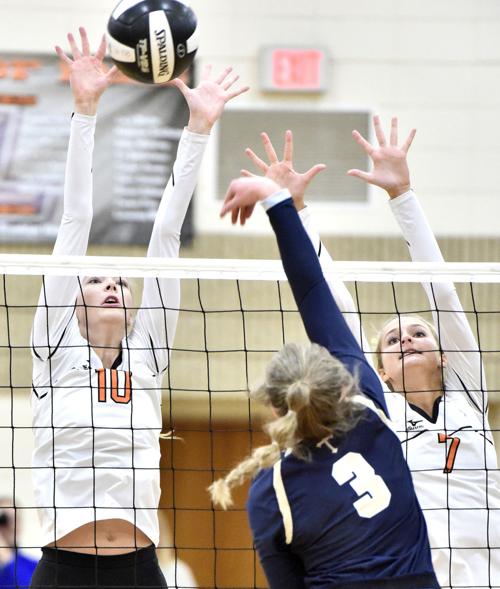 VERMILLION, S.D. -- Madison Harms didn't have much trouble with high school volleyball during her four seasons playing for Sergeant Bluff-Luton.
In those four seasons, Harms, a middle blocker, finished with 1,069 kills and 481 total blocks. The Warriors made it to the state tournament in three of her four seasons on the team and she was a first-team Iowa Coaches Association pick as a senior. SB-L went 141-38 during those four seasons.
Harms was around a successful program for four seasons and that doesn't change as she joins the University of South Dakota volleyball team as a freshman. The Coyotes are coming off their first-ever appearance in the NCAA tournament.
Now Harms has to make the adjustment of playing NCAA Division I volleyball and she's ready for the challenge that playing NCAA Division I college volleyball presents.
"It's definitely different. There's so many little things that I know I need to change or make better to be able to play at a higher level," Harms said. "I think it will just come together the more I work on it."
Harms admits she was nervous when she first came to campus since she really didn't know the other players too well but she has fit in nicely with the team. Getting to know her teammates may be the easiest part of the transition so far.
"I really love it here. I love the atmosphere and it's easy to fall into a routine with two-a-days and everything," Harms said. "I think the whole team works well together and we are all good friends on and off the court. It's just great to be able to connect with people who are just like you and the priority is volleyball until school starts. It's great to meet new people."
Harms joins a middle blocking unit at USD that is competing for playing time.
Last year's top middle blocker, Taylor Wilson, graduated and the Summit League Tournament MVP finished last season with 362 kills and 88 blocks.
Sophomores Claire Gerdes and Emily Grathoff both saw time last season at middle blocker. Gerdes finished with 77 kills and 40 blocks and Grathoff had 48 kills and 48 blocks.
You have free articles remaining.
Rounding out the group is sophomore Maddie Wiedenfeld and freshman Ally Grothusen.
Harms said it has been a fun competition so far.
"There's a lot of middles on the team and we are all really good, so anyone could play at this point," Harms said. "I have to do well at practice if I want to play and that's what it comes down to. Everyone on the team has amazing potential, so it comes down to who is having a good day."
USD coach Leanne Williamson said middle blocker is the team's deepest position currently and thinks Harms has done a good job making the transition to D-I volleyball.
"She's been doing a really good job. She's very, very athletic. I think with her, she's getting such detailed training and she is just thriving off that," Williamson. "She's got a little bit of a funky arm but because of that, she's hard to defend. She's been a pleasant surprise for us. We knew that she could do some good things, we just didn't know how early on we would see that level.
"I think she's proven that she's here to work hard. She wants to find ways to contribute and it's been a joy to coach her so far."
Whether she plays or not, Harms wants to find a way to be a contributor to a team that has high expectations this season.
The first trip to the NCAA tournament isn't something the team wants to make a one-off thing. The Coyotes were picked to finish second in the Summit League preseason poll, just behind Denver. So the Coyotes are considered to be in the mix again for another trip to the national tournament.
"I think this team has so much potential," Harms said. "It could be a really special season if we just all work the way we can together. I think we can work hard enough to end up on top."