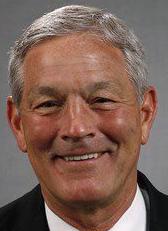 IOWA CITY, Iowa – It's April, not August, and the performance of the Iowa football team in the last of its 15 spring practices illustrated that Friday.
That has not been uncommon in the 21 years coach Kirk Ferentz has been led the Hawkeyes spring drills and at this point, Iowa's 2019 football team remains a work in progress.
It has some known components – a third-year starting quarterback in Nate Stanley, returning running backs and a decent amount of experience on defense – but there remain some unknowns.
Who beyond ends A.J. Epenesa and Chauncey Golston will solidify a defensive front which is replacing all four starters?
How will things shake out at middle linebacker and safety, where new starters are being counted on to emerge?
What receivers and tight ends will be ready to lead and who will solidify the interior of an offensive line anchored by third-year starting tackles Alaric Jackson and Tristan Wirfs?
And what about the specialists, where competition continues at kicker and Iowa is working to solidify an inconsistent punting game?
"We've lost a lot of really good players from last year's team, a really good senior class that was totally invested, then you lose four more (to early NFL draft exits) on top of it.'' Ferentz said Friday after watching his team go through a 90-minute session on the outdoor turf at the Hawkeyes' practice facility.
"Our seniors, that leadership group, they're visibly working on things trying to move the team forward. That's a good indicator. It doesn't mean we're going to win eight games, but at least we're thinking right.''
There have been bright spots this spring.
Redshirt freshmen receivers Nico Ragaini and Tyrone Tracy Jr. continued to perform well in Friday's finale, defensive backs D.J. Johnson, Riley Moss and Daraun McKinney picked off passes, linebackers Jayden McDonald and Joe Evans continued solid play and redshirt freshman Tyler Linderbaum has positioned himself to start at center.
The work of Linderbaum, a defensive linemen until Iowa began bowl practices last fall, drew praise from teammates.
"That's not an easy move, but he's making it look that way,'' Jackson said. "He's fast and strong and he's a smart kid. He's got it what it takes to take us to the next level.''
You have free articles remaining.
Time remains on the Hawkeyes' side and what develops between now and Aug. 31 when Miami (Ohio) shows up for the season opener at Kinnick Stadium is, as usual, a critical time for the development of this Iowa team.
Ferentz said this year' group must be driven by an objective to make the most of its time before kicking off a 12-game schedule that includes a Big Ten opener in the second game of the season.
The selection of tight end T.J. Hockenson with the eighth pick in the NFL draft on Thursday provided Ferentz with a fresh-in-the-mind illustration of what he was talking about.
"A couple of years ago, T.J. was a redshirt scout-team player. It wasn't that long ago. Now, he's the eighth game taken in the draft,'' Ferentz said, pointing out that Hockenson left Iowa with two years of eligibility remaining.
"When I think about him, I think about improvement. He's always been improvement driven and that's what our football team has to be right now.''
Iowa's performance during its 11-on-11 drills Friday was April-like in many ways, far from polished.
Stanley worked just one series under center Friday, allowing veteran reserves Peyton Mansell and Spencer Petras to take the field for a pair of drives apiece and giving reps to true freshman Alex Padilla and walk-ons Connor Kapisak and Ryan Schmidt.
Receivers Brandon Smith and Ragaini, a redshirt freshman, thrived while Ihmir Smith-Marsette, like Smith a junior, didn't record a reception.
Named the Big Ten return specialist of the year last season, Smith-Marsette Is still searching for the consistency coaches are looking for throughout the lineup.
"He's an explosive player and he's demonstrated that. Statistically, it's shown up on kick returns. Now, how can you translate that to the receiver position? To me, it really gets down to consistency,'' Ferentz said.
"He's got an ability to take it all the way. He's also got the ability to have the ball out there and have it come flopping out like it did in the bowl game. As you get into your third year, you have to demonstrate consistency and perform. That's a big part of becoming a better football player.''
Ferentz has often said for Iowa to be at its best, it needs it most veteran players to be at their best.
"If the older guys aren't doing that, then we're not going to have a good football team,'' he said, adding that while there were some good individual efforts on display Friday there was also plenty of room to grow.
"To think that we'll win any of our 12 games next year with that energy level is probably not going to be cutting the mustard.''