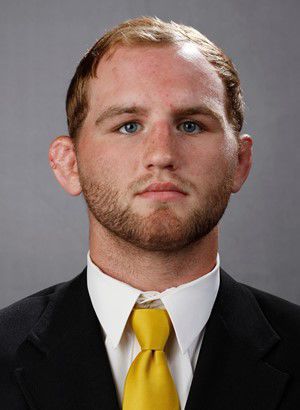 IOWA CITY – Tom Brands expects "the real'' Alex Marinelli to surface Sunday when the Iowa wrestling team is tested for the first time as the nation's top-ranked team.
"We haven't seen that guy yet, but I have a feeling we will. He'll be ready to go,'' the Hawkeye coach said.
Iowa's second-ranked 165-pouhd junior will be featured during the Hawkeyes' 7 p.m. Big Ten opener against sixth-ranked Wisconsin, facing the Badgers' third-ranked Evan Wick.
Marinelli will also be featured following tonight's televised meet at Carver-Hawkeye Arena, the subject of a BTN documentary that will debut at 9 p.m.
In an episode of The B1G Story, Marinelli's friendship and bond with former Wisconsin wrestler Eli Stickley is at core of the documentary.
It reflects on the friendship the pair had and how following Stickley's death in a July, 2018 auto accident the Iowa wrestler works to honor and the keep alive the memory of his friend.
Brands said the Hawkeyes' dual with the Badgers was moved to the unique Sunday evening time slot so it could be paired up with the BTN feature.
"He has a good story to share,'' Brands said. "We're fine with wrestling them now, that's fine.''
Iowa moved into the top spot in the national polls last week after Arizona State ended Penn State's 60-dual win streak.
Brands expects that to only add to the match-up between the Hawkeyes (2-0) and Badgers (6-0).
You have free articles remaining.
"They're saying they are coming to Iowa City loaded for bear and they're excited,'' Brands said. "We've got to get ready to go.''
That includes Marinelli, who Brands believes has wrestled to the level of his competition in winning his first two matches of the season.
"When Alex Marinelli is at his best, he's moving his feet, moving his hands and has the ability to score a lot of points,'' Brands said. "We haven't seen that guy yet, but I think we'll see him gear up for a big match. I think he'll be ready.''
Marinelli has won his last three matches against Wick, most recently taking a 2-1 decision in the semifinals of last season's Big Ten Championships.
He understands that he will need to take his work to a higher level than he has in his two season-opening wins.
"I think I can do better,'' said Marinelli, who has a 17-0 career record in Big Ten duals. "I need to come out and really be ready to go, dominate. I think I can score a lot more points than I have.''
Marinelli won't be the only Hawkeye facing an early-season challenge.
Iowa's second-ranked Austin DeSanto is expected to face top-ranked Seth Gross at 133 and Hawkeye freshman Tony Cassioppi faces second-ranked Wisconsin sophomore Trent Hilger at 285. Both Badgers bring 6-0 records into the dual.
"I'm not going to approach it any differently than I would any other match,'' Cassioppi said. "I always focus on myself, make sure that my feet and hands are where they need to be and make sure that I'm ready to go.''
DeSanto finished 6-5 a year ago in matches against top-10 opponents, his highest-ranked win coming against third-ranked Nick Suriano of Rutgers in a January dual.
Cassioppi, ranked 12th, will be facing a top-five opponent for the first time in his career and Brands sees his approach focused on wrestling his match as a prudent one.
"Every time out is big for our guys,'' he said. "Rankings, seedings, all those things that are important in March, these matches matter. More than ever before, the committee is not inserting itself into things as much. It's based more and more on a formula and results. We've got to be up to the challenge.''