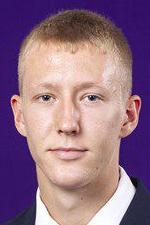 SPRINGFIELD, Mo. – Northern Iowa's basketball team flew into Springfield, Missouri, Friday night ahead of tornado sirens. The Panthers became a destructive force of nature in their own right Saturday afternoon against Missouri State.
AJ Green and Isaiah Brown combined to hit 11 3-pointers as UNI cruised to an 80-57 blowout victory in front a sparse winter storm crowd of 3,520 that gravitated towards the exits with 8-minutes remaining. This 23-point thrashing matched the largest win by an opponent in JQH Arena history, and surpassed last year's 20-point game in Springfield for the Panthers' largest margin of victory in the 79-game history of this series.
"First half, that's got to be the best 20 minutes we've played this year," UNI coach Ben Jacobson said. "Then being able to stick with it and push it eventually to 30, it's the best we've played this year."
Green finished with 28 points on 9 of 15 shooting with six 3-poinetrs. He made his first five shots – including three 3-pointers – and also broke down Bears' defenders with impressive moves off the dribble. Brown matched his career high with five 3-pointers as he exploited a Missouri State defense that sagged off him early before displaying confidence by shooting in rhythm during the second half of his 19-point game.
"Coach always preaches to us at the start of the game throwing the punch first," Green said. "Zay hit a few. I was able to knock a few down. We just did a great job overall of getting downhill off our flow and attacking that 5 and going in transition, as well. We were clicking."
UNI (14-2, 3-1 Missouri Valley Conference) shot 53.6% from the field with 13 of 22 3-pointers falling days removed from a win over Indiana State in which the Panthers hit a season-low three 3-pointers.
Missouri State (8-9, 2-2) was selected as the favorite in the MVC preseason poll, but a revamped roster with multiple transfers anticipated to make an impact has yet to become a cohesive group.
"They definitely had some great individuals coming into their program, but we've been together for a couple years," Brown said. "We have experience coming back and we have more chemistry than them. I feel like if we just play together it will hard to beat us.
You have free articles remaining.
"Valley play is always hard. I just like how we came in on the road and got a good win against good team. They were picked to finish top in the Valley and we just came in here and made a statement, I think."
UNI took instant control as its first six shots splashed the net.
"The key was how aggressive we were early," Jacobson said. "We ran the first action to get AJ a shot and the ball barely touched the net on the way through. That sends a little bit of a message to his teammates.
"Then we were aggressive in transition. We were bringing it with the dribble and guys had their foot down, hands ready. We were shooting the ball as soon as we felt like we were going to be open."
Spencer Haldeman, making his return from an ankle injury that cost him two games, converted his first shot from 3-point range as UNI built a 26-6 lead just under nine minutes into the contest. The Panthers were shooting 10-for-12 from the field and 6-for-7 from deep at that point in the game.
"He was out of practice for four or five days, and his voice came back before his jump shot did," Jacobson said, assessing Haldeman's return. "His leadership in practice and his voice on the court is tremendously important."
Green agreed with his coach's assessment adding, "That senior leadership is huge for us. In practice he'll get on everybody saying, 'This isn't us. We've got to pick things up.' It's nice to have him back."
Facing a challenging test against a deep Missouri State frontcourt, UNI's trio of Austin Phyfe, Justin Dahl and James Betz also more than held their own. MSU shot just 35.9% and UNI held a 38-29 rebounding advantage.
Phyfe stuffed the stat sheet with seven points, 10 rebounds, four assists and two steals. He worked a give-and-go that led to a Trae Berhow layup that gave UNI its largest lead of the first half, 40-17. UNI extended its advantage to as many as 34 points in the second half.
"They wanted to punch in it down low so we wanted to pack it in and make them shoot those threes," Brown said. "I think we did a good job of that tonight."