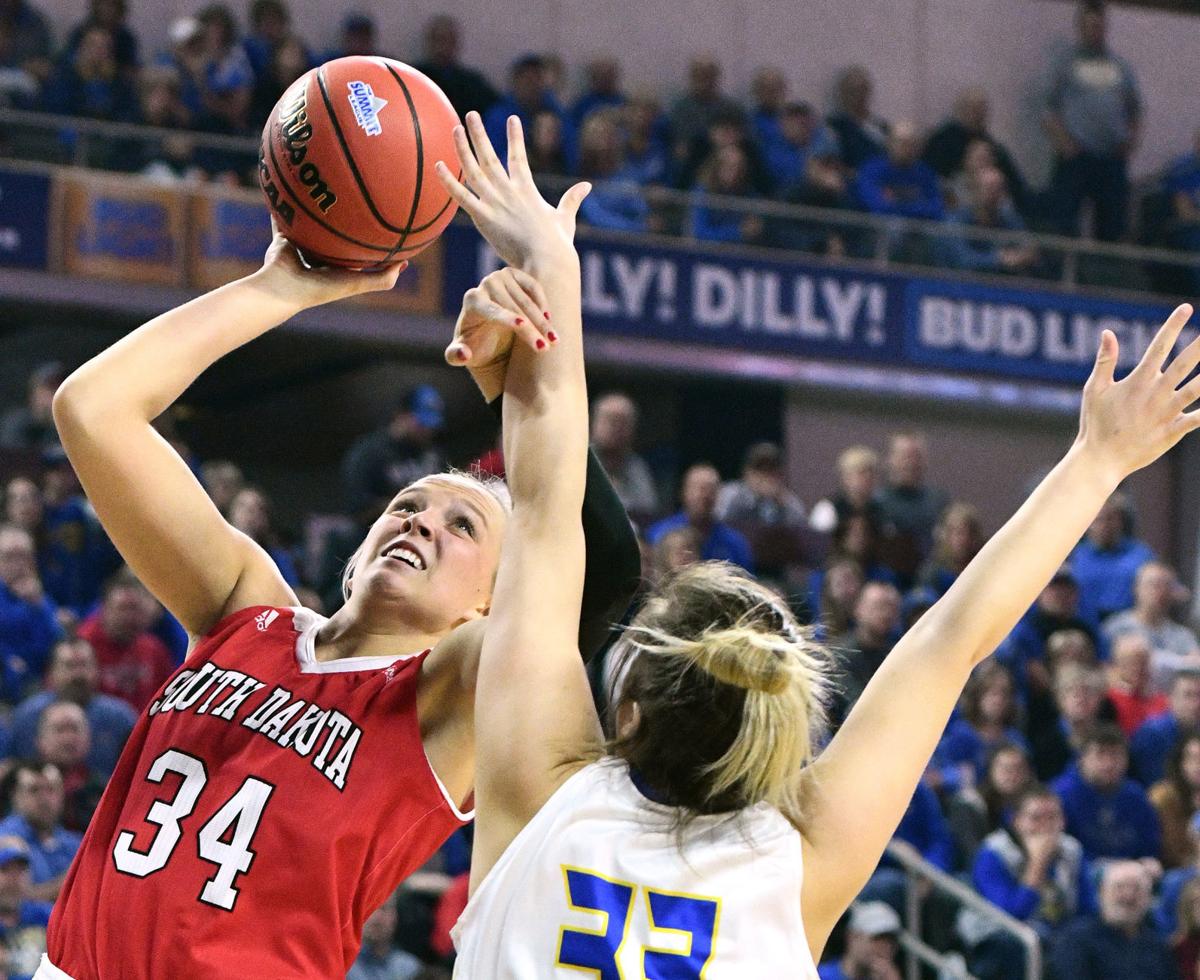 VERMILLION, S.D. – After putting together one of the best seasons in program history, the question begged to be answered.
What will the University of South Dakota women's basketball team do for an encore?
The Coyotes indeed had an unforgettable 2018-19 campaign, finishing 28-6 and earning a berth in the NCAA tournament. USD won the most regular season games (26) in program history, won all 13 home contests and became the first Summit League team to receive an at-large NCAA berth.
"For us the goal is to continue to get better," fourth-year coach Dawn Plitzuweit said during the team's media day. "We project that this year's non-conference schedule on paper will be the toughest schedule we've ever faced. It's continuing to play against different styles, different settings and continue to help us keep improving.
"Last year at this time we had a lot of our foundation laid going into the season. We may not have as many things in this year, but what we do have in right now, we're more refined at. We're really focusing on how to be really good in certain areas. Then we can add in as we continue to get better."
South Dakota was voted the Summit League favorite in the preseason poll and for a good reason. It brings back 11 players with experience and 83 percent of its scoring, including preseason conference player of the year Ciara Duffy.
 "We lost Allison (Arens) and she left some big shoes to fill, but we've got a lot of experience coming back and some underclassmen who got experience last year who are now coming back as veterans," Duffy said. "It's a group of girls that have worked really hard and I think we're all excited to start Game 1. We feel like we could do something special this year."
Duffy, a 6-foot guard from Rapid City, South Dakota, led the team in scoring for the second straight season with 14.6 points per game and also averaged 4.7 rebounds and 2.9 assists per contest.
You have free articles remaining.
Junior Hannah Sjerven joins Duffy as a preseason first-team all-league pick, while senior Madison McKeever and junior Chloe Lamb were second-team selections.
Sjerven, a 6-3 post from Rogers, Minnesota, scoring 11.8 points and pulled down a team-high 5.9 rebounds per game in her first season at USD after transferring from New Mexico.
 "For us, it's just taking it game by game," said McKeever, entering her third season as the point guard. "Knowing all the time we spent in the summer and going to the preseason and all the little details we've been working on for each game. Just going in confident. We know teams are going after us and we have a target on our back. We just have to come in with a chip on our shoulder and know we have each other and be confident in our play."
Senior forwards Taylor Frederick and Megan Bonar also return, along with junior guards Monica Arens, Liv Korngable and Claudia Kunzer. Juniors Allison Peplowski and Regan Sankey look to take on expanded roles.
"We've been working diligently since June and the goal for us is to continue to fall in love with the process of what it takes to be able to play at our best," Plitzuweit said. "Our upperclassmen have done a great job of setting that tone. It takes a great deal of urgency and relentlessness to play against the best teams in the country. Something we're excited about is the schedule we have in front of us.
"The fact that we do have a veteran squad is certainly an asset to our program and helps us in continued growth. And we're going to have to have continued growth with the non-conference schedule we take on."
The Coyotes open the season with road games at Northeastern and Green Bay before the home opener Nov. 13 against Drake, an NCAA tournament qualifier last season. Among their other non-conference foes are Utah, Missouri, Ohio State and South Carolina, the 2017 national champions.
Most figure South Dakota and in-state rival South Dakota State are a level above the remaining teams in the Summit League. However, Plitzuweit cautions that there are some other talented squads in the league.
"Oral Roberts has been one of the top defensive teams in our league and were third in the country in 3-point field goals made and they're going to be really good," Plitzuweit said. "Denver is another team that can fill it up and plays really fast. Western Illinois gives teams fits with their zone. We're certainly excited for the rigors of our non-conference schedule, but also our conference as well."