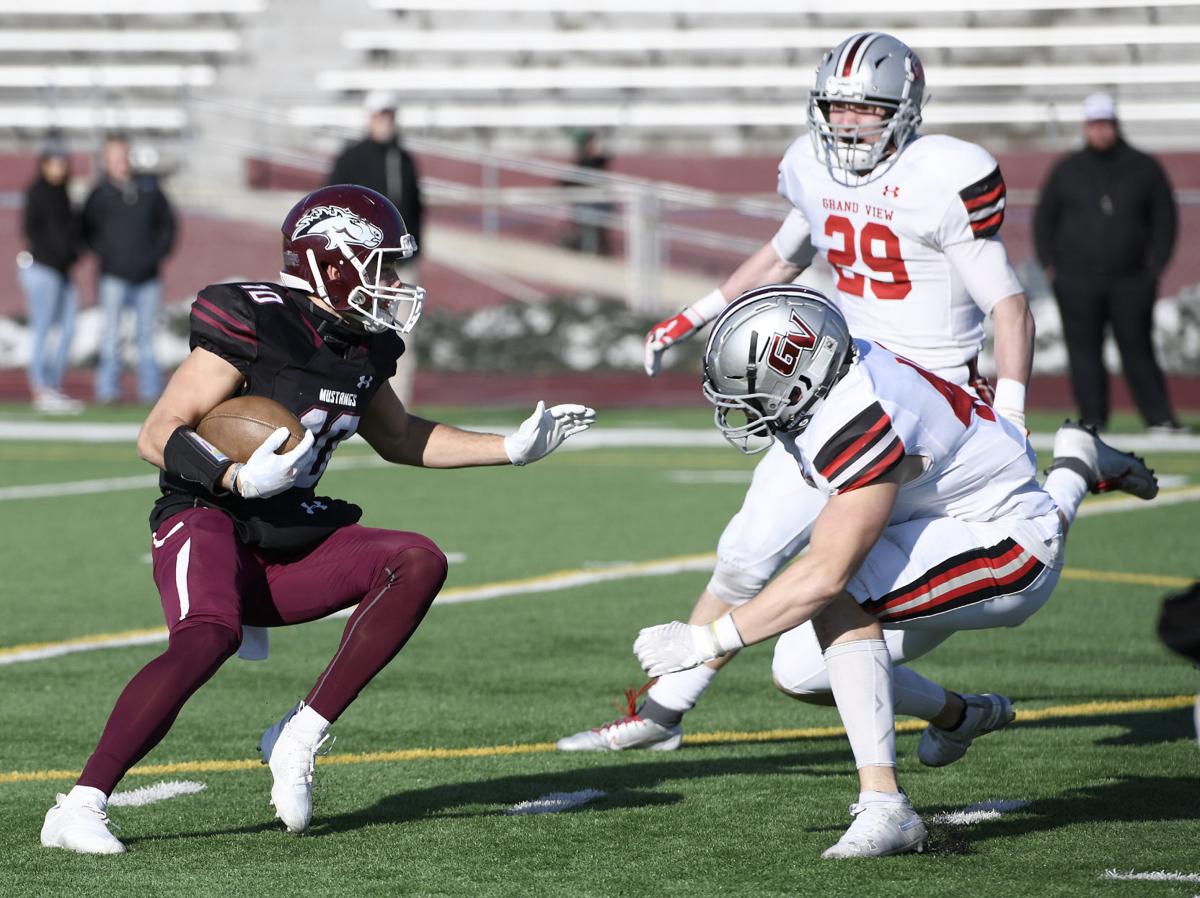 No one was ever going to replace Connor Niles' production.
Last season Niles had the best season ever any wide receiver has ever had in NAIA history. He finished the season with 2,639 receiving yards (the most ever), 34 touchdowns (the most ever) and 153 receptions (the second-most ever).
So when he graduated, Morningside had a hole to fill. Instead of just one person filling Niles' role, it was going to take a collection of receivers to fill Niles production and Morningside's wide receiver group has been up to the task this season.
Senior Bo Els and junior Reid Jurgensmeier both returned after combining for almost 1,700 yards and 22 touchdowns last season. All Morningside needed was a consistent third receiver to go with those two. After a few games, it was evident that sophomore Austin Johnson could fill that role.
With those three as the main targets, the Mustangs are averaging more yards per catch (15.0 yards) than last year (13.9 yards).
That's helped Morningside stay as the top passing offense in the nation, averaging 328.6 yards per game through the air.
"Obviously you can't replace a Connor Niles with one guy but you have A.J., Reid, myself and a bunch of other guys that just contributed just as equally," Els said. "All of the stats may not go to one guy but we like to spread it across the board and it's been pretty successful this year."
Technically the Mustangs haven't totally made up for Niles production. Morningside had 5,655 yards receiving last season compared to 4,272 yards this season. But Morningside has thrown the ball 153 less times this season so far going into the championship game against Marian on Saturday, Dec. 21, in Louisiana.
The Mustangs still have the top scoring offense in the nation, averaging 53.5 points per game, right along with the 52.6 they averaged last season.
"The stats are spread around and we have a lot more variety to our offense," Johnson said. "We have a really good running game and I feel we can attack you from a lot of different ways. It's made our offense pretty darn good this year."
You have free articles remaining.
With Els being a senior, he felt he had to step up more this season. The Erie, Colorado, native had a breakout season last year with 70 receptions for 825 yards and nine touchdowns. 
This season Els has become one of the best receivers in the nation. He ranks fourth in total receptions with 84 and sixth in total receiving yards with 1,185. He has 14 touchdowns so far this season.
"With Connor being gone, I felt like I had to contribute more, especially without him," Els said. "Yet, at the same time, not try and play out of my own abilities and own skills. I wasn't trying to do too much, especially with other good receivers across the board. We all just do our job and fit in the offense well and it's been beneficial."
Jurgensmeier had his own breakout last season as a sophomore, catching 58 passes for 858 yards and 13 touchdowns. This season he only has four more catches so far (62) but has more than 400 yards receiving compared to last season. He's third in the nation with 1,272 yards and has 15 touchdowns.
While Els and Jurgensmeier were known commodities, Johnson had yet to prove himself on the field before this season. He did see time as a freshman, finishing with nine receptions for 159 yards - a solid 17.7 yards per catch average - and three touchdowns. That put him eighth on the team in receptions and seventh in yards.
Johnson caught a few passes to begin this season - three against St. Francis, four against Dordt, two against Midland and one against Hastings. He did have a touchdown during that stretch but his breakout game came against Briar Cliff. He hauled in five passes for 102 yards.
In the eight games since going over the century mark against Briar Cliff, he has five games of more than 80 yards receiving and has caught at least one touchdown in six of those contests.
Going into the national title game, Johnson has 52 receptions for 926 yards and nine touchdowns. He's averaging 17.8 yards per catch.
"I would always like to be doing better than I am doing but I feel it's been kind of a breakout year," Johnson said. "Reid is my roommate so we are always working together, trying to get better and Bo, being the veteran leader of the group, you learn a lot from a guy like that."
Senior Addison Ross has 31 receptions for 350 yards and four touchdowns and running back Arnijae Ponder has 15 receptions for 166 yards and two touchdowns. Brandy Holmes, Sione Tuifua, Logan McGill and Tupak Kpeayeh all have a receiving touchdown on the season.
Niles may not be out there, but Morningside's receivers are proving each week that offense is just as dangerous this season.
"I feel like, statistically we are one of the best in the country," Els said. "I think the numbers speak for itself. Thanks to (quarterback Joe Dolincheck), the run game, the offensive line, (offensive coordinator) Luke Lueders putting us in the right spots, it's just been a ton of fun to play for this offense this year."