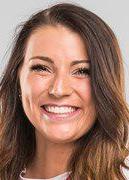 GREEN BAY, Wis. — South Dakota senior guard Ciara Duffy nearly had a triple-double with 23 points, 10 rebounds and eight assists to lead the Coyotes to gritty 66-60 win over Green Bay inside the Kress Center on Saturday.
Plitzuweit led her Coyotes (2-0) to a second win over mentor Kevin Borseth's Green Bay Phoenix (1-1). Borseth and Plitzuweit previously coached together at Michigan Tech, Green Bay and Michigan.
Duffy's 23 points moves her to 10th on USD's career scoring list with 1306 points. She made 7-of-14 from the field for 50 percent. Her impressive stat line also includes 10 rebounds and eight assists. Duffy tallied her third career double-double, nearly reaching a triple-double.
Junior guards Monica Arens and Chloe Lamb joined her in double-figures. Arens tallied 14 points and Lamb had 10 points. Junior center Hannah Sjerven pitched in eight points and eight rebounds with three blocks.
DORDT 89, PRESENTATION 43: The Defenders moved to 6-0 with a thrashing of Presentation in a women's college basketball game played in Orange City Saturday.
Dordt got 22 points from Erika Feenstra and 14 more from Gabby Kreykes as it led 20-7 after one quarter and 48-18 at the half. Jordyn Van Maanen was also in double digits with 11 points for the Defenders. Presentation dropped to 1-5.
NORTHWESTERN 84, HASKELL INDIAN NATIONS 72: The Raiders had five players score in double digits as they downed Haskell Indian Nations in a game played in Orange City Saturday.
Bre Schuiteman led the way with 19 points while Sammy Blum had 17 for Northwestern (3-0). Taylor VanderVelde also chipped in with 11 points and a game-high nine rebounds for the Raiders while Alexis Toering and Hanna Nerem both had 10.
Sierra Penn had a game-hgih 22 points for Haskell (4-4).
CLARKE 80, BRIAR CLIFF 69: The Chargers led early in the fourth quarter but saw Clarke pull away late for a women's college basketball win in a game played at the Newman Flanagan Center Saturday afternoon.
You have free articles remaining.
Briar Cliff was down 53-52 after three quarters but got the first points of the final frame on a 3-pointer by Madelyn Deitchler.
Clarke came back to take a 57-55 lead on a shot in the lane by Makenna Haase with 7:49 left and didn't trail again.
Haase was the game's leading scorer with 23 points for Clarke (3-0).
Briar Cliff got 17 points from Connor Sudmann while Payton Slaughter had 15, Deitchler 13 and Alyssa Carley. The Chargers (1-3) jump into Great Plains Athletic Conference play next Saturday with a tough assignment, taking on No. 1 Concordia on its home court.
NEBRASKA-KEARNEY 83, WAYNE STATE 79: Nebraska-Kearney grabbed 16 offensive rebounds and held a 15-6 edge in second chance points Saturday in a non-conference women's basketball game played at the UNK Health and Sports Center in Kearney to conclude the 2019 UNK Crossover Tournament. 
The Wildcats led much of the first quarter, building a pair of seven point leads (11-4 and 13-6) before finishing the first quarter with a 16-12 lead.
UNK scored the first 10 points of the second quarter to take the lead for good. The Lopers ended with a 15-3 run and held a 27-19 lead at the 6:06 mark of the second quarter. Wayne State got as close as two (36-34) right before halftime and trailed 38-34 at intermission.
In the third quarter, Wayne State got within one at 41-40 with 8:38 to play in the quarter following an Erin Norling jumper.
UNK pushed the lead back to eight at 57-49 and closed the quarter with a 63-59 lead.
Early in the fourth quarter Wayne State trailed by three at 66-63 following a Josey Ryan 3-pointer.
The Lopers then scored the next seven points to take the first double-digit lead of the night at 73-63 with 6:19 to play.
A Halley Busse 3-pointer with 1:14 to play pulled Wayne State within three at 80-77 and the Lopers made 3 of 4 free throws late to hang on for the 83-79 win.