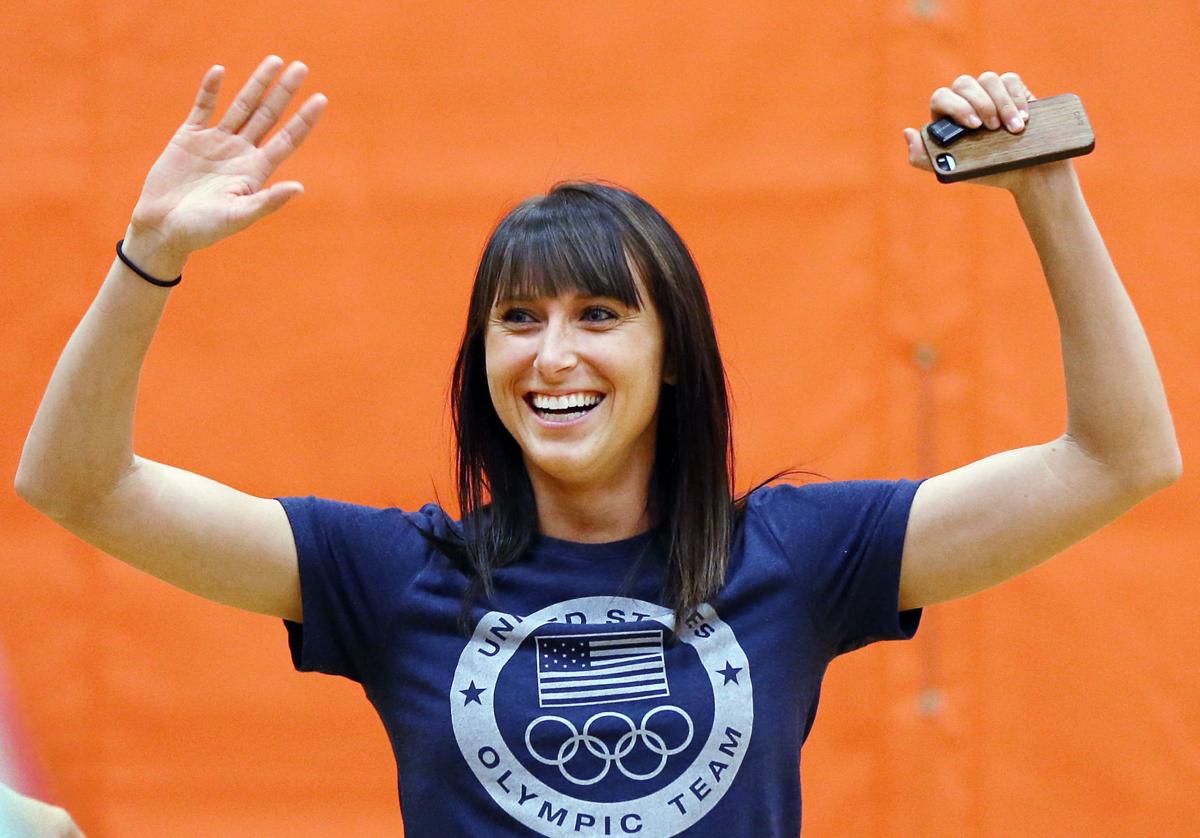 Grassroots legislation can make all politics local.
The issue is not to move mountains here, but just shifting the topography a bit would lead you all to believe in being proud to be an All-American city.
Joining a societal trend, writing about sports and athletic achievement and agony (where did that come from?) is akin to preaching to the choir.
Changing minds requires a glib approach.
You adore the Chicago Cubs and vow never to vote for a Cardinal on your all-star ballot.
You plan your entire life around the Nebraska Cornhuskers or Iowa Hawkeyes you're never going to switch allegiances the opposite way the wind blows.
You can't even split your ticket when Michael Jordan's name on the best "All-Time Ballot'' is opposed on a candidate list including Magic, Bird, Wilt, Kareem or the Big O.
That said, on with a potential amendment.
Cities all over the country are prone to name streets after famous personalities, including sports figures.
Our Town needs to join the parade.
Out there in Morningside is a street named Mayhew.
Along and on that paving Olympian Shelby Houlihan logged hundreds if not thousands of training miles, eventually leading to an 11th-place finish for the East High grad recently in the women's 5,000 meters in the Rio Summer Games.
In honor of Houlihan, a Sioux City high school legend, rename Mayhew in her name.
And while the city is at it, research the street on which three-time U.S. Olympian and old Sioux City High (no Central in his prep days) grad F. Morgan Taylor grew up and eventually won a gold medal in the 400 hurdles in the 1924 Paris Games.
Hey, we've already got a Morgan Street. If it is in the vicinity where the world record holder in the 400s was raised and just rename it Morgan Taylor Drive.
Houlihan Run? You've got to like the sound of that, too.
#It's been quite obvious goldie throats (?) Joe Buck and John Smoltz just love all things Los Angeles Dodgers, especially pitcher Clayton Kershaw.
The co-chairs of the Dodger Fan Club, who have been bringing you the series for the National League pennant on television, have been fawning all week over the team that faced elimination by the Chicago Cubs Saturday night.
The broadcasting pair have anointed Kershaw, a three-time Cy Young Award winner in expanded major league baseball, the greatest pitcher of your time, hedging only a smidgen from blurting all-time.
Kershaw is good, real good – no Sandy Koufax, Bob Feller, Young himself, Don Drysdale or the Chairman of the Board, Whitey Ford – but real good.
Kershaw's challenge Saturday was to keep the Dodgers alive for the NL pennant and prevent the Cubs from reaching the World Series for the first time since 1945.
Captivating Clayton, with Buck-Smoltz cheering him on, was hoping to improve his MLB postseason playoff record to 5-6 and lower his ERA of 4.69.
#You might say Morningside is still the (1) in many human hearts AND especially computer minds.
You have free articles remaining.
According to the latest power rankings compiled by CompughterRatings.com website, Morningside is the No. 1-ranked NAIA football team in the country.
The 6-1 Mustangs, presently ranked fourth in NAIA, protected that lofty No. 1 status yesterday with a 14th straight win over city rival Briar Cliff.
In the NAIA coaches poll earlier this season the Mustangs were unceremoniously dropped to sixth from No. 2 behind Marian (Ind.) after losing to NCAA Division III power Wisconsin-Whitewater on the road.
Marian, 7-0 before Saturday and No. 1 by the coaches, is no better than fifth in the aforementioned power rankings, which have Baker (Kan.), Doane (a 69-7 loser to Morningside), Montana Tech, Marian and Grand View following Morningside.
Tech is eighth among the NAIA elite.
#Big Sky country out there in Butte, Montana, is sort of a Siouxland West for the surging Montana Tech program.
Head Coach Chuck Morrell is a native of Bon Homme (S.D.) and has served as a very successful defensive coach at both the University of South Dakota and the University of Sioux Falls.
Morrell's offensive coordinator, Pete Sterbick, is a graduate of Des Moines Lincoln High and Augustana (S.D.). He's been an assistant at Grand View and Augie, among others, and was also the head coach at McPherson (Kan.)
Tech assistant BJ Campbell is a Vermillion native, ex-Wayne State player and USD assistant while another Tech assistant, Ryan McFadden, is a former offensive line coach at Wayne State.
It is no surprise Morrell is getting it done at Tech. During his tenure as USF defensive coordinator, USF played in five NAIA national titles games and won three.
#More Iowa high schools are joining the ranks of eight-man football each year with lack of numbers the major cause for change.
It would be a little far-fetched, probably, to think a Class 4A school like Waterloo East might go eight-man.
But, because East had just 16 players available for a recent game with Cedar Falls the school forfeited.
Another Waterloo school, Columbus, also forfeited a recent game to No. 1-ranked Class 2A North Fayette Valley because it had just 12 players fit to play.
#The forfeiture news brings up a sore subject.
The Sioux City school district incorporated junior high athletics a few years ago with a goal of developing strong varsity programs, including football.
From the looks of it in 2016, it hasn't happened.
Sioux City will not have a playoff qualifier this season, including Bishop Heelan, which has been fed by a junior high/youth tackle program for years.
The shutout is just the fifth in Iowa playoff history which began in 1972 when East advanced in 4A.
The last shutout was in 1994 and previous to that it was 1981.
Shutouts in 1973 and 1974 really don't count.
In '73 East and Heelan were each 7-2 and the longtime powers were each 8-1 the following year.
However, in those days, when both were in the big school division, you had to earn a playoff berth the hard way and in both cases a very painful denial.
In the beginning, just four teams qualified in a detailed point system which meant in one lower classification a 9-0 Marengo Iowa Valley didn't qualify and 5-4 Iowa City Regina was instead rewarded.
When 9-0 wasn't good enough, 8-1 was tenuous at best.