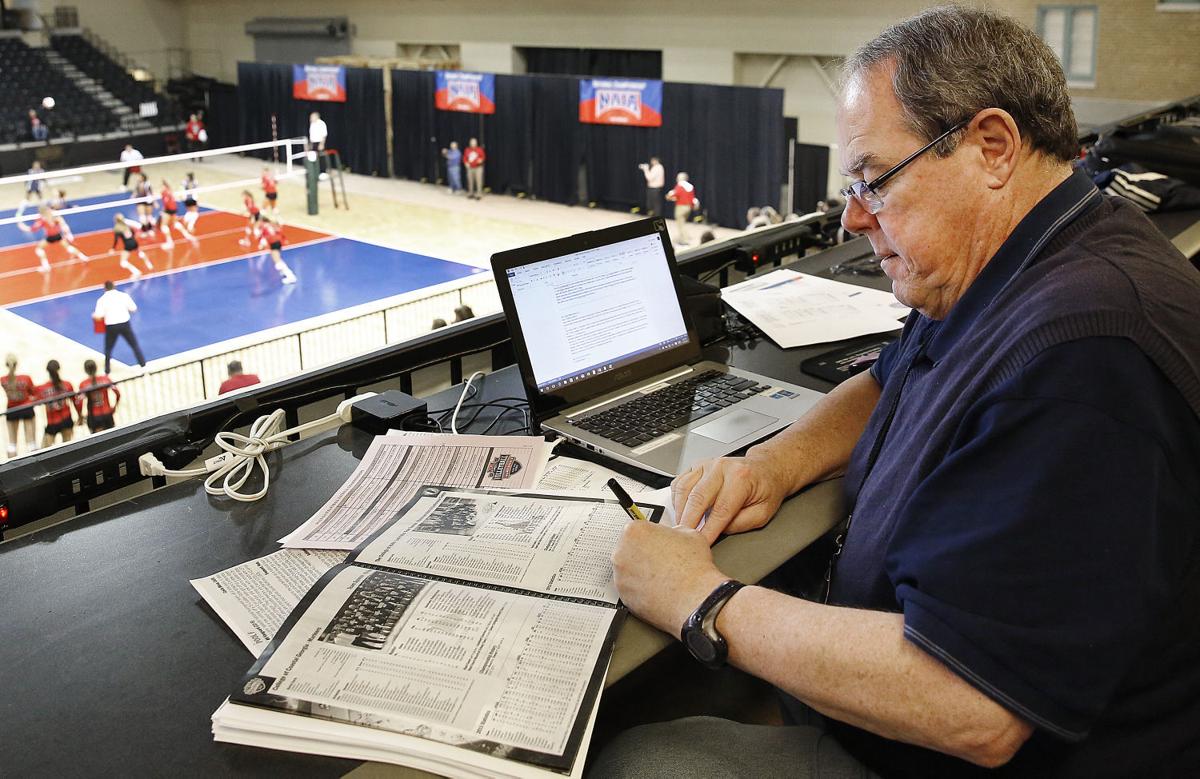 While surfing the internet, an exercise regimen he follows with astonishing results, Terry Hersom once discovered a piece of writing he deemed worthy of my attention.
With a tad bit of characteristic subtle fanfare, the retired (by 48 hours) sports editor of the Sioux City Journal, gifted a faded and musty tome entitled "The Tumult and the Shouting – "My Life in Sport'' by Grantland Rice.
The book (meant to help learnin') by the, in most references, legendary sportswriter, was published in 1954 and chronicled an award-winning career attending and writing about the games and treasured sporting events generations played and applauded.
A wordsmith competitor back in the day when Milton Fox Valley High School called out Blakesburg's hoops bluff in drafty buildings with curved roofs, then back in the day as Journal teammates for a decade or three, Terry didn't mention that certain critics of the craft have pointed out that in "Outlined against a blue-grey October sky'' Mr. Rice mixes metaphors something like 25 times.
Writing curmudgeons have traditionally dismissed sportswriting as grammar school efforts at balancing subjects and predicates, adverbs and adjectives.
Well-meaning folks still often ask sportswriters, even middle-aged-plus ones, what they are going to do when they grow up.
After all, the question still begs: Aren't sports the toy department of newspapers?
Amid the metaphors and similes, sports scribes, ad infinitum, are charged with resorting to cliché and mixing too many metaphors. Bad form – as in writing.
Still, some are entertaining masters of the mixing.
Terry, always a stickler for fine writing, on occasion would grudgingly allow "I hope he gets his curveball straightened out'' or "the Wildcats have been winning by hook and ladder.''
In the same vein, "now is our time to step up to the plate and make a touchdown for the team'' probably wouldn't pass muster.
English literature and music, in Terry's case, have, shall we say, gone hand in hand with sportswriting. And it will continue to be that way.
For almost 40 years in Sioux City and a few more in the minors perfecting the craft, Terry could and would remove a claw now and then to sooth a wound with a kind word.
It was a managerial style that paralleled Cal Olson, the late editor of The Journal who – not in a liberal fashion -- would scrawl a prominent label of "Yes'' on an enterprising effort.
While editing a staffer's work, Terry might disapprove sentence structure and style but at the same time suppress a smile if he read "All the World is a Stage.''
For thousands of Siouxland students and athletes along with loyal readers who began their day with De Koffiehoek java or a Sunkist pastry, for so many glorious seasons, in Terry Hersom's metaphor of sport, it was always the best of times.
It all started here in Our Town and greater Siouxland in 1977, when "The Boss'' dressed for church in a leisure suit and his insides, in the classic simile style, were churning like a bucket of buttermilk on his first night on the job.
For me, the association professionally and personally stretches even further back into history, outlasting the high and low notes of The Association.
It is now 2016 and retirement will certainly become the man.
The Boss can now break out his guitar and pick and croon right along with that other "The Boss'' while making music or stories with poetic lyrics that work.
My how time flies – when the work is actually fun and mixing metaphors is sheer delight.
Consider these: Baseball, basketball, football, all of the others.
For Terry Hersom, writing is the loveliest sport of all.
Be the first to know
Get local news delivered to your inbox!