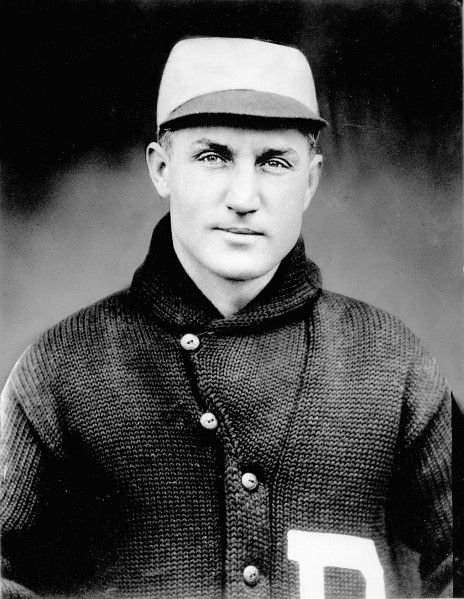 SIOUX CITY – To most, it will seem like ancient history.
After all, when Dave Bancroft took his final breath on Oct. 9, 1972, in Superior, Wis., it wasn't until more than three years later that a massive freighter made famous by songwriter Gordon Lightfoot left that Lake Superior harbor town on its ill-fated final voyage.
Life for Bancroft, though, hadn't been anything like the tragedy awaiting the doomed crew of 29 aboard the Edmund Fitzgerald, the largest vessel ever to sink in any of the so-called Great Lakes.
The Sioux City native had been a success throughout his 81-plus years, particularly on the baseball diamond, where he is immortalized in Cooperstown's Baseball of Fame.
And, since Wednesday will mark the 120th anniversary of Bancroft's birth, it seemed as appropriate as any time I could anticipate for sharing this tale with his hometown and native region.
Yes, Sioux City, we have our very own baseball hall of famer, enshrined right there in upstate New York alongside Ruth and Gehrig, Mantle and Mays, and Iowa's best-known diamond legend, Bob Feller.
Born here on April 20, 1891, Bancroft was the youngest of three children in the family of Ella (Gearhart) and Frank Bancroft, a truck farmer and Milwaukee Railroad news vendor, which means he probably sold this very newspaper to passengers either departing or disembarking back when rail travel was just about the only way to go.
A student at Hopkins Grade School and Sioux City High School, later to become Central High, Bancroft was 17 when he took the big leap, pursuing a career in baseball with a minor league team in Duluth, Minn. Rewarded for his efforts, he reached the major leagues with the Philadelphia Phillies in 1915 at age 24.
It would be the first of 16 big league seasons for a shortstop nicknamed "Beauty'' as much for his magical glovework as he was for a respectful habit of using that word to describe pitches he was unable to hit.
Despite playing his first four seasons in the game's "Dead Ball Era,'' when his career-high seven home runs as a 1915 rookie ranked him sixth in the National League, he hit 14 of his 32 career round-trippers in that span.
More importantly, he became known for his patience at the plate, fashioning a .279 career batting average while a keen sense for the strike zone helped him walk enough times to rank seventh or better in the NL no less than eight times (and second or third a total of four times).
Then, there was the fancy glovework, which had as much as anything to do with iconic Manager John J. McGraw urging New York Giants owner Charles Stoneham to acquire Bancroft in a June 7, 1920, in a deal that sent shortstop Art Fletcher, pitcher Wilber Hubbell and $100,000 cash to the Phillies.
Bancroft, whose strong rookie season helped Philadelphia reach the World Series before losing to the Red Sox, helped McGraw's Giants win two world championships in a row in 1921 and 1922, both against Ruth and the crosstown rival Yankees.
He also helped the Giants win another NL flag in '23, but yet another series with the Yankees went to the Bronx Bombers this time.
By now the revered captain of the Giants, Bancroft had earned the admiration of McGraw to such an extent that his skipper gave his leadoff man an opportunity to manage while also doing a favor for his former star pitcher Christy Mathewson, by then the general manager of the Boston Braves.
At Mathewson's request, Bancroft was traded to Boston as a player-manager – at age 33, the youngest pilot in the game. And, ironically, he was shipped to Beantown along with outfielders Bill Cunningham and none other than Casey Stengel, who later did a little managing on his own.
Unable to produce a winner with Braves teams lacking in talent, Bancroft got the hook after four years, becoming the shortstop for two seasons with the Brooklyn Robins (1928-29), who have been the Dodgers (moving to L.A. in 1958, of course) since 1932.
Then, in 1930, at age 39, Bancroft was summoned back to the Giants as a player-coach under McGraw, his health in decline. The Sioux City native played in just 10 games that final season, but he filled in as manager for several games when McGraw, who retired two years later and died in 1934 at age 60, was indisposed.
Bancroft stuck around baseball long enough to manage and even play just a bit in the minor leagues. Ironically, his last stop, for all intents, was the hometown, serving at age 45 as the manager of the 1936 Sioux City Cowboys of the Western League.
He even did a little globetrotting as the skipper of an all-girls team, traveling to Cuba and South America.
When he left baseball, though, he settled in Superior, working as a warehouse supervisor in the hometown of his wife, the former Edna Harriet Gisin. And, since the couple was childless, I've never been able to find relatives or close friends who could flesh out a personality profile on this renowned athlete whose career should mean so much to Sioux City.
Bancroft was 81 when he died Oct. 9, 1972, in Superior, where he is buried in Greenwood Cemetery. Fortunately, he lived long enough to celebrate his hall of fame induction the previous year, elected by the veterans committee.
The only existing tribute Sioux City maintains in his honor is the brainchild of longtime local baseball enthusiast Bob Protexter, who runs a local amateur team that he quite astutely calls the Sioux City Bancrofts.
Most people haven't the foggiest notion why Protexter picked that name and that won't be any different tomorrow, when that 120th birthday comes and goes.
Even so, if at least a few more of you have been enlightened to this special bit of local history, it'll be a good thing.