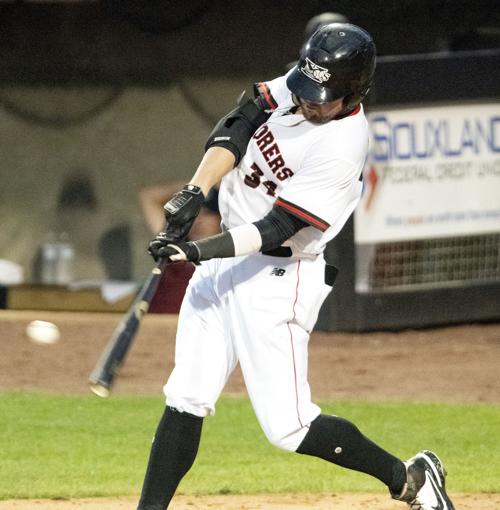 SIOUX CITY – Tom Hanks was wrong in "A League of Their Own." No crying in baseball? Believe me, the tears are plentiful and genuine and heartfelt.
There were many, to be sure, on Monday night, after the Kansas City Monarchs drew the curtain on the Sioux City Explorers' 28th season with a 14-2 shellacking. Thus the Monarchs completed a three-game sweep of the American Association South Division's championship series.
Not even $7 box seats, nearly half the regular season price, could interest more than 888 fans from showing up to show their appreciation for the Explorers' gritty campaign.
Given all the adversity Steve Montgomery's team had to battle, reaching the playoffs for the fifth time in Mongo's last six seasons was a monumental feat.
Considering how Kansas City ran away with the South's regular season title with a league-leading 69-31 record was beyond that. Despite a 7-10 start to their schedule, Manager Joe Calfapietro and his team went 62-21 (.747) the rest of the way to win the South by 15 games. Meanwhile, the Chicago Dogs, who play in Rosemont, Ill., were six games worse (63-37) while winning the North Division flag.
Keeping the big picture in mind, this is one of those situations where the cap should be tipped to both teams.
First and foremost, this Kansas City team, which will have at least four days rest before starting the league championship series, is one of the most formidable clubs the Association has seen in its 16-year history. When I tell you some details, you'll definitely see what I mean.
Before I do, though, let me salute Montgomery and the Explorers, who were 23-11 at one point this summer before the impact from two significant injuries saw them lose 33 of their next 55 games. It took an 8-2 finish to get them into a one-game wild-card showdown with Cleburne and they got that job done to reach the series with the Monarchs.
"We were holding our head above water and then the Beardsley injury happened,'' said Montgomery, who is 403-299 in his seven seasons at the helm.
It was the 26th game on the schedule when Beardsley shattered the thumb on his pitching hand, trying to glove a first-inning line drive with his pitching hand. Despite an injury that required season-ending surgery, he stayed in the game for over five innings more, collecting a win in a 5-2 decision over Kane County.
"There weren't arms (comparable pitchers) laying around and to be honest with you, if they were, they went to Kansas City,'' the manager shrugged.
That is probably a no-brainer, deciding between a major city and the smallest market in the league. Not even a better monetary offer from the X's could trump the Monarchs' many advantages.
If the loss of Beardsley wasn't costly enough, just a week later came the end to shortstop Nate Samson's season after just 33 games due to a freak ankle fracture. Samson is one of the finest players in league history and certainly for this franchise.
Then, too, there was the hand injury that put outfielder Michael Lang, the Explorers' all-time leader in hits, out of commission for over six weeks. Lang was hit on his left hand by a pitch in the second game of the season and still tried to keep playing. After appearing in 18 more games, batting a highly uncustomary .119 (8 of 67), a second X-ray revealed the fracture.
To his credit, by the way, the former Rutgers star, who has played more games for Sioux City than anyone in the X's 28 seasons, came back to play the last 31 regular season contests and bat .283 (30 of 106).
This is a juggernaut that outscored the Explorers 36-10 in the three-game sweep, winning 11-2, 11-6 and 14-2. In the regular season, Calfapietra's offense belted 147 homers to shatter the league record (128 by Lincoln in 2010). All but one of the usual nine players in the lineup hit 10 or more home runs and five of those eight clubbed at least 18.
Three of the normal nine have major league experience while three more have been as high as Triple-A. Small wonder there were seven .300 hitters on the roster.
Add another five ex-big leaguers in the pitching staff and you've certainly got what it takes to win it all almost any year. Montgomery knows it was a very tall order and will appreciate his own team's performance as the off-season goes on.
"It's rewarding (to make the playoffs again), but you keep getting there and you just feel dissatisfied,'' Montgomery said. "When you take a second to look back and figure out what (the X's) were able to accomplish, it becomes rewarding. The taste is still in your mouth.''
Kansas City's first two starting pitchers in the series — Matt Hall and Keyvius Sampson — both have logged time in the majors and Monday's winner, Justin Donatella, has pitched in Class Triple-A. Donatella, in fact, was one of the players who turned down Sioux City in favor of the Monarchs.
Brett Adcock and Zach Hedges, two of the X's more reliable starters, were rocked for 10 runs in 8-plus inning in the first two games. Monday, Montgomery took a gamble on Jairo Labourt, who was on the team's inactive list for the entire season due to visa problems.
"We knew he wasn't built up (and hadn't pitched since 2018), we just rolled the dice, hoping to get maybe three innings out of him,'' he said.
Labourt retired two of the first four batters he faced while issuing a walk and hitting a batter. Then, with two outs, Labourt hit another batter to load the bases.
The lefthander could have gotten out of the jam unscathed if umpire Jeff Minton hadn't ruled in favor of Ibandel Isabel on a check swing that was probably questionable.
Isabel ended up drawing a walk to force home the first run. Labourt then served up his third walk to force home a second before a two-run single was the last straw. Rookie lefthander Tyler Koch, whose recent no-hitter was just the seventh in league history, took over and was greeted by a two-run double.
Just like that, the Explorers trailed 6-0 before they ever picked up a bat.
"It's hard to recover from that,'' said Montgomery, who called on five more pitchers before the game and Sioux City's season was over.