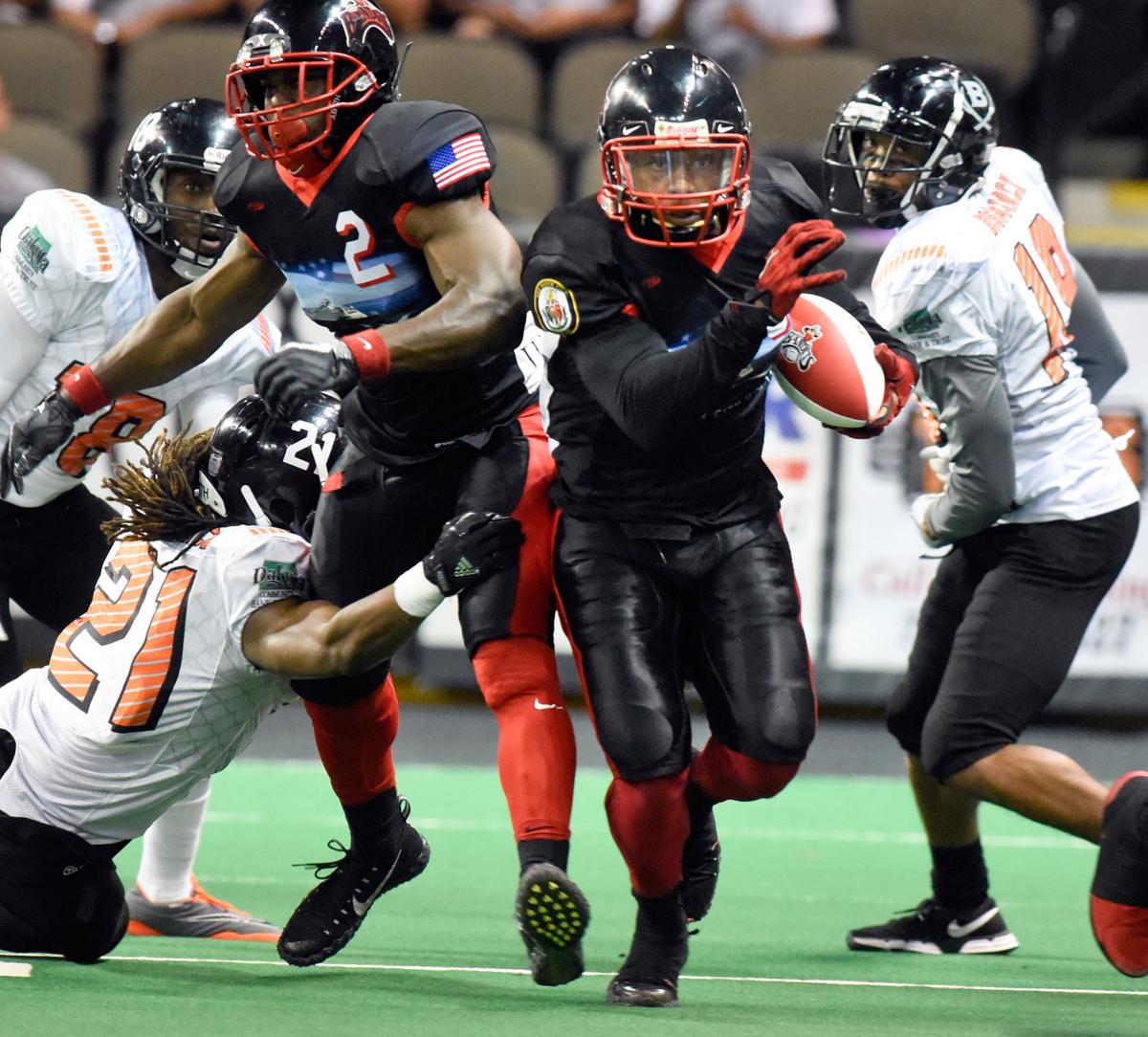 SIOUX CITY – When a championship is the goal every season finishing without one the past two seasons always makes it tough to take. Saturday the Sioux City Bandits will look to take their first step to adding to their collection of three titles.
The Bandits have won five straight games, putting up 70-plus points in four consecutive contests, as the team has been clicking at a level perhaps not seen since the title run in 2015.
"The consistency of play the last five weeks is probably a lot higher than with any other team that we've entered the playoffs with," Bandits Coach Erv Strohbeen said. "Last year we were playing pretty darn good football, but obviously we exited the playoffs in the first round. I don't necessarily know we were playing all facets of the game this well last year so that is a positive for me."
Sioux City (9-3) opens up the playoffs at home against Quad Cities (8-3) getting contributions from everyone on the field.
"I think we feel real good about it," Strohbeen said. "We are a little banged up with (running back Daryl) Virgies getting a little ankle injury the other night. We are not certain on his status yet, but a couple other guys are fighting through it. I am sure every other team is in the same boat as we are."
Virgies has given the Bandits a lift on offense since he joined the team four games ago, but he is not the only running back doing big things.
Darrian Miller has established himself as an all-around threat this season. He is second in the league averaging 52.7 yards rushing, he paces the league in rushing touchdowns at 25 and paces the CIF in kick returns averaging 21.9 yards a return with five TDs. He is second in the league in all-purpose yardage at 127.3.
"Just bringing Virgies in giving (Miller) a little extra, (A) motivation and (B) a break when he needs it was huge for our team," Strohbeen said. "Darrian is playing great ball now, and not that he wasn't early on, he has taken his game to another level."
Strohbeen said when it comes to the playoffs a team has to be ready for anything and everything.
"We need to hone in on some situational things that maybe you feel you wouldn't have needed during the regular season because it is win at all costs," he said. "If we have to go for it on fourth down we need to know we have the right plays in there. If we need to practice some more red zone plays, I am sure they have a lot of film on us, we need to come with a little extra."
Defensively, Isaac Wright leads the league in tackles with 99, Westley Johnson ranks fifth in sacks with 7.5 and Soloman St. Pierre leads the way in interceptions with 11.
"I think these guys know the goal and they have bought in to what we are trying to teach them all year long," Strohbeen said. "A lot of these guys came from teams that weren't winning and saw what they were up against when they played Sioux City, so they chose to come with us."
Sioux City won the first meeting between the two teams in its season opener 45-35, but the Steamwheelers won the rematch 43-38.
Quad Cities quarterback E.J. Hilliard is averaging 151.2 yards passing per game while running back Tyler Williams averaged 50.8 yards per game.
"They have a great quarterback and a great defense all around," Strohbeen said. "They have the ability to put up some points. They know us well and we know them well. It is like a ready-made rivalry.
"Both teams have improved a lot since the first two meetings. Both of these teams have done a lot of growing in the last eight weeks or so."
Copyright 2018 The Sioux City Journal. All rights reserved. This material may not be published, broadcast, rewritten or redistributed.
Be the first to know
Get local news delivered to your inbox!