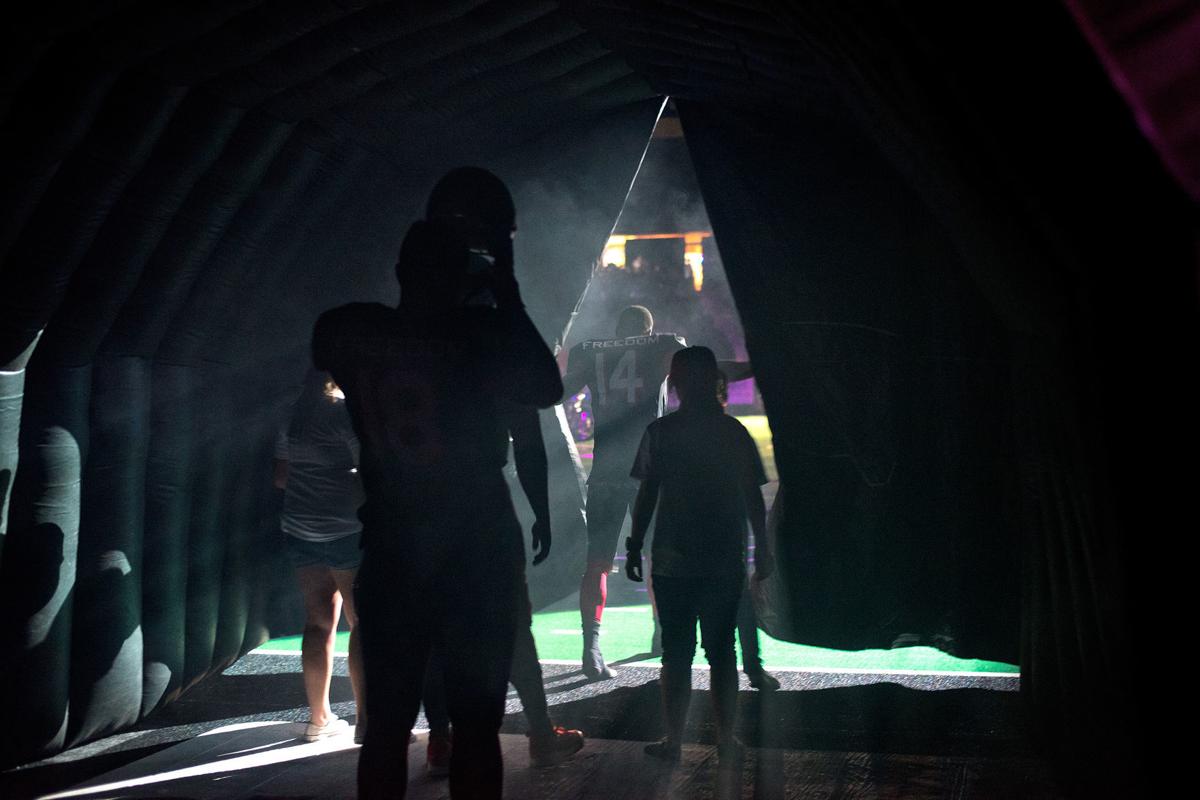 SIOUX CITY – Tom Petty was right. Sometimes waiting is the hardest part.
After the Sioux City Bandits defeated the Salina Liberty 45-39 to win the North Conference championship of the Champions Indoor Football league Saturday night, they had to wait until late Monday night to find out who their opponent would be in the Champions Bowl.
The Bandits decided to make an event out of the whole situation. The coaches, players and staff got together at a local restaurant and invited friends, family and fans to join them and watch the game between the Duke City Gladiators and the Texas Revolution, with the Bandits playing the winning team on Saturday.
"We've got a little down time tonight," Bandits head coach Erv Strohbeen said. "We got a bit of a workout in down at the Tyson Events Center. We've got them coming here to grab some food. Then it's back to work after about 9 or 10 p.m. tonight."
Offensive coordinator Jarrod DeGeorgia liked the idea too.
"You come out here and you have a great setting at the Wheelhouse," said DeGeorgia. "They welcomed us in. We get a little camaraderie among our team. It's fun. It's a good atmosphere. I think tonight is going to do wonders for our team. We come in together. We eat and break bread together. We have fun and watch a game to kind of understand what we're doing. Tonight at 9 or 10 p.m., we'll know exactly what we're going to do."
If Texas (6-7), the three-seed in the South Division, defeats Duke City, then the Bandits will host the Champions Bowl. If Duke City (11-2) wins, then the Bandits (11-3) have to travel to New Mexico for their final game. That last fact wasn't lost on the Bandits.
"I'd be lying if I told you I wasn't rooting for Texas," said Strohbeen. "We definitely want to host the championship game here in Sioux City in front of all our great fans at the Tyson Events Center. So that's the goal. That was the goal when we started this, to host the championship game. That means Texas has to win to do it, so we're pulling for Texas."
Defensive coordinator Marlon Lobban agreed.
"Of course we would love to pack the Tyson Events Center and get a home crowd there," said Lobban. "We hope Texas can pull through. Either way, it's going to be a battle for the ages between two teams in the championship game."
Quarterback Liam Nadler also wants a home game, but proposed an interesting counter point.
"Yeah, obviously that would be preferable to traveling all the way to New Mexico," said Nadler. "At the same time though, that bus ride would be pretty sweet coming home after a victory. We'll see."
The Bandits certainly enjoyed the five-hour bus ride back from Salina after their defense won the game with a goal-line stand.
"The guys had fun," said Strohbeen. "We relished the victory on the way home. We celebrated our season a little bit. We had some fun stories. You know how a road trip is. We had a couple of adult beverages. We got home at 5 a.m. and got rested up."
"As a defense, we knew we could get those stops," said Lobban. "But we had no clue we could get THAT type of stop. That's a stop for the ages. You'll probably never see another one of those in the next 10-15 years in indoor football."
Either way, the Bandits get an extra two days of rest compared to the winner of the South Division. Nadler would have preferred to know his opponent on Saturday.
"I would like to know right away just so we can watch film of them on the ride home, whether it's Duke City or Texas, and get a little bit of a head start," said Nadler. "That's not the reality of the situation though, so we'll find out who play tonight in about three hours."
Duke City led Texas 35-15 with 9:04 left in the fourth quarter at the time of the Journal deadline.
Be the first to know
Get local news delivered to your inbox!