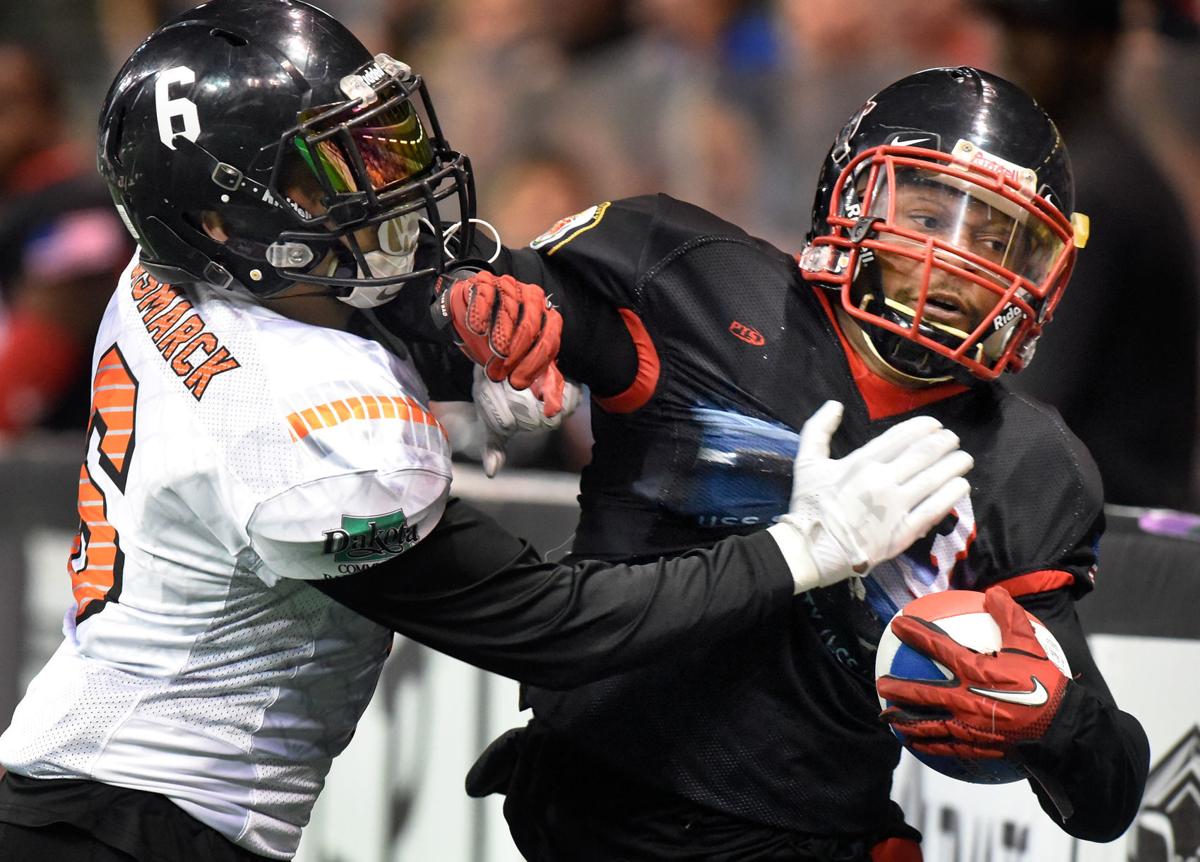 SIOUX CITY – Darrian Miller ran for 117 yards on 17 carries, Liam Nadler threw six touchdowns passes and the Sioux City Bandits defeated the Bismarck Bucks 71-50 in Sioux City's final Champions Indoor Football game of the regular season at the Tyson Events Center here Saturday.
The Bandits (9-3) have now scored at least 70 points in four straight games, the first time in franchise history.
Miller had three rushing touchdowns and added a kickoff return for a score for the Bandits. Nadler completed 10 of 17 passes for 204 yards.
"I think sometimes a loss, or two or three in a row can refocus your team and I think that's definitely what's happened here," said Bandits Coach Erv Strohbeen. "They're ultra-focused and dialed in to what our goal is and we're playing good football right now."
Sioux City led 30-29 at halftime then outscored Bismarck 21-0 in the third quarter. Brandon Sheperd caught a 20-yard touchdown pass from Nadler to give Sioux City a 37-29 lead with 13:09 left in the third. The next two scores came on long passes from Nadler on the first play of the drive. After Bismarck (5-7) missed a 54-yard field goal, Nadler tossed a 41-yard touchdown pass to Frederick Bruno to give Sioux City a 44-29 lead with 5:18 left in the third quarter.
Bismarck then missed a 19-yard field goal on the next drive before Nadler threw a 45-yard touchdown pass to Sheperd to extend Sioux City's lead to 51-29 with 1:04 left.
"That all is credit to the run game," said Strohbeen on the long touchdown passes. "Miller had a great game. The offensive line really stepped it up in the second half. We were able to get big chunks of yardage. When we're running the ball like that it opens up the deep ball. That's kind of the typical Sioux City Bandits offense."
Sheperd caught three passes for 90 yards and three touchdowns and added a 32-yard run. Bruno caught four passes for 72 yards and two scores.
"An impressive victory by everybody," said Strohbeen. "I'm definitely proud of the guys."
The Bandits' offense churned out 357 yards of offense on only 39 plays (9.2 yards per play) and converted on 5 of 7 third downs. Defensively, Sioux City held Bismarck to 245 yards of offense on 56 plays (4.4 yards per play) and the Bucks converted just 2 of 11 third downs.
"The defense played great," said Strohbeen. "We gave up 50 points, but the defense overall played great. I think there's a direct correlation to how many points we score and how many points we give up because we're scoring so fast and there are more opportunities for them to score."
Isaac Wright had eight tackles, two tackles for loss and one sack for the Bandits. Henry Livingston and Soloman St. Pierre both had interceptions. St. Pierre leads the CIF with 11 interceptions on the season.
"Boy I thought he was going to return that one," said Strohbeen of St. Pierre's interception. "They called him down by contact, but I was anxious to see that return. He's an impressive defensive guy. He's definitely having some success for us."
The Bandits now get set for the playoffs. Sioux City will host the Quad Cities Steamwheelers next week. The Bandits defeated Quad Cities 45-35 on March 18 in Sioux City and lost 43-38 on April 21 in Moline, Illinois.
"It's win or go home now," said Strohbeen. "I tell these guys when we enter the playoffs that they've all created a bond with each other. Now you've got to go out and earn extra time with your brothers that you've played with for 20 weeks now. It's going to be a tough ball game next week. Quad Cities is a great ball club. Luckily it's at home. That's key. We want to play as many games at home as possible."
Be the first to know
Get local news delivered to your inbox!