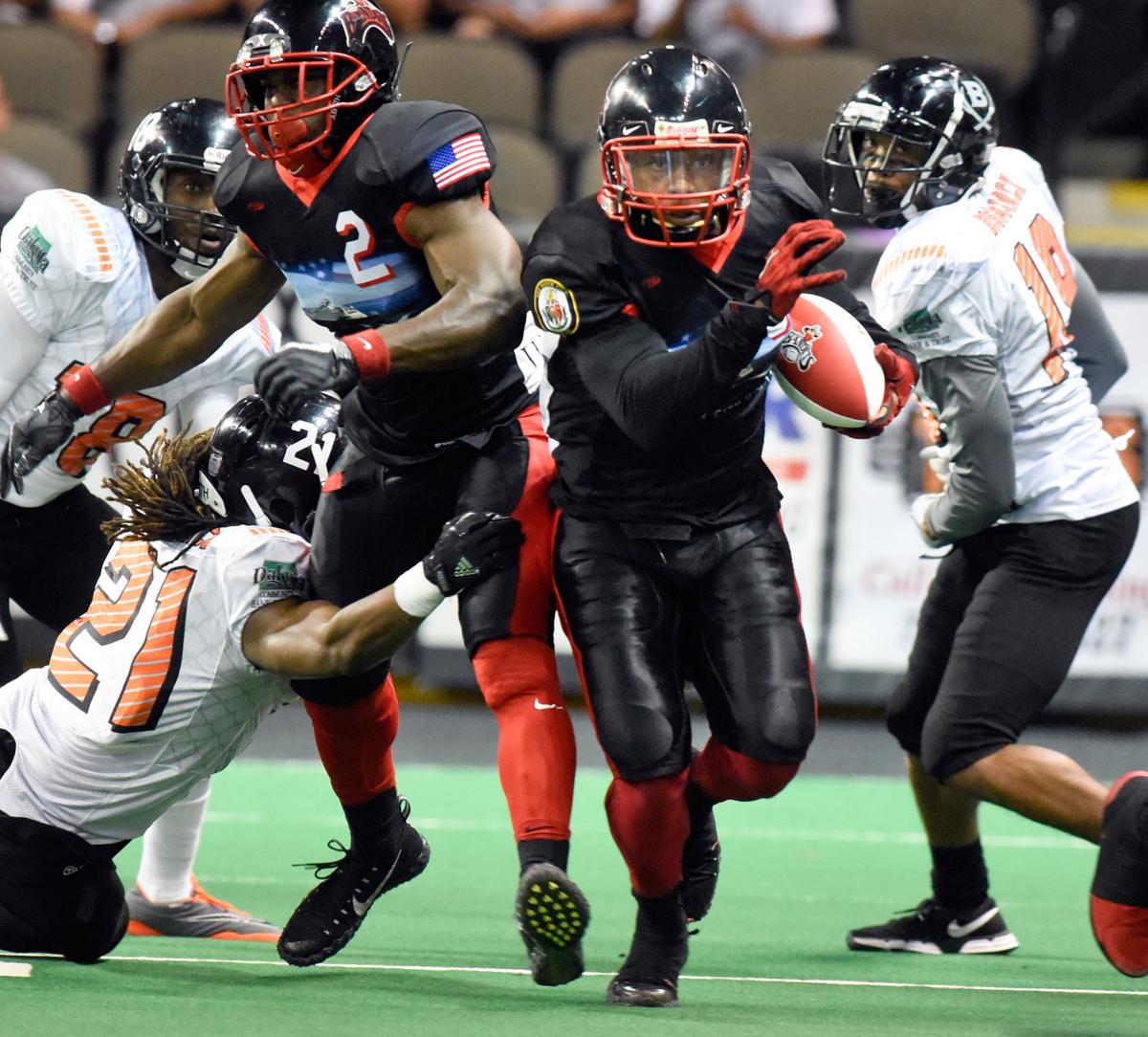 SIOUX CITY – The final result of the last game of the season may not say so, but the Sioux City Bandits just wrapped up one of their most successful seasons in franchise history.
Sioux City is a team with three championships to its credit so Saturday's disappointing 31-27 loss to Duke City in the Champions Indoor Football title game in Albuquerque, New Mexico will sting for quite some time. What shouldn't be lost is how impressive this group was because it represented a kind of changing of the guard for the Bandits from previous title runs.
So many familiar names that had played key roles in the last title in 2015 from running back Johnny Bentley and wide receiver Damon Mothershead on offense and linebacker Marlon Lobban and defensive back Rahn Franklin were not on this roster after retiring.
The coaching staff of head coach Erv Strohbeen, offensive coordinator Jarrod DeGeorgia, Lobban, the new defensive coordinator, defensive backs coach John Zevenbergen and I am sure many others went about building this team with a lot of new, key pieces. Eleven wins later and a trip to the title game shows that the Bandits should be able to consistently be playing in the final game of the season.
It should also be noted that CIF MVP and co-offensive player of the year running back Darrian Miller and co-defensive player of the year in defensive back Solomon St. Pierre were both first-year players. The Bandits know the kind of players they are looking for, and more often than not, they produce for Sioux City.
The team has a formula – a Bandit Way if you will – that they stick to and this season more than any other in the five years I have helped cover the team shows it is a winning one.
"We talked to the guys (after the game) about how much they bought into (the system) and how much we love these players," said Strohbeen. "I told them in all of our days playing and coaching as a staff we have had some tight-knit groups, but these guys were second to none as far as buying into the system and doing things the right way."
That has long been a key for the Bandits under the leadership of owner Bob Scott, who certainly wants to win but also wants his team to represent the city well in defeat. That was on display on Saturday night.
"They won the right way and they lost the right way," Strohbeen said. "They shook (Duke City's) hands and congratulated them and lost graciously."
Talking to the Journal less than a half hour after such a tough defeat emotions are still raw so Strohbeen and his staff will undoubtedly want to take a step back and decompress for a bit. However, if the coaching staff returns next season he certainly seems to have a strong idea of the team he wants to put on the field.
"I told every single one of those guys in the locker room that if I am going to do this stuff next year, if the coaching staff is all going to come back next year, we are not going to change any of these guys," he said. "We want every single one of them back."
To drop a one-score game where the Bandits had their chances but couldn't quite punch the ball into the end zone while playing the entire second half without their defensive standout in St. Pierre because of injury, it would certainly seem to suggest it is small tweaks and not an overhaul that will lead to a fourth title.
Copyright 2018 The Sioux City Journal. All rights reserved. This material may not be published, broadcast, rewritten or redistributed.
Be the first to know
Get local news delivered to your inbox!