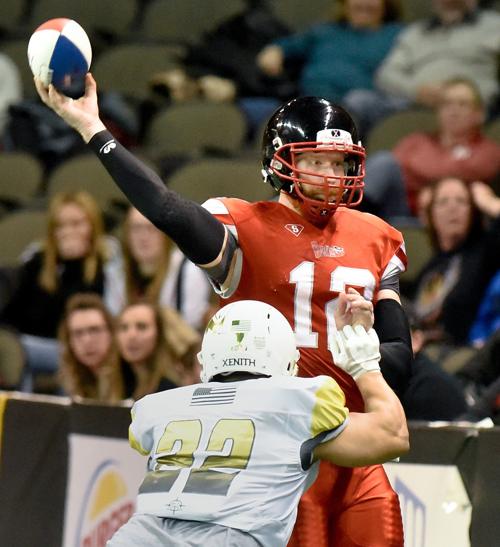 SIOUX CITY – Most players in Champions Indoor Football dream of playing at a higher level. Sioux City Bandits quarterback Liam Nadler appreciates some things about the indoor game though.
"The one thing this game does better than outdoor (football), is it's big on big," said Nadler. "Beat the man in front of you. It's one-on-one matchups. That's why you see some of these scores get crazy. That's one of the things I like about this game. It's man versus man. Who's better?"
The scores can get crazy. The Bandits scored a season-high 69 points in a win against the Kansas City Phantoms on Saturday. Nadler threw for 201 yards and three touchdowns with no interceptions and added a 20-yard touchdown run. The 69-point outburst upped the Bandits points-per-game average to 47.5, the third highest in the league.
"I think his pocket presence and the way he commands the huddle is up there with some of the best one's we've had," said Bandits Coach Erv Strohbeen. "I like his confidence and his stature in there. I like everything about him right now."
Nadler did it without veteran receiver Frederick Bruno too.
"The lack of consistency from injuries is tough, but at the same time, we've got a great offensive system here that scores a lot of points," said Nadler. "It's easy to learn. As guys come in and learn new positions because of injuries, they'll master those and it will make them all that much better."
Nadler currently ranks fourth in the CIF in passing yards per game at 147.3. He's thrown 10 touchdowns and just two interceptions while completing 65 percent of his passes. And the Bandits are 4-0 and alone on top of the North Conference.
Things weren't as clear for Nadler after last season though. He played for the Colorado Crush of the Indoor Football League under former Bandits head coach, Jose Jefferson. Nadler threw for 1,114 yards and 28 touchdowns, but the IFL folded the Crush after the season.
You have free articles remaining.
"Jose Jefferson, who coached our team in 2005 and 2006, was in Colorado last year," said Strohbeen, who played under Jefferson. "Their team out there in Colorado folded, so I called Jose and said 'Hey, how's that quarterback you have?' He spoke very highly of him and gave me his number."
Nadler liked what he heard.
"I think it was September when they called me up first and said they want me," said Nadler. "That felt awesome to be wanted that early on in the process. But it wasn't just Erv. It was (offensive coordinator) J.D. (Jarrod DeGeorgia), it was (owner) Bob (Scott), it was (defensive coordinator) Marlon (Lobban), all those guys were calling me up and recruiting me. It was great and that's the reason why I'm here."
Strohbeen and Nadler agreed that the similarities in the offenses in Colorado and Sioux City has helped the transition.
"He kind of runs the same offense with us that he ran last year," said Strohbeen. "It was kind of a natural fit for him to come here with the basics of the offense."
"In terms of terminology that was such a smooth transition for me," said Nadler. "From day one, J.D., Erv and I were speaking the same language. It was awesome."
Fast forward to now and Nadler likes Sioux City's 4-0 start but knows there is still a lot of season left.
"It's good but at the same time there's also a target on our back every week," said Nadler. "We still have to perform up to our standard."
The Bandits play next at the Wichita Force on Saturday.