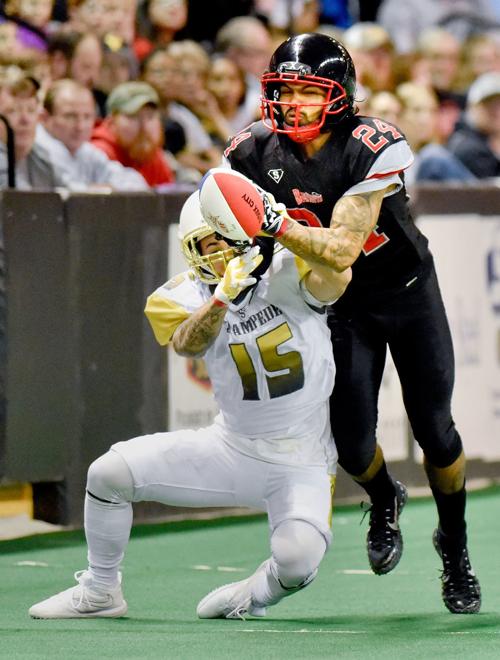 SIOUX CITY – Sometimes the best praise can come from rivals.
Sioux City Bandits head coach Erv Strohbeen recently was at Wayne State for a football camp with his son. Wayne State head coach Dan McLaughlin was curious how Strohbeen got current Bandits safety and former University of Sioux Falls star cornerback Solomon St. Pierre.
"(McLaughlin) said he's the best defensive back I've ever seen play in this league (the Northern Sun Intercollegiate Conference)," said Strohbeen.
"I talked with the coaches from there and I know a lot of players from Wayne," said St. Pierre. "It was always fun to play against those guys. It was a rivalry between USF and Wayne State and I was always stoked to play against them."
McLaughlin may be right. St. Pierre, listed at 5-11 and 185 pounds, is one of the most decorated players for USF at the Division II level.
St. Pierre was named All-NSIC twice. He earned 16 All-American honors and was a finalist for the Cliff Harris Defensive Player of the Year Award after his final collegiate season in 2015. He finished with 22 career interceptions, a school record, and added 145 career tackles.
Any doubts that his skill would not translate to the Champions Indoor Football league were quickly erased.
"He's a game changer," said Strohbeen. "I think he could be the defensive player of the year in this league and the rookie of the year in this league."
St. Pierre leads the CIF in interceptions with 11 and is second in pass breakups with 15. He was named the CIF Defensive Player of the Week two weeks ago after recording two interceptions and a forced fumble in a 71-50 win over the Bismarck Bucks.
"I feel like no matter where I'm at, I'm going to come in and intercept the ball for my team and help get the ball back to the offense," said St. Pierre. "That's just how I play, and I'm confident in that."
Strohbeen compares St. Pierre favorably to other recent Bandit greats at defensive back.
"You look at Rahn Franklin's interception numbers over the years, I think that's where Solomon is at," said Strohbeen. "He looks like Rahn Franklin or Clifford Stokes last year with the numbers he puts up. He's up there."
Toss in the fact that teams in the North Division tend to be more run heavy than the South Division, and it's even more impressive what St. Pierre is doing.
"We don't play the same kind of ball up here in the North like the South teams play," said Strohbeen. "They throw the ball a lot down there. For him to lead the league in picks, playing against a lot of running teams, that's pretty impressive. He doesn't get the ball thrown at him as much as if he played down south."
After playing last at USF in 2015, St. Pierre had tryouts with both the Minnesota Vikings and the San Diego Chargers in 2016. He went overseas and played in Italy with Milano, then played in 2017 in the Canadian Football League with the Hamilton Tiger-Cats.
St. Pierre noted that there were differences between playing outdoors and in the CIF, but it's all still football.
"Football is football, (the CIF) just happens to be in a shoe box," joked St. Pierre. "Indoor is smaller. There's always contact no matter what. You can't run out of bounds or do certain things. You're always hitting people, so that's kind of fun. It's a lot different than in Canada when they're running at you because the field is a lot wider. (In the CIF) they're running at you but the field is smaller."
The Bandits have won six straight games, a far cry from their three-game losing streak in April. St. Pierre says one of the reasons the Bandits are playing so well right now is the camaraderie built during the three-game skid.
"One thing that changed is the chemistry of the whole team was strengthened," said St. Pierre. "Many teams struggle to do that in the middle of adversity, but we found a way. I feel now we are clicking in all three phases of the game and are starting to capitalize on the turnovers we've been forcing all year."
Sioux City plays next at the Salina Liberty on Saturday in the semifinals of the CIF playoffs. Salina beat the Bandits 60-58 on April 28 in Sioux City. Salina was also the last team to beat Sioux City prior to the Bandits' current winning streak.
"I'm excited for another opportunity to compete against a great team and coaching staff. I love to compete and think this game will be a great show for the fans."