SIOUX CITY | Twenty-four year old Derek Geddings is a para professional and a teacher's assistant at South Sioux City Middle School.
He's also a champion. Saturday night, he caused havoc on the Sioux City Stampede's defensive line, turning in five quarterback sacks in a 27-20 win over the Minneapolis Warriors in Elite Bowl XI at Memorial Field.
Make that a two-time champion.
Geddings, who's also an assistant coach for South Sioux City's football and wrestling teams, plans to return next year for his sixth season with the Stampede, which he hopes will end in a second consecutive Northern Elite Football League championship.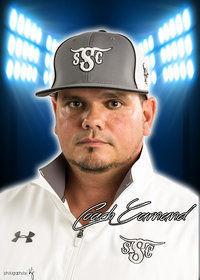 What makes him keep coming back? Stampede Coach Jason Garnand estimated that 90 percent of this season's roster played for the squad that a year earlier, won the Midwest Football Alliance championship.
"It's these guys," said Geddings, a former South Sioux City football and wrestling standout. "This team, man, they're a blast. I love playing with them. We have great coaches. We're experienced. We've been together so long.
"In the Midwest Football Alliance, there's a few quality teams. Here in the NEFL, we have the Warriors and more quality teams. We have good competition every week. These are the games we wanted."
Geddings finished an 8-1 season (10-1 overall) leading the Stampede with 12.5 quarterback sacks and three fumble recoveries. He turned in the lion's share of sacks for the NEFL's top defense during Saturday's win over the defending league champions while coming through with one sack each were Trenton Jones and Chris Williams.
Some Stampede players come from a long distance for Wednesday night practices that prepare the squad for Saturday games. Road trips this season in Sioux City's first year in the NEFL took place in Minnesota (Minnesota Vipers, Med City Freeze, St. Paul Pioneers) and Wisconsin (Hudson Thunderhawks).
You have free articles remaining.
T.J. James, who scored the game-winning 34-yard run with 2:07 left in the fourth quarter, was among the eight who came from Des Moines. Quarterback Dorian Ballentine organized the weekly trips.
The 26-year old James is a substance abuse counselor in Des Moines. He'll be back for a fourth season in 2019.
"Honestly, it's just being around these guys," said James. "I have eight guys I travel with. On our trips, we just shoot the breeze. It's just a good environment. When we get here, it's all about football, which is all we love.
"I think it's because we keep winning. It's all about loyalty with this team. We owe it all to Coach Garnand. He does a lot for us like getting us new jerseys. I appreciate everything he does for us. That's why we're champs. We're all coming back."
Garnand was named the NEFL's coach of the year while defensive coordinator Spetlar Tonga won assistant coach of the year honors. Cornerback Warren Joiner (11 interceptions, 1 forced fumble, 2 defensive touchdowns) claimed Defensive MVP accolades.
Seven members of the Stampede received first-team NEFL honors – Joiner, James, wide receiver Jake McDonald, offensive lineman Jameel "Juice"Cunningham, defensive end Chris Williams, outside linebacker Tyrae Kemp and safety Robert Lewis.
Geddings and Ballentine received second-team NEFL honors along with wide receivers Bryce Harshman and Bret Van Muyden plus running back Larry Taylor.
Established in 2013, the Stampede have sported a 44-9 record. Garnand looks for nothing but a bright future for this franchise, which has been invited to play at U.S. Bank Stadium in Minneapolis on Oct. 6 against the Colorado Football Conference's Denver Pirates in a semi-pro jamboree.
"This championship is a little bit more special," said Garnand. "I don't know too many semi-pro teams in the country that can go from one league, win it, then go to another league that's better and win that championship in back to back years. That says a lot about our organization and our players.
"But this one's special. It's because we got to play it in Sioux City. That's something that we'll never forget. That's our drive going forward, is to have the opportunity to play well in the regular season and get a home field championship game like tonight."