SIOUX CITY | Briar Cliff head coach Dennis Wagner announced the addition of Eric Daniels to his coaching staff. Daniels will serve as defensive coordinator of the Charger football program after being the defensive coordinator/assistant head coach at Oklahoma Panhandle State University the past two seasons.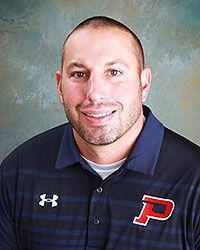 This past season, Panhandle State finished in the top 25 for the first time in 35 years. Panhandle State was ranked seventh in the nation in defense as well as top 15 in 10 different categories, including being first overall in 4th down stops and sixth in total defense per game at 292.0. Daniels had three defensive players selected as first-team all-conference members. He also helped the Aggies get their first win over a Division-I FCS opponent, beating Arkansas Pine Bluff 20-16.
Recently, Daniels was elected to the American Football Coaches Association 2018 Coaches Leadership Institute, representing 35 football coaches in America under the age of 35.
Prior to Panhandle State, Daniels coached at Southern Methodist University in Dallas where he served as a linebackers coach under coach June Jones.
Originally from Rockwall, Texas, Daniels began his playing career as a linebacker at Baylor University before finishing at Hardin-Simmons where he earned his bachelor's degree in physical education. Daniels also began his coaching career at HSU, coaching inside linebackers in 2007 before moving to Angelo State University in 2008 to pursue a master's degree. While coaching both inside and outside linebackers at Angelo, he earned his master's degree in student development and leadership in higher education.