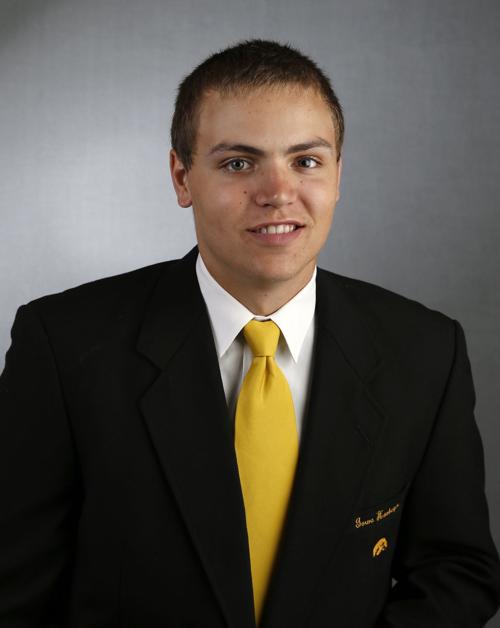 IOWA CITY, Iowa — Nate Stanley will take a break from working with his Iowa teammates this weekend, but the Hawkeyes senior will still have a football in his hands.
Stanley is one of three Big Ten quarterbacks who have been selected to join some of college football's other top quarterbacks at the Manning Passing Academy.
During the four-day camp which begins Thursday in Thibodaux, Louisiana that is owned and managed by the Manning family – father Archie and sons Cooper, Peyton and Eli – Stanley will join other quarterbacks in instructing young players and participating in some friendly skills competition.
"It's definitely special to be considered with some of the top quarterbacks in the country to go there,'' Stanley said. "It should be a pretty awesome experience and I'm thrilled to be invited to go.''
The invitation from the Manning family to be among this year's college-level counselors at the 24-year-old camp means a lot to the Iowa quarterback.
"I grew up watching Peyton compete and he was such a great player, a great competitor,'' Stanley said.
Stanley said he learned from watching the competitiveness he saw in Peyton Manning during his 18-year NFL career.
"The way he approached the game, the way he got after it, was something I always respected about the way he played,'' Stanley said. "To me, he always had a steadiness about him but he was a very competitive quarterback.''
You have free articles remaining.
Stanley said he looks forward not only to having a chance to be around the Manning family, but to also get the opportunity to meet some of his peers from across college football.
Stanley will be joined at the Manning Passing Academy by Nebraska quarterback Adrian Martinez and Northwestern's Hunter Johnson, a Clemson transfer who is expected to replace four-year starter Clayton Thorson under center when he becomes eligible to compete for the Wildcats this fall.
"I'm sure it will be an enjoyable experience and I suspect we'll have some time to talk a little football, too,'' Stanley said. "It's something that I'm really looking forward to taking part in.''
The invitation to participate in the Manning camp on the campus of Nicholls State University comes as Stanley works toward the start of his senior season at Iowa.
Preparing for his third year as the Hawkeyes' starting quarterback, Stanley sits ninth on Iowa career lists with 5,351 passing yards and 5,240 yards of total offense. His 52 touchdown passes over the past two seasons rank fourth in Iowa history.
One of four quarterbacks in the history of the Hawkeye program to lead a team to two bowl victories, Stanley's objectives heading into his senior season include working to strengthen a Hawkeye passing attack which is working to replace its top three receivers from last year's 9-4 season.
He's also working to help Iowa's younger quarterbacks progress as they continue to develop while working under the Iowa system.
"Just trying to put myself in the best possible position to be ready to go in the fall,'' Stanley said. "Like any senior, I want this year to be my best and every day we are all out there working to make that happen.''
Stanley sees growth throughout the Iowa quarterback room, where sophomore Peyton Mansell, redshirt freshman Spencer Petras and early-enrolled true freshman Alex Padilla back up the 6-foot-4 senior.
"All of the guys are working to grow and get better, doing what they can to become the best quarterbacks that they can be,'' Stanley said. "It's a good situation, everybody's working hard those young guys are making progress to be ready when they're called on.''