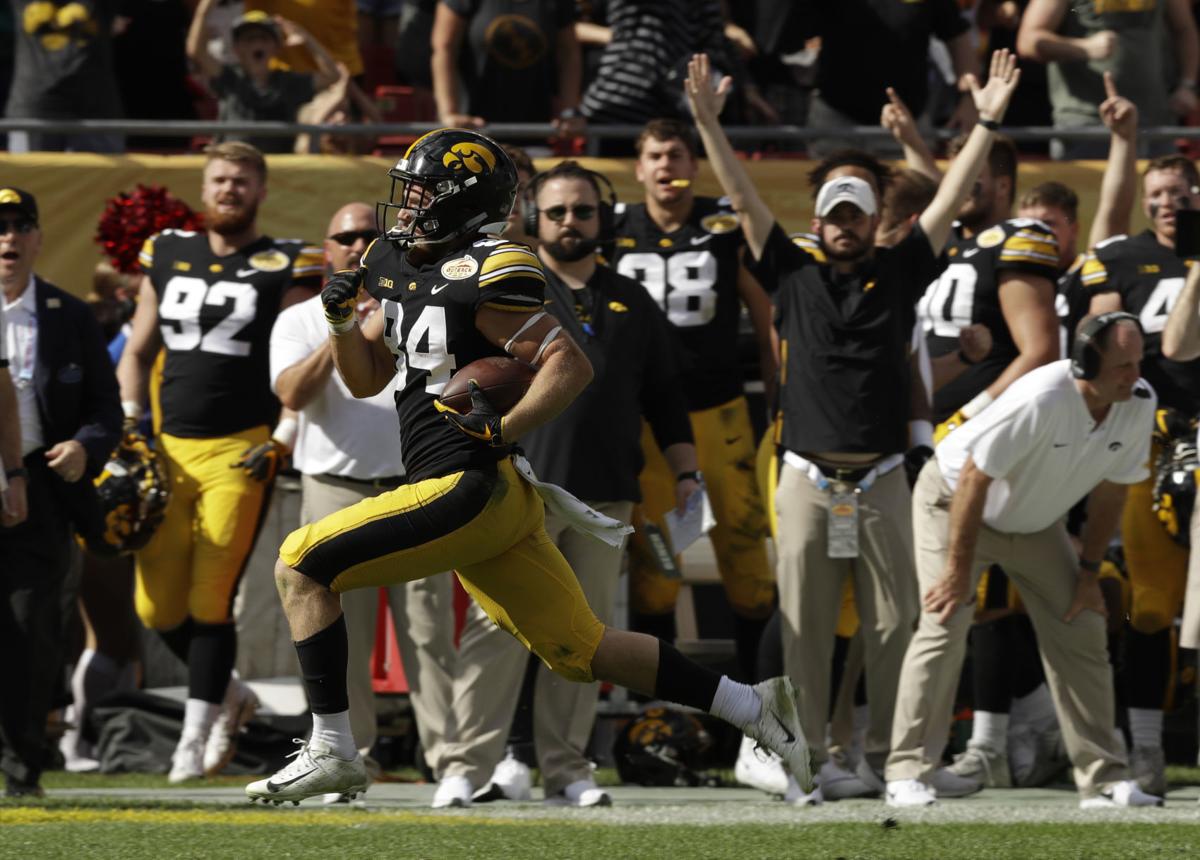 TAMPA, Fla. – On a day when Mississippi State's talent-rich defense wasn't giving an inch, Iowa got of mile of good out of a heaping helping of grit.
The Hawkeyes finished off a nine-win season by fighting off the 18th-ranked Bulldogs 27-22 in the Outback Bowl, delivering big plays at critical moments to earn the victory.
"We were relentless, we were resilient and we played a smart football game, the type of football we had to play to be successful against a good opponent,'' Iowa coach Kirk Ferentz said.
Mississippi State's defense, which had allowed just 12 touchdowns during the regular season, smothered any Iowa attempts to get its rushing attack going.
The Hawkeyes tried, but were repeatedly turned back at nearly every opportunity.
Iowa finished the game with a minus-15 yards rushing on 20 attempts and its 199 total yards of offense were the fewest ever for a winning team in the 33-year history of the Outback Bowl.
"We just couldn't get it going on the ground. They were as good against the run as advertised, probably better,'' quarterback Nate Stanley said. "We had to find another way.''
The junior connected on his first eight pass attempts and finished the day with a 21-of-31 effort that included touchdown passes of 75 and 8 yards to bowl MVP Nick Easley and 15 yards to Ihmir Smith-Marsette.
Stanley's arm provided only part of the solution.
So did a defense that turned the Bulldogs over three times and positioned the offense to score a season-high 17 points off of those mistakes, the last following a Jake Gervase interception in the end zone.
Miguel Recinos added field goals from 44 and 40 yards for an Iowa team which helped itself by playing penalty-free football against an opponent which was flagged eight times for 90 yards.
"We seemed to hurt ourselves at the most inopportune times,'' Mississippi State coach Joe Moorhead said. "Can't turn the ball over, can't give up explosive plays. You've got to score touchdowns and can't have penalties take plays off the board.''
Iowa found momentum from each of the Bulldogs' issues, even while dealing with their own.
"We had to keep grinding, keep grinding,'' said defensive end Chauncey Golston, whose work included a fumble recovery and an interception.
"This was going to be a 60-minute game. We knew that coming in and we knew there were going to be all sorts of twists and turns that we were going to have to fight our way through. This was never going to be easy. Just keep grinding.''
Eventually, that gave the Hawkeyes a chance.
You have free articles remaining.
After letting a 17-6 halftime lead slip away in the first four minutes of the third quarter, Iowa wrestled its way back in front to stay at 24-19 when Stanley hit Easley for an 8-yard score with 1 minute, 55 seconds remaining in the third quarter.
Easley, who finished with eight receptions for a career-high 104 yards, busted free for a 75-yard score in the first half but it was that game-deciding touchdown the senior receiver will always remember.
It was his 100th reception as a Hawkeye, but more significant to him was the teamwork it took to make it work.
"Kyle Groeneweg put his guy on the ground and that's an undersized guy going against a (linebacker), doing a great job there and then Brandon Smith holds the guy off in the end zone to allow me to get the edge and get in there,'' Easley said.
Mississippi State didn't go away, but it was the Iowa defense that answered.
The teams traded punts before the Bulldogs quarterback Nick Fitzgerald hit Stephen Guidry with a 51-yard pass to the Iowa 1-yard line on Mississippi State's first snap of the fourth quarter.
Fitzgerald, who topped 100 yards rushing for the seventh time this season with a 103-yard performance, was dropped for a one-yard loss of first down by Anthony Nelson and was stopped one yard behind the line of scrimmage on second down by Nelson and Parker Hesse.
On third-and-3, Matt Nelson and Gervase stacked Fitzgerald up at the line and forced the Bulldogs to settle for a 20-yard field goal by Jace Christmann, his third of the game.
"They're bringing seven, eight people on the blitz and there's not many things you can dial up to free someone one,'' Moorhead said. "… The reads all dictated he run it, but they had all the interior gaps, plus people off the edge, plus another guy on top of that. There's only so many things you can do.''
Iowa didn't score on its next possession, but Gervase grabbed a pass in the end zone to end Mississippi State's next chance and the Hawkeyes added a 40-yard field goal by Recinos to their lead.
The 27-22 lead stuck and Gervase knocked away a fourth-down pass with :25 to play that end the Bulldogs' 8-5 season.
Mississippi State controlled things early as Iowa's offense was limited to minus-eight yards in the opening quarter.
Field goals of 44 and 42 yards by Christmann gave the Bulldogs a 6-0 lead that Recinos cut in half with a 44-yard field goal five minutes into the second quarter.
Stanley's 75-yard touchdown strike to Easley – the longest pass play for Iowa in any of the 32 bowl games it has played – pushed Iowa ahead with 7:55 left in the half.
A fumble forced by Epenesa on a sack that was recovered by Golston led to a 15-yard touchdown catch by Smith-Marsette 53 seconds later that gave Iowa its 17-6 halftime lead.
"The big pass, the fumble recovery, the quick score, they going us going, gave us a spark we needed,'' Smith-Marsette said. "But, they made us earn it all over again.''
Stanley threw an interception and Smith-Marsette fumbled a kick return early the third quarter that Mississippi State turned into points on a 1-yard run by Kylin Hill and a 33-yard carry by Fitzgerald.
"When it happened, it was back to work, keep grinding,'' Golston said. "That was the only way. Keep grinding.''