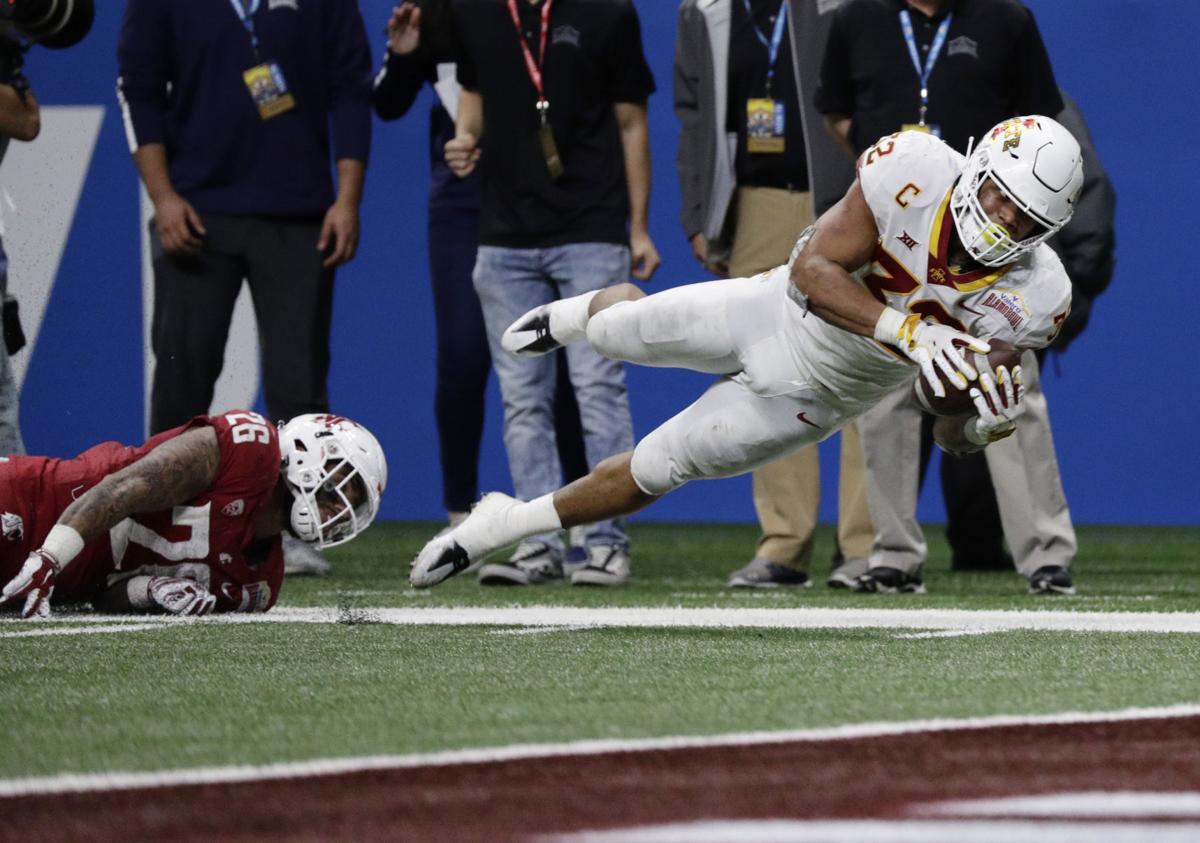 SAN ANTONIO, Texas – No. 24 Iowa State (8-5, 6-3 Big 12) was done in by its own mistakes on Friday in the Alamo Bowl against No. 13 (Washington State (11-2, 7-2 Pac 12).
Iowa State's offense twice turned the ball over on their side of the field, giving the Cougars a short field to work with that resulted in easy touchdown drives.
The Cyclones' offensive line was also called for seven false starts – almost all of them coming in critical situations. After the game, Coach Matt Campbell said redshirt freshman center Collin Newell was having a hard time with the cadence.
"I really think the noise was a major factor, and especially for our young center, who has played really good football for us," Campbell said. "I put that as much on me as anybody. Do we need to have a different cadence? We tried to do some different things to help him out throughout the game, but it certainly got really loud in there at times, so I think just handling the environment more than anything. We've got to do a better job, and that's really on the head football coach."
One of the false starts came when Iowa State was attempting a 2-point conversion with 4:02 left in the fourth quarter. If Iowa State would've converted it, the game would've been tied 28-28. Instead Iowa State was unable to convert and lost the game 28-26.
"Obviously our young center struggled at times tonight in terms of hearing the cadence, and that's unfortunate," Campbell said. "We thought we had a really good play. There were multiple options that would have been a part of it and thought we had the perfect play called. Those things happen. We went back then and had a couple options on the next play, as well, and just weren't able to execute in a critical moment."
On top of the mistakes the offense made, two Iowa State players were ejected for targeting in the first half.
First was linebacker Willie Harvey early in the second quarter when he went to tackle Minshew while Minshew was scrambling. Harvey's ejection ended the four-year starter and fifth-year senior's collegiate career.
The second targeting was called on defensive end Enyi Uwazurike. Uwazurike's came on a sack late in the second quarter. It originally wasn't called, but after Washington State called a timeout, the referees reviewed the play and called targeting. Coach Matt Campbell was so upset with the officials about the second targeting call he ended up getting an unsportsmanlike conduct penalty called on him. Washington State scored a touchdown three plays later.
"I didn't (get an explanation) , and I guess that's where a little bit of my frustration was, that there wasn't any communication with that," Campbell said. "It's a crazy environment. The officiating crew has got a lot going on so I get that and I understand that. My frustration during the football game was just getting an explanation. Now, I should be better than that? Yes. But I really didn't get any explanation in those unfortunate situations.
You have free articles remaining.
"What I was really proud of, though, is our kids' tremendous ability to overcome the loss of two what you would say would be very good football players for us this year."
Outside of the mistakes, which cost Iowa State the game, the Cyclones played well with the defense playing extremely well after two important pieces were ejected. Washington State had just one scoring drive that wasn't 30-yards or less or the result of a targeting call followed by an unsportsmanlike conduct call – two 15-yard penalties.
Defensive coordinator Jon Heacock's defense held the most prolific passing offense to 299 yards and 28 rushing yards. The Cyclones held the Cougars 10 points below their scoring average and 135 yards below their yards average.
The Iowa State defense had five drives that were just three plays.
Iowa State's offensive stars played like stars Friday night in the Alamo Dome.
Running back David Montgomery finished with 124 yards and 1 touchdown on 26 carries. He also had four receptions for 55 yards.
Receiver Hakeem Butler made big play after big play. He finished with an Alamo Bowl record of 192 yards. He did it on nine catches.
"With their corners, the way they played and the safeties and things like that, we studied them a lot," Butler said. "We had a long time before we had to play them, so we got to understand them really well, and we just saw some things that we really liked and just attacked at will.
Quarterback Brock Purdy started the night 1-4 with two interceptions. After the rough start he bounced back going 17-23 for 315 yards. He also rushed for 46 yards and two touchdowns.
"I didn't think Brock was even bad early," Campbell said. "I think he made the right reads, and it just – a couple unfortunate situations, their guy made a great play on the ball and just some situations that were what they were, but it's what I love about Brock, his moxie and his consistency and it's great to have guys like Hakeem and David to get the ball to. Those guys made some great plays on the ball. But I think what he has the ability to do is play the next play, and it's what makes Brock Purdy really special.
"I thought he did a lot of things in a really powerful way tonight that continue to show his growth. It'll be really fun to watch him and get him into the winter and watch him continue to grow."