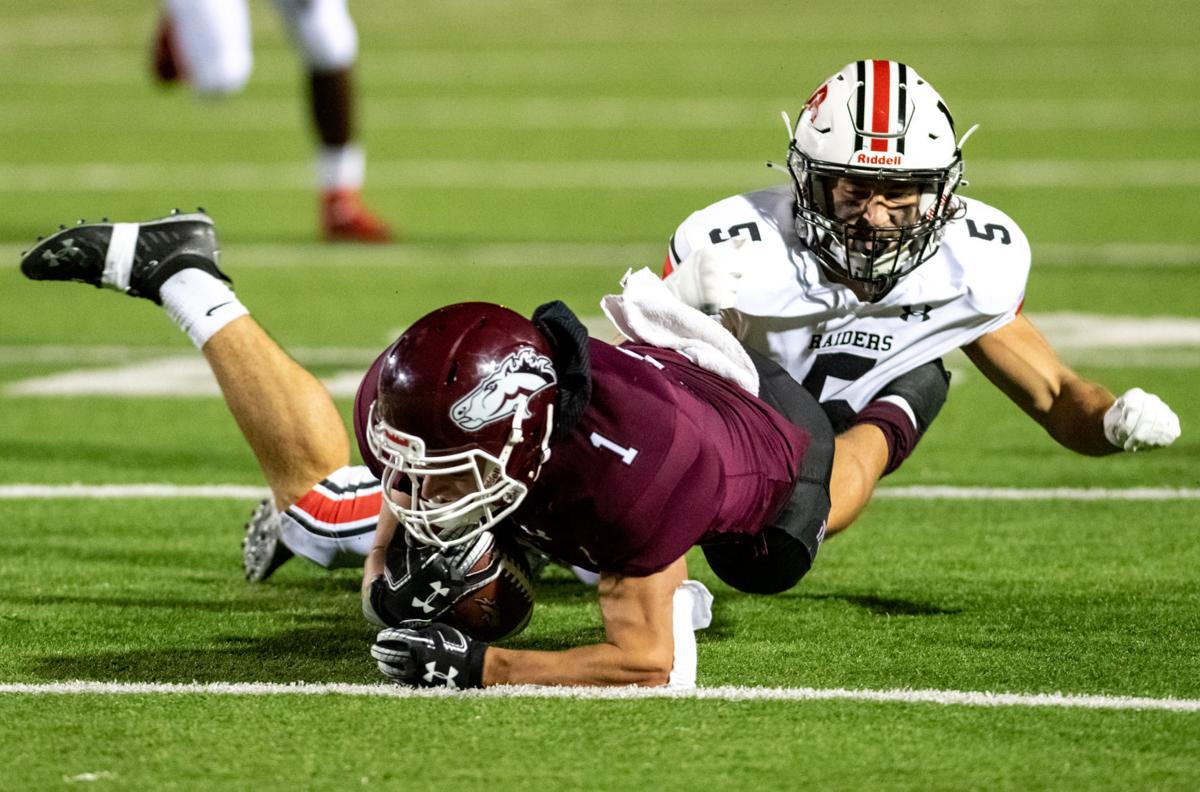 SIOUX CITY — The Morningside football team has won 39 consecutive games going into this weekend's NAIA championship semifinal against Northwestern College.
The Mustangs, however, aren't taking anything for granted in their pursuit of 40. 
After taking a 9-0 lead over Baker in the first quarter of the NAIA quarterfinal at Olsen Stadium, the Mustangs gave up 14 unanswered points, and trailed at halftime by a 21-9 score.
Not exactly familiar territory for a program that has outscored its opponents this season, 513 points to 150.
The Mustangs No. 1 ranked offense finally roared to life during the second half, scoring 36 points en-route to a 45-29 win. While the win was expected, the halftime deficit has served as a bit of a wakeup call for the Mustangs. 
"We played a really good team in Baker,"  coach Steve Ryan said. "I think it reminded us that we've got to take care of the ball better, we've got to make better decisions with the football, and it just hopefully got us ready to go this week."
This weekend, the Mustangs will take on GPAC-rival Northwestern in a highly anticipated national semifinal matchup. Morningside and Northwestern will play at Elwood Olsen Stadium with a 1 p.m. Saturday kickoff.
Morningside beat the Red Raiders in the opening week of the season, 45-31, as quarterback Joe Dolincheck passed for 364 yards, and senior running back AP Ponder rushed for 127 yards and two touchdowns. 
The No. 1 ranked Mustangs, the nine-time defending Great Plains Athletic Conference champions, extended their impressive win streak to 30 games despite a scintillating performance by Northwestern's Tyson Kooima, who threw for 447 yards.
Now, nine months later, the Mustangs and Red Raiders will play again for a spot in the national championship game, with a few key differences.
"I think both defenses were young at the beginning of the year, and I think both defenses, ours and theirs, are significantly improved," Ryan said. "I think that will be the biggest difference going into this game."
Another big change for the Mustangs is their stable of running backs. Despite leading the team with an average of 109.8 rushing yards per game this season, Ponder has been absent this spring.
According to Ryan, Ponder will not be returning to the team.
"AP is done with football this spring, and he is just focusing on graduating," Ryan said.
Despite the loss of one of their top offensive contributors, the Mustangs have done just fine this spring with senior running back Anthony Sims taking over the starting role. Sims finished with 140 rushing yards and three touchdowns against Carroll, and put up 180 yards on the ground last week. 
For the Mustangs, the second half comeback against the top-ranked Baker run defense was a big confidence boost. Morningside rushed for 195 yards against the Wildcats. 
"The second half was huge for us," Dolincheck said. "The offensive line played phenomenal. They played, in my opinion, the best they've played all year, including the fall. We got the run game going against the top-ranked run defense in the nation. Overall, the second half was phenomenal."
While the run game has been hot, the receiving corps has been doing pretty well lately for the Mustangs as well. Reid Jurgensmeier had 183 receiving yards last week, while Austin Johnson had three touchdowns on eight receptions and 153 yards. 
Johnson had 101 receiving yards and one touchdown the last time the Mustangs and Raiders faced each other.
"One thing that we learned is that you can never get too high, and never get too low," Johnson said. "We started that game on a roll, and had a fumble on a kickoff, and then they got back in it, and we were down at one point. You can never get too high and never get too low. Just stay level-headed."
The weather will be an added challenge this week for both teams, as temperatures are predicted to hit 90 degrees in Sioux City.
With that kind of heat, it is going to feel a lot more like summer practice than playoff time. This week, along with watching film and getting ready for their opponent, hydration is the most important thing for the Mustangs. 
"Our trainers and coaches will make sure to tell us to push water," Dolincheck said. "If you are waiting until late in the week to push water, there is a chance you might cramp. So just push water early, stay hydrated, and eat some bananas. Stuff like that."
Another big test will be Northwestern's explosive offense, as Raiders' quarterback Tyson Kooima has proven his ability to win games both on the ground and through the air over the past two weeks.
Kooima had 114 rushing yards and 263 yards passing two weeks ago against Dickinson State, and threw for 379 yards last week in Northwestern's win over Grand View. 188 of those yards went to top receiver Shane Solberg, who has over 1,500 receiving yards this year.
Last time, Kooima passed for 447 yards against the Mustangs' defense. 
"We're just talking about the game, and focused on Northwestern," Ryan said. "Northwestern has their attention. They're a dynamic football team, and that is enough to keep their attention on the game."
It will be the biggest game of the year in Northwest Iowa. 
The Red Raiders and Mustangs play each other every season, but never with this much on the line. For Morningside, a win would mean a shot at a third straight title, and for Northwestern, it would be the first championship game appearance since 1984. 
The game will be a memorable event, with undoubtedly full stands, a rowdy atmosphere, and a lot riding on the outcome, but Ryan is hoping that his team can remember an important lesson. 
"You've just got to play the game," Ryan said. "You can't get caught up in things. You can't let momentum get out of hand. You've just got to focus on playing the game."