DAKOTA DUNES – Forget about the Senior Division, Sam Prue stared down players of all ages and prevailed in the 87th Interstate Amateur at Two Rivers Golf Club Sunday.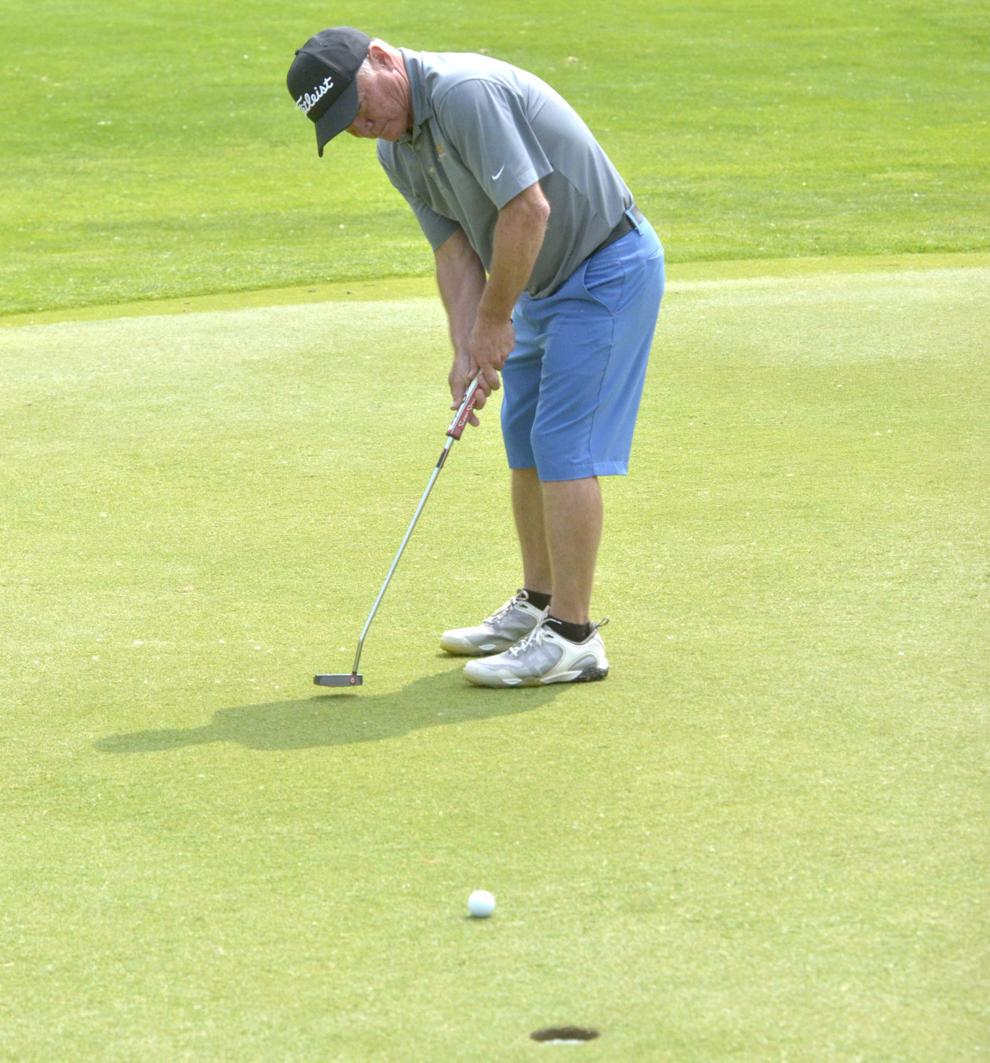 The 61-year-old outlasted 25-year-old Connor Power in a sudden death playoff that ended on the third extra hole. 
After each player recorded a bogey and a par on the first two playoff holes (Nos. 1 and 2), Prue hit his tee shot on the 175-yard eight hole on the green. 
Meanwhile, Power's tee ball ended up in a greenside bunker and he had to blast out and wound up some 20 feet from the hole. Prue calmly ran his 20-foot birdie try to within inches and tapped in for par, while Power missed his par attempt. 
"If anybody really knows golf and saw what Phil Mickelson did a few weeks ago," Prue said. "He's a professional at the top of his game, so if he can do it, I thought I should be able to come close. I didn't really expect this, I was just having fun and it worked out for me." 
Playing in extremely difficult conditions, nobody in the entire field was able to break par. The wind blew constantly at 30 miles-per-hour or more, with occasional gusts of even more magnitude. 
Prue had a two-shot lead with two holes to go in regulation, but went bogey-double bogey to close. He and Power, playing in the same group, finished with identical scores of 71-75—146, or 6-over-par. 
Ryan Gorsett also nearly made the playoff, needing a par on the par-5 18th to get in. Playing a group behind Prue, Gorsett recorded a bogey and had to settle for a tie for third with Sioux City East golfer Ethan Spier at 71-76—147. 
Prue began the final 18 holes two shots behind Brian Evans, who carded the only sub-par round on Saturday with 69. Evans, the 2019 Interstate champ, shot 80 on Sunday. 
The windy conditions, Prue said, didn't have as much effect on him as it may have on other players. 
"I'm used to it and if anybody knows my game they know I hit the ball so low it really didn't effect the flight of my ball," Prue said. "Anytime you hit the ball above the tree lines it's going to effect the flight of the ball. I even set my driver low because it was going to be windy and if you watched my ball flight, it was barely above the tree line and that really helped me." 
Power moved to Sioux City four years ago from Ames, Iowa, and is employed at Consumer Supply in North Sioux City. He played golf at Mankato State University and is a member at Dakota Dunes Country Club. 
"It was windy and the conditions were firm and fast, but I didn't putt very well all day but that was the case with a lot of guys with short, fast putts with the wind kind of blowing you over," said Power, who was playing for the first time this season at Two Rivers. "It was a lot of fun, a great battle and a great tournament. I'll be back next year." 
Prue is no stranger to success in the Sioux City area, having captured a number of Senior Division titles. But this week, he became one of the oldest, if not the oldest, to win the Interstate title. 
"Nothing against any golfer, but the majority of them beat themselves," Prue said. "As you witnessed, I went bogey, double bogey on 17 and 18 and almost gave the tournament away. You just have to persevere. Sometimes you get lucky and sometimes you don't." 
Prue, who will compete in the Iowa State Senior Amateur later this summer, said he really doesn't play a whole lot of golf. After losing his wife, Angelicia, to cancer last year, he's had to raise a 5-year-old, which takes up a majority of his time. 
The reigning Sioux City Journal Siouxland Senior Player of the Year still works at WinnaVegas Casino. 
Prue said after missing nine putts of 10 feet or less at the Tri-State Masters last month, he recently took his first putting lesson from Two Rivers pro Rodd Slater. He's also still very adept at the short game and chipped in for birdie on No. 11. 
"The course is great and originally we thought this would be about the golf course," Slater said. "It was, but it was probably more about the field and especially Sam Prue today. He's had a tough year and is one of the family here and we're real happy for him." 
Tyler Danke (74-74), Jackson Sitzmann (74-74) and Josh Wendling (70-78) tied for fifth place. 
The next Siouxland Player of the Year points event is the Sioux Valley Amateur Match Play in Cherokee, Iowa, June 19-20. Early bird qualifying is already under way for Iowa's oldest match play tourname