OMAHA | Morningside women's golf team captured its third tournament championship of the fall season when the Mustangs' reigned over a 10-school field to win Wednesday's College of Saint Mary Fall Classic at Miracle Hill Golf Course.
The Mustangs, who won the Briar Cliff University Lila Frommelt Fall Classic and the Mount Marty College Fall Invite earlier this season, carded a team score of 314 for a nine-stroke victory margin over runner-up Iowa Western Community College (323). Northwestern finished in fourth place in 348 while Briar Cliff was fifth with a 349.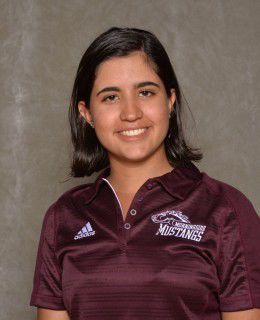 Maria Zorrilla, a freshman, fired a three-over par 73 to claim medalist honors by a two-stroke margin over runner-up medalist Lisa Lied of Iowa Western.
Samantha Knight, a freshman, finished in a tie for third place in the individual standings with a 78. The Mustangs completed their team score with an 81 from Myla Brown and an 82 from Alexandra Mankle. Brown and Mankle finished seventh and ninth, respectively, in the individual standings.
Briar Cliff's Brooke Kroeger finished tied for ninth with an 82 while Northwestern was paced by Chanda Zomermaand who finished 12th with an 83.