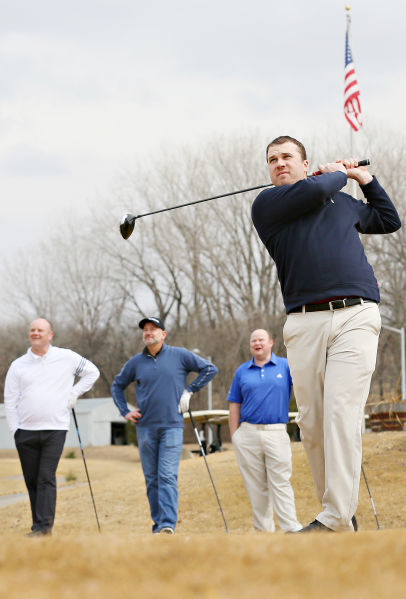 SIOUX CITY -- Scott Harmelink drove up Thursday to Green Valley Golf Course with a smile on his face. That feeling of gratitude has been there for a little while now.
He's happy he is allowed to provide a service he feels is essential in the new COVID-19 world.
Harmelink is the PGA Director for Green Valley and Floyd Park courses in Sioux City, and the two facilities are among those in the metro seeing good business from regulars and interested new golfers looking for exercise.
"We're happy to be able to say that we're open," Harmelink said. "I think every golf course has the responsibility to recognize very seriously what's going on here, and respecting and understanding the guidelines that have been set forth."
Harmelink didn't have that same tone of excitement on Monday. At 11 a.m. Monday, the San Diego native walked into his office, shut the door and watched Iowa Governor Kim Reynolds' daily press conference.
He was expecting the news that golf courses weren't an essential business, and like most other services, would be shut down.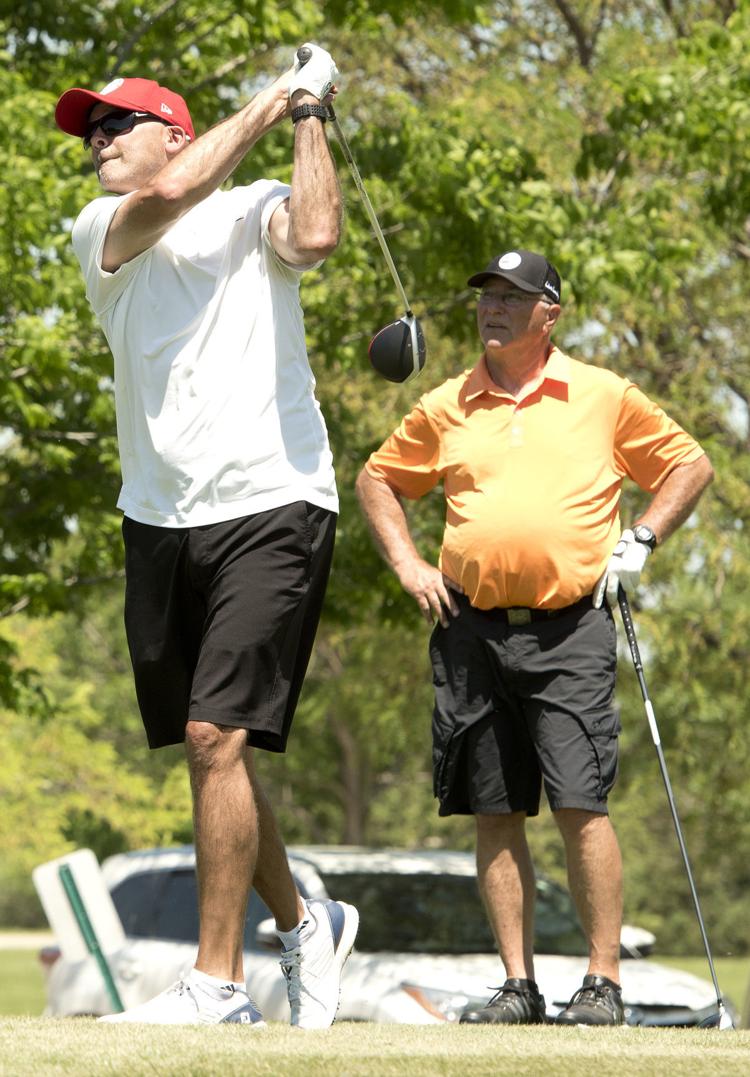 Reynolds, however, didn't include golf courses, and the ones around Iowa were able to continue.
After Harmelink heard that, he smiled, opened the door and went back to work.
"It feels normal and it feels great to be out there," Harmelink said. "... I'm so thankful that she didn't. I think she absolutely made the right call. For a statewide shutdown of golf courses, like in Minnesota, to me, that doesn't seem right. I can understand it in a big city. (The coronavirus) is not in Larchwood, Iowa, and it's not in Alexandria, Minnesota. It's not in those places. For the state to mandate for all the golf courses to shut down is overkill. I'm very happy I'm here now. It's just safer here.
"I just hope that we don't get shut down, and I don't believe we will," Harmelink said. "If we got through the Monday proclamation, I sure have a really good feeling they're going to remain letting us open."
Harmelink has played at his course five times this season so far, and he's even hosted a tournament.
Green Valley hosted the 2020 Spring Thaw 1-Man Scramble on April 4, with turnout greater than expected.
"The people out here had an absolute ball," Harmelink said. "It's just critical for people's mental health to get out and do something. … People need to get out of the house. I would consider golf an essential business, because of the mental health benefits. I've heard that from countless guests."
Harmelink considered not having the scramble, but once he heard from his customers in the two weeks before telling Harmelink how pleased they were that Green Valley was open, Harmelink's doubts went away.
There were 70 players for that event, and according to Harmelink, it's the biggest turnout for the Spring Thaw.
"They just want to do something," Harmelink said.
The next tournament at Green Valley -- the 20th annual Honker Classic -- comes Saturday and next Sunday. It's a two-man tournament that has been very popular. Harmelink said that it'll be a tee-time format tournament with a 9 a.m. start instead of a shotgun.
"I'm not going to put anyone in undue danger," Harmelink said. "I can't wait to do this thing."
Most courses have pushed their leagues back to May.
On Tuesday, most golf courses were filled with patrons.
For example, Sun Valley's parking lot was full in the late afternoon with players wanting to get some fresh air and getting some swings in.
Sun Valley opened March 29. 
"We're taking it day by day," Donaldson said. "We're going to plan as normal, but I know it won't be normal. People are dying to get some exercise and get outside. There's really nothing else to do." 
Green Valley and Floyd Park have asked golfers to practice social distancing and have one person use a cart at a time.
The staff is cleaning facilities and equipment on a frequent basis. At most of the golf courses, the flagsticks are being kept in the holes.
At Two Rivers in Dakota Dunes, handshaking isn't allowed. Instead, Rodd Slater, the director of golf at Two Rivers, asks players to tip their cap at the end of a round.
When players go to retrieve their ball at Two Rivers, there's pieces of swimming noodle in the cup to avoid the ball sinking to the bottom of the cup and avoid the chance of reaching all the way into the hole or touching the stick.
Most golf directors/owners have seen golfers play under the guidelines with safety, awareness and accountability. Seeing that makes them feel like it's a good thing that the courses are open for people to use.
"Anything we do here is focused on being outside and active," Slater said. "Everyone understands their personal responsibility to stop the spread or getting it from other people. We're helping and taking extensive measures to sanitize highly-touched places."
Two Rivers have also removed ball washers and rakes to avoid the spread.
Two Rivers will be hosting two city tournaments later this spring: The Siouxland Senior Open and the Interstate Amateur Championship.
The Senior Open has been moved to Aug. 21, and the Interstate tournament is scheduled for the first weekend in June, but according to Slater, that is under review.
"Everyone is looking at these dates waiting to find out more information to make more informed decisions," Slater said. "Right now, I don't think we have enough information to make a decision on those dates, at least for our first one in June. The Interstate Championship date is pretty flexible. I can pick a date any time for that one."
Marty Johnson, owner of Covington Links and South Ridge in South SIoux City, knows it'll get better and that everyone is in the same boat.
Johnson appreciates the golfers who have practiced social distancing and doing the things needed to stop the spread.
"I just had two people go out here (Saturday) and took two separate carts," Johnson said. "It's just the way it is. It's just part of the deal. You can only put so many people on the course and still practice social distancing. Some people are understanding of that, and some people aren't. What I'm telling you is it isn't up to speed what it is. We still have the same number of members, and we've picked up new ones. As far as them coming out and playing, no. They're not coming out that much. It could be worse."
Another way golf courses are help stopping the spread is by scheduling tee times. Nowadays, golfers can schedule tee times over the phone or online, and even pay the fees through the phone or internet.
Be the first to know
Get local news delivered to your inbox!