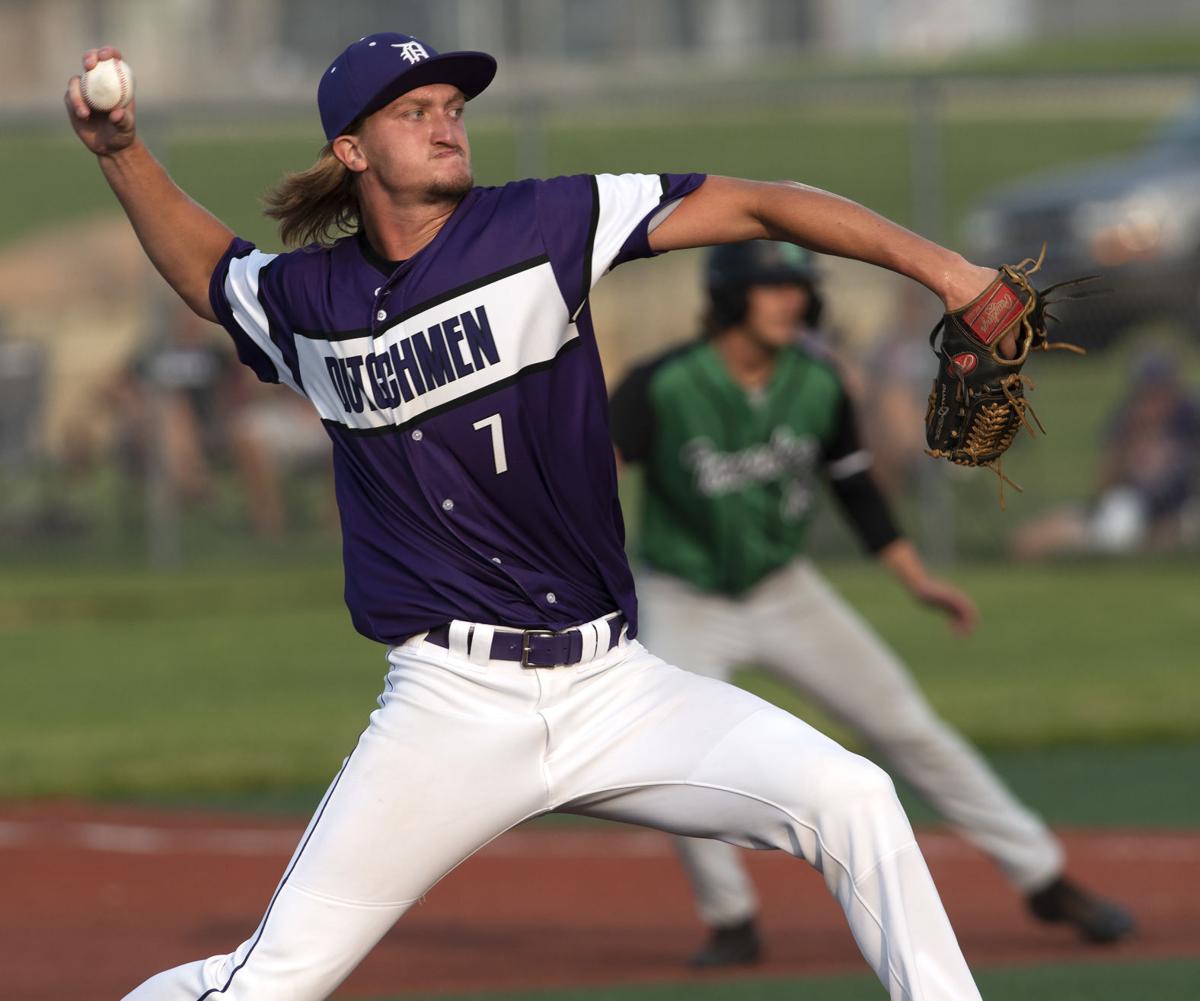 STORM LAKE, Iowa — Colton Korver earned a victory on the mound in the biggest game of his high school career, a 1-0 victory for MOC-FV over Storm Lake in the Class 3A-Substate 1 contest at Storm Lake High School on Wednesday evening.
Korver, a senior, drove in the winning run. And, if not for a quirk in baseball's scoring system, he would have earned a save as well after leaving the mound after five innings, then returning to the hill to record the final out, a fly out that touched off a celebration for the Dutch, who head to the Iowa High School State Baseball Tournament for the first time since 2002.
"I've never been taken out of a game like that and then put back in to finish it," Korver said. "But, I trusted what our coaches were doing, and I trusted the defense behind me."
The victory overcame a sterling effort from the opposing pitcher, Storm Lake senior Mark Eddie, who suffered the loss while fanning 12 MOC-FV hitters. Eddie also had two of the Tornadoes' three hits.
MOC-FV scored the game's only run without hitting the ball out of the infield. Carson Jager started the fourth with an infield hit up the middle. Jager stole second base before advancing to third base on a sacrifice bunt that became a single by designated hitter Kooper Huss as the Tornadoes failed to cover first base. Korver then bunted to first base to chase home Jager.
Korver reached third base after successive 2-out singles by himself and Carter Aalbers in the sixth, but he was stranded on third when Eddie induced a foul pop-out that Austin Gaffney dove to catch just shy of the Dutch dugout.
Storm Lake's biggest threat came in the fifth inning when, with two outs, Eddie and younger brother Jake Eddie, a sophomore, both singled. The elder Eddie, who was running on the play, reached third base. Following a Korver walk to Ben Raveling, the MOC-FV ace recorded a fly out to right field to end the threat.
Coach Brian Wede put senior Kleyton DeGroot on the mound to start the sixth inning, hedging his bet that DeGroot could eat up an inning-plus, thus saving on the pitch-count for Korver.
"Colton was at 89 pitches when we took him out, so we knew we had him for another 21 pitches later in the game at the top of the lineup," Wede said. "We couldn't have asked for anything more out of Kleyton, who didn't allow a baserunner."
Korver, a Northwestern College recruit, yielded three hits and walked three, while DeGroot fanned three in 1.2 innings of hitless relief. The Dutch defense allowed one Tornado to reach third base.
Buena Vista University recruit Mark Eddie, on the other hand, scattered six hits while walking two in his final prep appearance.
Storm Lake, which finished the season with a 28-6 mark, earned the program's first Lakes Conference title in 16 years. The team also claimed its first District championship in 10 years. That said, it was a tough pill to swallow for Coach Ben Seaman.
"These guys had a great season, we just came up short tonight and it really hurts," Seaman said. "There will be days where the hits don't fall. And give MOC-FV credit, they executed their gameplan. I'm proud of our five seniors and what we accomplished. We just came up one victory short."
Wede, who doubles as head coach at Northwestern College, credited his defense for making every play, including his pitchers. The win, he noted, gives the Orange City area a chance to celebrate as the community's other high school, Unity Christian, earned a state tourney bid in Class 2A on Tuesday evening.
"I'm very proud of the people in this program, our Athletic Director Mark Gunderson, who used to coach baseball at MOC-FV," said Wede, whose team takes a 27-8 mark into the state classic at the University of Iowa. "With both schools earning the chance to play in the state tournament, we'll have to figure out who is practicing at what time."
For the Dutch, it's a great problem to have.