DES MOINES | Only two dunks for Xavier Foster on Wednesday afternoon, but the first one didn't come until 2:40 remained in the game and his team was firmly in control.
The first half of the Class 3A first-round boys state basketball tournament game was a different story for Oskaloosa's 6-foot-11, 208-pound sophomore post. Upset-minded Sergeant Bluff-Luton, playing just as inspired like the team of the year before that made a magical run to the state finals, took a 25-15 second-quarter lead with a 13-2 run that ended with Jeremiah Khat's 3-point basket, followed by Sam DeMoss' jump shot in the lane.
Often lining up around the wing both offensively and defensively, Foster kept the third-ranked Indians alive with a pair of treys that trimmed the deficit to 25-23 just before halftime. He finished with 18 points, four 3s and three blocked shots for a team that shot 69.5 percent in the second half while storming to a 63-47 victory at Wells Fargo Arena.
It was a tale of two halves for Coach Adam Vander Schaaf's Warriors, who finished the season with a 15-10 record.
Sergeant Bluff-Luton shot 42.3 percent while taking a 28-23 halftime lead and 28.6 percent in the second half. Back-to-back 3s, 23 seconds apart from Foster's guard teammates, Spencer Tucker (13 points) and Tanner DeKock (9 points), highlighted a 18-4 spree in the final five minutes of the third quarter that triggered Oskaloosa's offensive onslaught.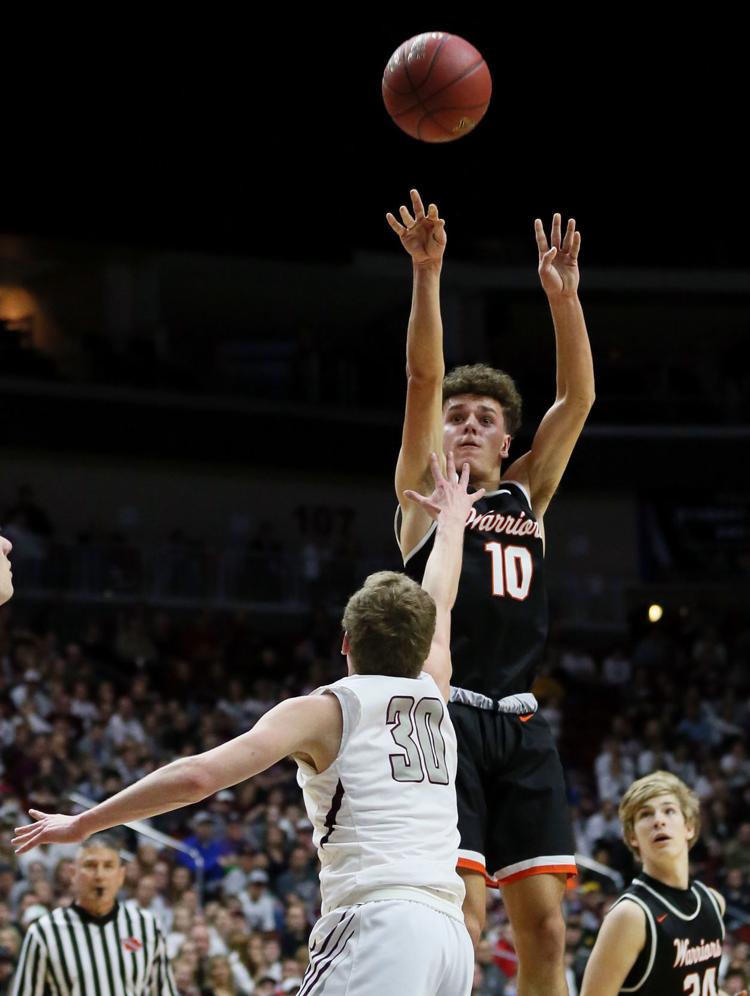 "I saw the stat sheet and in the third quarter, they got us 21-6," said DeMoss, who finished with 11 points and four steals while 6-6 Daniel Wright finished with 10 points and five rebounds. "It's tough to come from that and win a game. They guarded us really well. I thought we played hard. But our movement on offense, we got a little stagnant. That's not usually us."
"At first it felt great, we came out hot, we had a great lead," said Khat, who often guarded 6-9 Cole Henry (11 points) while Wright and 6-3 Ty Boekelman (6 points, 5 rebounds) took turns matching up with Foster. "We knew they'd come back, but we didn't know they'd come back that strong. The big guy was shooting 3s and we really couldn't stop that. Then when their guards got hot, and everyone gets going, they get that momentum. It's really hard to stop a team when they're going like that."
Foster described Sergeant Bluff-Luton as a good-shooting team with posts that were just as good as Oskaloosa's shooters.
"The feeling of being down was awful," said Foster. "I was thinking that we would come in and blow these kids out, I'm not going to lie. (Sergeant Bluff-Luton) was making stops. They were playing harder than us, they were getting stops and we weren't making shots. When we went in the second half, I was focused on getting my teammates open and getting points on the board."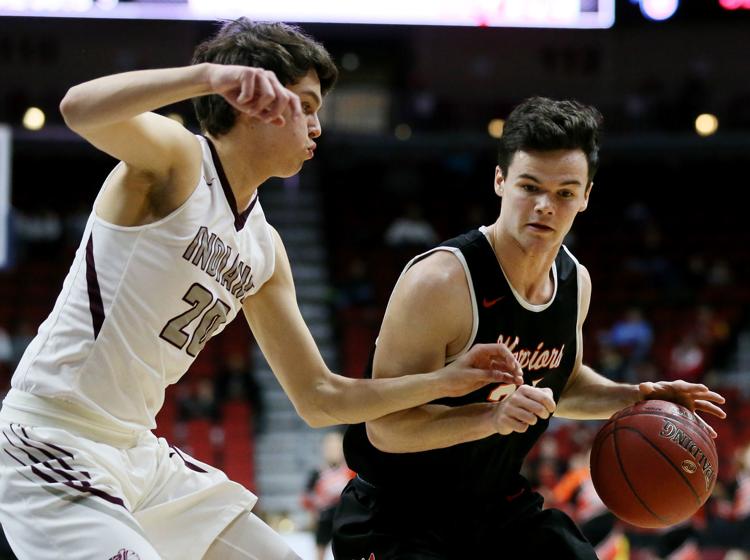 Already being recruited by several major colleges, Foster entered the game having made 17 of 49 3-point attempts. His first came in the opening quarter before he committed a pair of fouls that resulted in time on the bench.
"We had been working on (3s) all summer," he said. "Two summers ago, I was starting to grow and we were working on fundamentals, really. It's just getting better since then."
"Things changed in the second half when Tucker started making 3s," said Vander Schaaf, who said he still felt good with his team ahead at halftime, even with three Foster treys. "To match that, their defense was really good in the second half. We had trouble scoring and we had trouble finding shots. We didn't shoot well throughout the game and a lot of that had to do with their defense. We tried to do a few things to stop their runs with time outs and switching matchups, things like that, but in the end (Oskaloosa) was just better and beat us. They have so many weapons."
DeMoss, Wright and sophomore Conner Groves (9 points, 2 assists) will return as starters for the Warriors. Reserves like 6-5 freshman Jake Layman and 5-11 sophomore Deric Fitzgerald will also come back with a goal, according to DeMoss, to return for a third consecutive state berth.
"What I told them, it's hard to lose and it's sad in the locker room, but in time, they'll see this was a tremendous accomplishment," said Vander Schaaf. "We talked about the fact they get a trophy for the trophy case and any time they ever come back to our high school, they'll get to see it, they'll see the banner in the gym and know they were responsible for that.
"Qualifying for the state tournament, you can never be disappointed to reach this far. I'm extremely proud of the guys. It was a great group that worked hard all year long and fought through adversity to turn our season around."