SIOUX CITY — The Bishop Heelan High School baseball team realized on Tuesday it can play with any team in the state.
Three days after defeating Class 4A third-ranked Dowling Catholic, the Crusaders (13-5) swept the East baseball team, winning Game 1, 13-3, then the nightcap, 6-4. 
"Our guys get excited about playing good teams," Heelan coach Andy Osborne said. "East is an excellent club, and they have a lot of playmakers."
In Game 1, Heelan — unranked but receiving consideration in the Class 3A poll — put together a seven-run sixth inning to enforce the 10-run rule on the Black Raiders (10-3).
Brant Hogue blew the rally open with a bases-clearing double with two outs. Hogue drove in Mike Pithan, Ben Dixon and Trent Hope.
"That was really fun," Hogue said. "Battling through the weather, it was our ace against their ace, it was just a fun battle. Once we get going, we get a lot of energy, and we're tough to stop."
All three of those Crusaders reached base via walk or hit by pitch off East relief pitcher Ray Ray Douglas.
Douglas was charged with all seven runs. He faced nine batters and recorded two outs. Anthony Hacker came in to try to record the final out, but Collin Knapp drove in a two-run double to end the game.
Ian Gill started the rally with a one-out single.
In all, the Crusaders got their seven runs on three hits, four walks and one hit batter.
"That was the whole game," Osborne said. "Our guys were locked in the whole time in adverse conditions. It wasn't ideal at all, but our kids answered the bell every time.
"Ray Ray throws incredibly hard, and the guys were ready to face that challenge," Osborne added.
Mike Pithan was one of the smaller players for Bishop Heelan when he was an eighth-grader, but he easily caught baseball coach Andy Osborne's eye.
Heelan also scored three in the fifth, two in the third and once in the first inning.
In the fifth inning, the Crusaders got four consecutive base runners on. Jared Sitzmann and Pithan had back-to-back singles. Dixon then walked and Hope drove in Sitzmann on an RBI single.
Hogue struck out on one of Nate Zyzda's six strikeouts. After the second out of the inning, Max Venne drove in two runs, but the inning ended as Hope tried to make it to third base.
Pithan and Dixon had consecutive RBI hits in the second inning, and in the first inning, Dixon allowed Sitzmann to score on a sacrifice fly.
Osborne talked with his team at Monday's practice to be on the lookout for opportunities to be playmaker.
"I think we did that in the first game," Osborne said. "We weren't sure who we were. I think we know now that we can play with just about anybody in the state. We're doing the little things right. We're making defensive plays, we're throwing strikes, and we got a shot."
You have free articles remaining.
The Black Raiders got on the board first.
Douglas led off the game with a bunt single and later scored when he stole third base, and Knapp, who was catching for the Crusaders, threw the ball too high for Gill to reach at third and as the ball sailed to left field, allowing Douglas to score.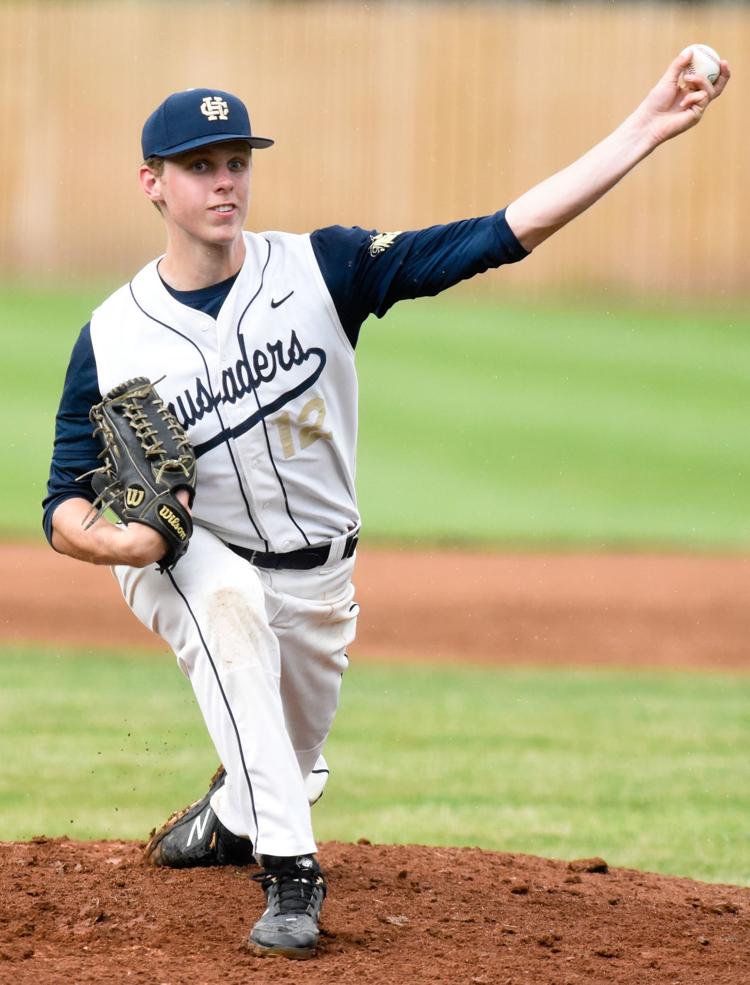 Kyle Burns later drove in the Black Raiders' second run on an RBI groundout. Noah McWilliams also scored on a wild pitch in the fourth inning.
Hogue wasn't fazed by allowing three runs in 3 ⅔ innings. He kept on looking ahead.
"I knew after I hit their second batter, that was on me, I had to step off the back (off the pitcher's mound) and take a couple deep breaths," Hogue said. "I calmed down and threw strikes. I think once I got through the first half of the lineup, I threw first-pitch strikes and once I got ahead, it got easier from there."
Hogue recorded nine strikeouts.
On the other side of the field, East sat in its dugout in-between games quiet and somewhat stunned. Its only other two losses coming into Tuesday's game were to Davenport West and to Class 4A No. 1-ranked Johnston, which some coaches believe is the best overall team in Iowa.
"We got humbled," East coach Kevin Dicus said. "Very good ball club over there that got after us and we got no answer. When you don't play hard, stuff happens like that. When you can't find the zone, stuff happens like that. And, we're better than that."
GAME 2 
Trent Hope drove in a two-run single in the third inning that gave the Crusaders a 6-4 win and the sweep over the Black Raiders.
With the win, the Crusaders are back in the conversation for the MRAC race. 
The Crusaders scored twice in the first inning and thrice in the second. They chased East senior Noah McWilliams in the second inning.
Ben Dixon had an RBI single in the first inning for Heelan.  
Hope drove in Ian Gill and Christian Velasquez. Gill led off the second inning with a single, then Velasquez reached on one of five East errors in Game 2. 
"We took advantage on the bases," Heelan coach Andy Osborne said. "We took a big step forward with the two wins.
"To get big wins against East, who is a good team with high aspirations, it should propel us to build off of this." 
Velasquez pitched all seven innings, and he allowed the four East runs on four hits. He struck out five and walked one. 
Nate Zyzda hit a solo home run; Colton DeRocher had two doubles and an RBI.