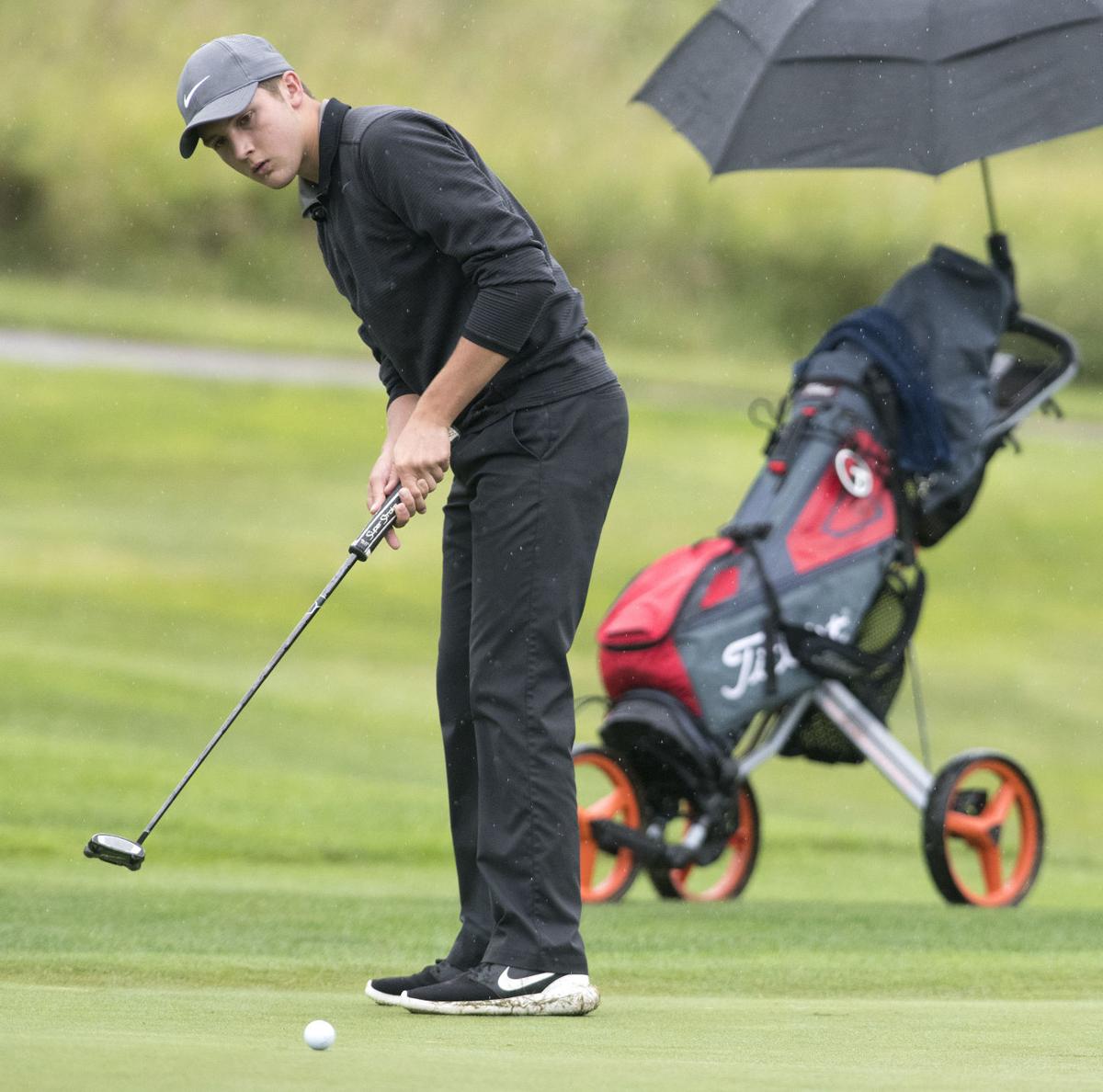 SIOUX CITY -- For the Bishop Heelan, East and Sergeant Bluff-Luton boys golf teams, there are plenty of reasons to be optimistic.
Heelan and East both graduated one key golfer from their rosters, but each one returns a majority of its varsity golfers from last season. SB-L returns everyone this season and even gained a golfer who will compete for a varsity spot.
All three teams golfed against each other on Wednesday in a quad at Whispering Creek. Council Bluffs Thomas Jefferson rounded out the contest.
Heelan edged East by three strokes, 331 to 334, and SB-L finished in third with a 362. SB-L's Schuyler Warren was the medalist with a 79 and Heelan's Jackson Thompson was the runner-up with an 80.
It was the first action of the season for Heelan and all four teams had to deal with rainy conditions to start the day. Heelan coach Andy Foster liked the way his team handled itself on Wednesday to open the season.
"It was a little tough atmosphere but the course is in such great shape. For our first event here at this course, I am pleased with it, I am happy with it," Foster said. "A couple of the kids think they can shoot better and hopefully we can challenge ourselves to do what they think."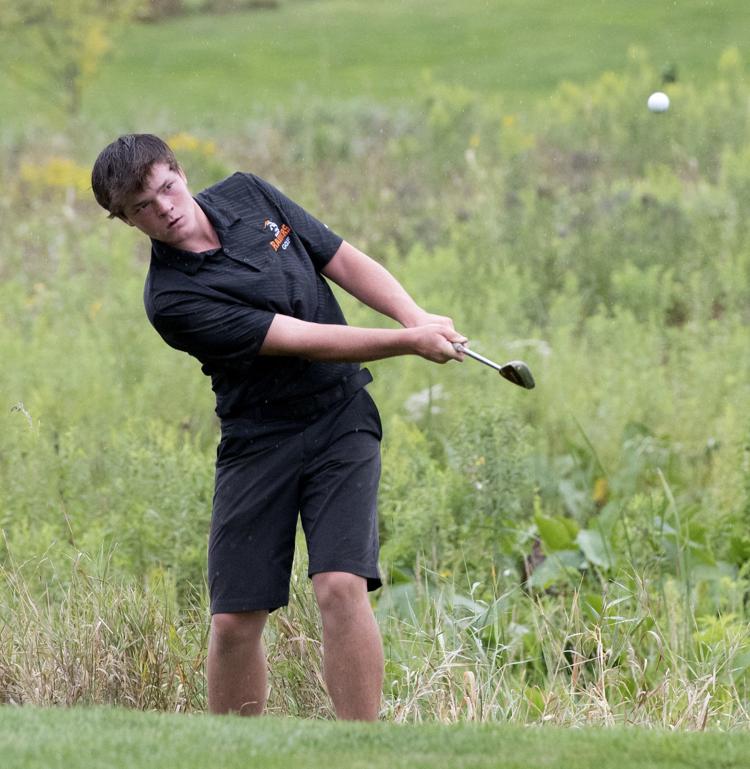 The Crusaders return their top golfer from last season, senior Jackson Thompson, who spent a good portion of the summer working on his golf game. He played in a few city tournaments this summer.
On Wednesday, Thompson shot a 42 on the front nine and then recovered with a 38 on the back nine for an 80.
Foster feels the sky is the limit for Thompson.
"He's an extremely mentally tough young man. He tries to find moments on the course to try and score," Foster said. "He presses a bit but he picks good moments to try and achieve something. He knows he has to do well for us and he is the guy for us. He's been our one for quite a while and he knows it."
Heelan did lose its No. 2 golfer from last season, Jackson Sitzmann, who is now golfing for Morningside. Last season after Thompson and Stizmann, there was a bit of a gap with the rest of the team. 
That gap has closed a good amount, Foster said. Senior Zach Uhl returns as does junior Ethan Mathison, who was right behind Thompson with an 81 on Wednesday to finish in third place. Junior Drew Determan shot an 84 and junior Paul Brockkaus shot an 86. Junior Brett Sitzmann shot a 92.
You have free articles remaining.
"Today's scores from the golds, it was more difficult but they were able to respond well," Foster said. "They were nice scores and every one of those guys would tell you that there were two or three strokes that they could take back. If they can get that done, we have a great opportunity to do something pretty nice."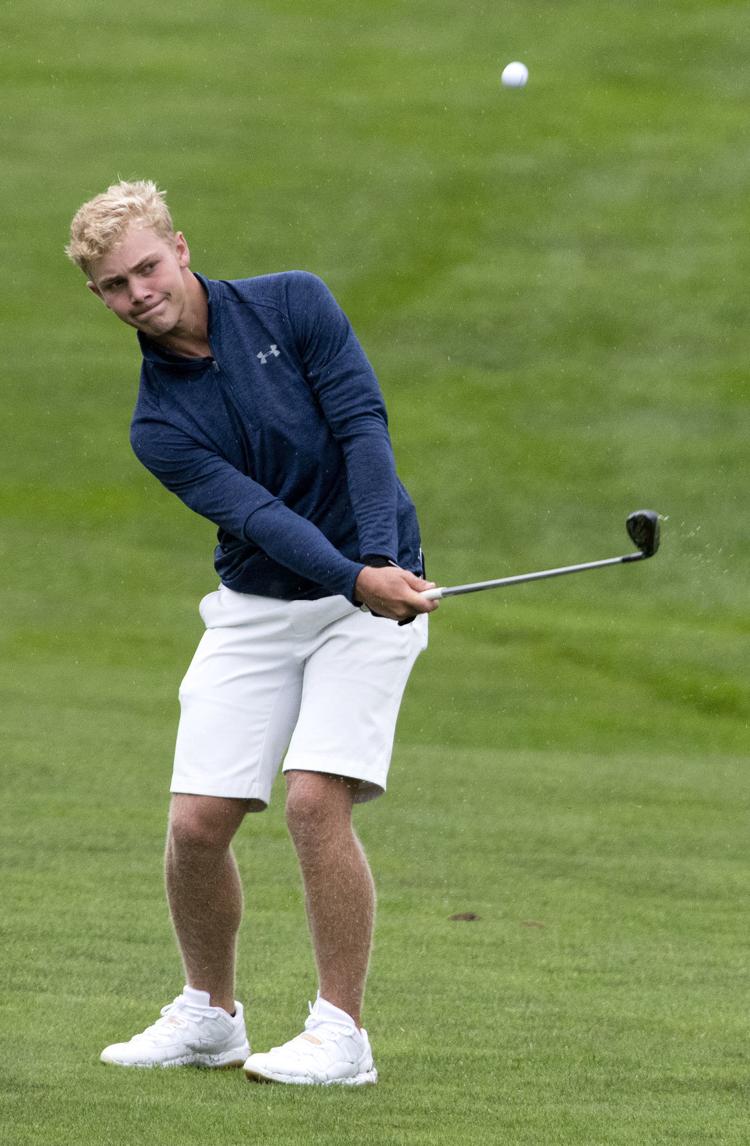 It was the second contest of the season for East, which went to a tournament in Ankeny on Monday. East head coach Brian Drent was okay with Wednesday's 334 but he knows the score will come down quite a bit once the team spends more time on the golf course.
East did graduate one of its best golfers, Parker Amos, from last year's team but the Black Raiders return basically everyone else. 
All six varsity golfers shot 90 or below on Wednesday. Sophomore Ethan Spier led the way with an 82 and senior Noah Dickman and junior Gavin Cote each followed with an 83. Sophomore Drake Anderson shot an 86. Senior Aden Gomez and junior Cam Riemer each shot a 90.
"We were a young team last year and we are still not that old of a team," Drent said. "We have a couple of top-end guys that can compete with anybody in the city. It's just going to come down to if we can string it together. Ability-wise, experience-wise, we have all of the makings of a team that can win a conference championship."
What Drent needs is at least two or three of those golfers to step up and prove their top-end talent each meet.
"I think Ethan and Drake have a chance to be really good players. They are still young," Drent said. "Gavin and Aden have at times have shown they can really do some things. Gavin was our best golfer throughout tryouts. We have three or four guys that can really help us out. If we have four guys play consistently, we can be really good."
Warren is not only one of the top golfers back in the Missouri River Athletic Conference but also the state. As a freshman last season, Warren finished in a tie for eighth place in Class 4A.
Warren opened the season with a 78 on Monday and followed that up with a 79 on Wednesday.
SB-L coach Troy Hussen said Warren's putting is better than last season.
"Schuyler is a kid that loves golf, plays a lot of golf and works hard at his craft," Husen said. "He's got a lot of potential and he puts the effort in it to be successful. His putting has gotten better and in golf, that's a huge portion of the game. His wedge play as improved. I think he is just going to continue to improve with time."
After Warren, SB-L returns seniors Jack DeJong, Peyton Hardie, Jacob Massey and Easton Plantenberg along with sophomore Ashton Foister. Senior Reid Cummings joined the program this season along with sophomore Kyle Durst.
Cummings shot a 93 and Plantenberg shot a 94. Hardie added a 96 and Foister shot a 99. While those scores are high, the Warriors put together a 337 on Monday.
Last season the team was a bit young. Now the team has a year under its belt and Hussen is excited to see what the Warriors can do this season.
"Reid is going to continue to improve and he has a good swing. Jacob is a good iron player and good with the short game," Hussen said. "Jack can help us throughout the season and Peyton is a good contributor for us. Ashton is a very consistent golfer."