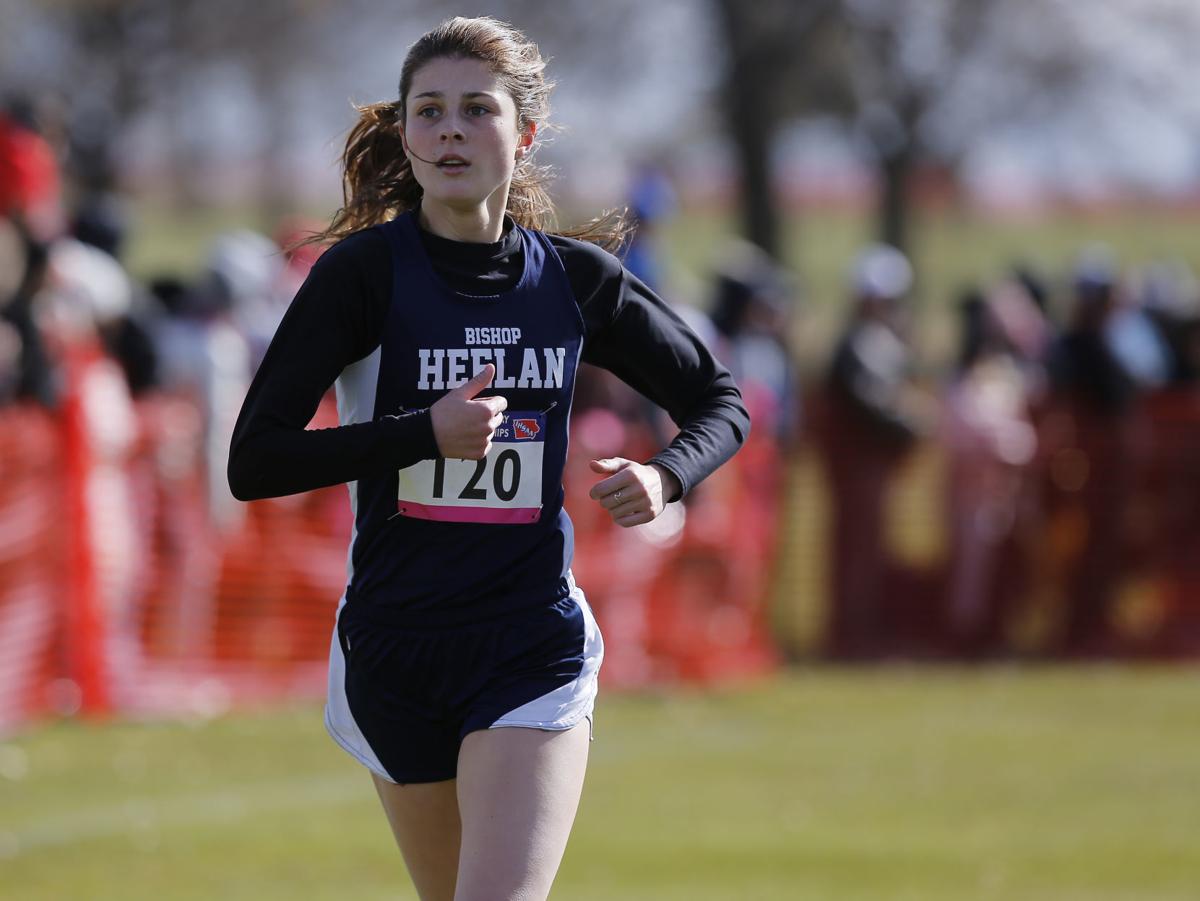 FORT DODGE, Iowa -- When Bishop Heelan High School cross country coach Todd Roerig was told that the Crusaders finished in fifth on Saturday, he assumed that Amber Aesoph finished in fifth.
He was pleasantly surprised to learn that the Crusaders finished in fifth place in the Class 3A team standings at the state meet at Lakeside Municipal Golf Course.
Aesoph led Heelan with a sixth-place individual finish with a time of 18 minutes, 49 seconds, and that scored four points for the Crusaders.
Aesoph ran in her fourth state meet of her career on Saturday and she was pleased where she finished and how she finished.
"I'm super happy with the way that went down," Aesoph said. "Getting out fast this time, it just felt different. I was able to stay with that front pack and hang in there, and that felt really good for me."
Aesoph switched strategies -- starting out faster -- before the Missouri River Conference meet two weeks ago, and she stuck with that mindset in her final sanctioned cross country meet for the Crusaders.
Aesoph stayed within a few strides of the front pack the entire race, but Dallas Center-Grimes junior Megan Sterbenz and Knoxville freshman Norah Pearson held off the Crusader senior at the end.
But, without the fast start from Aesoph, she may not have finished in the top-10.
"I just wanted to hang on to whoever was right in front of me," Aesoph said. "Getting out fast definitely helped … finishing definitely helped. I was able to stay with that front pack."
What really helped the Crusaders, meanwhile, was where the No. 2 through 5 runners placed to help beat to beat Center Point-Urbana 193-198. Ballard won the team title with 57 points, and the individual champion was Stormin Pointers senior Adrianna Katcher (18:29).
"That was a fabulous day today," Roerig said. "We walked the course and the girls seemed more nervous than excited. They decided that they were going to put it all together."
Roerig wanted the Crusaders to go out and run, running with no fear and nothing to lose.
You have free articles remaining.
Grace Mahaney earned 18 points for Heelan with a 26th-place finish in 19:43.
Jada Newberg was the Crusaders' No. 3 runner and the Heelan freshman made her state meet debut with a 58th-place finish in 20:28.
Mahaney and Newberg have been the Nos. 2 and 3 runners for the Crusaders throughout the season. 
Once Mahaney got over the confidence factor, she improved week-by-week. The more she saw her times improve, so did her confidence. 
Everything seemed new to Newberg, too, according to Roerig. She was a freshman, but she turned to Aesoph for advice.
"They feed off each other and run with each other," Roerig said. "Grace knows that she can do it, and confidence is a big thing for running."
Mia Conley and Brenna Joyce rounded out the top-five for the Crusaders. Conley scored 58 points with a 79th-place finish (20:58) while Joyce, a senior, had 71 points.
Conley had an injury before the season started, but she overcame it to be a solid No. 4 for Heelan.
Conley started the season a little behind she would be in terms of shape and fitness, and gradually got to the point where now, according to Roerig, she's at the midway point of the season.
"She's so much better because she feels a lot better," Roerig said.
Emma Hutchinson finished in 113th in 22:14.90 and Keara Joyce was 117th in 22:19.90.
Other 3A individual girls runners
MOC-Floyd Valley sophomore Emily Haverdink finishes 27th with a time of 19:44, and Le Mars senior Chloe Calhoun was 56th with a time of 20:26.