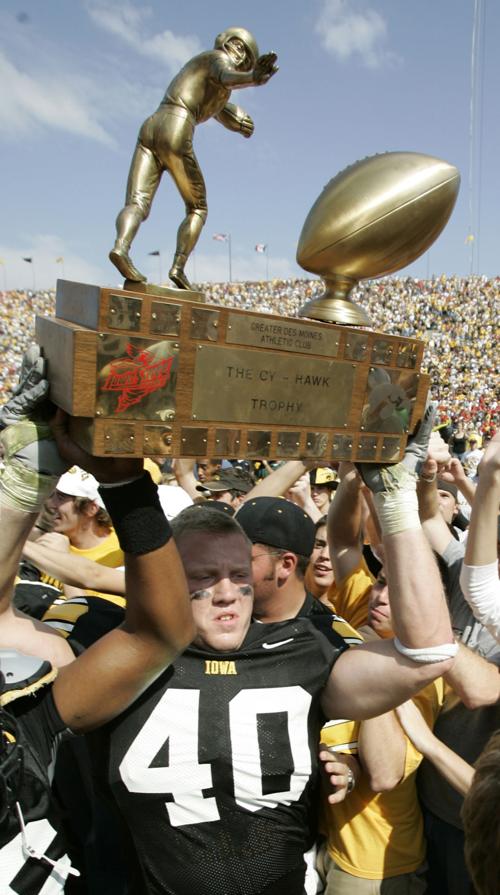 Mike Klinkenborg never expected the call from the Iowa High School Athletic Association.
Despite a stellar football career with Central Lyon/George-Little Rock to go along with standout basketball, track and field and even one successful baseball season for Central Lyon, Klinkenborg was shocked when he got the call.
The IHSAA was calling to inform Klinkenborg that he will now be a member of the IHSAA Football Hall of Fame.
"It came as a surprise to me. I look at the past inductees, I look at what they did and teams that won multiple state titles and some spent time in the NFL. I never made it to the NFL so I never thought of it," Klinkenborg said. "I look at it like there were other guys that would get inducted before me. So it was a surprise to me.
"It was humbling looking at the guys in the past and the guys who should be in there."
Klinkenborg's Hall of Fame class includes former West Lyon star Darin Naatjes, Saint Ansgar's Ryan Hannam, Urbandale's Jeff Koeppel and Britt's Kevin Sanger.
While Klinkenborg may be surprised, it's not a shock when the numbers are thrown out there.
Klinkenborg was a three-year starter for the Lions and helped lead Central Lyon/George-Little Rock to three playoff appearances.
In a program that has featured some marquee linebackers, such as former Iowa Hawkeye R.J. Meyer, Klinkenborg finished his high school career as CL/GLR's career leader in tackles. After three triple-digit tackle seasons, Klinkenborg finished with 417 total tackles.
Klinkenborg went on to play at the University of Iowa where he started at linebacker for two seasons for the Hawkeyes. He was the team defensive MVP at Iowa during his junior season. Klinkenborg was a team captain as well.
Those accolades were plenty to get Klinkenborg into the IHSAA Football Hall of Fame.
Still, Klinkenborg was greatly humbled by the honor.
"I guess they respect what I did there and I guess to be inducted in that level, they think highly of you. I guess they think more of me than I do myself," Klinkenborg joked.
Klinkenborg went on to marry his high school sweetheart, Whitney (Bruns), and they have two children, a daughter Malyn, who is six, and a son Cole, who is four. Malyn is in dance class and Cole is starting pee-wee wrestling, one of the few sports Klinkenborg wasn't a part of at Central Lyon.
Both Mike and Whitney work for Pella Windows & Doors. Mike works with corporate linguistics for the company as the family currently lives in a town west of Minneapolis.
Klinkenborg admits he doesn't get back to Rock Rapids as much as he would like but he has been back to visit Rock River Brewing Company, which is owned and operated by his classmate, Dan Vander Zee.
He does see a few of his classmates and friends from high school about once a year, usually around March Madness. The group consists of Klinkenborg, Vander Zee, Chris Attig, Joe Kennedy, Jon Johnson (who is the athletic director at Des Moines North), Dustin Drewes and Rick Meyer (R.J.'s younger brother).
"The meetups have been scattered all across Iowa and we try and pick random towns," Klinkenborg said. "Joe always wants it to be a town of less than 2,000. As long as they have a couple of bars. We all try and stay in touch and we text groups where we keep in frequent contact. We've been doing it since we graduated from college."