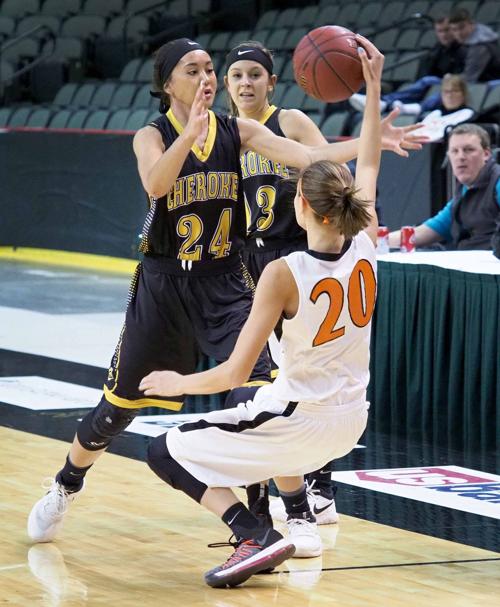 JeMae Nichols did her due diligence when she was checking out the University of Sioux Falls women's basketball program.
Nichols has talked to USF coach Travis Traphagen and his staff and she's seen the campus. Nichols dove a bit deeper, though, and she didn't have to go far to do it.
Nichols just had to leave the house and walk down the street to talk to Kaely Hummel, one of the best players in USF history who was also Nichols' neighbor growing up in Cherokee. The former Cherokee Washington Brave finished her USF career this past season with 1,733 points, third-most in Cougars history.
"We talked quite a bit. She's kind of like a role model for me so I thought maybe I should ask her," Nichols said. "She answered all of my questions and I think she helped me a little bit in the recruiting process. She said great things about (USF) and she is going into business and she helped me with information about my major. I think she was another part that sold me on USF."
Hummel's advice was one of a few things working in USF's favor. Not only did Nichols like the style Traphagen plays at USF, she also liked the business program at Sioux Falls, which is what she plans to major in.
So as her junior year wound down, Nichols verbally committed to join the USF women's basketball program.
"I chose Sioux Falls because they have a great coaching staff, it is close to home, they play my style and I felt their education was good, too," Nichols said. "Their style is how Cherokee plays so that was another factor in choosing USF. I don't think I would've gone to a good school without my teammates and my coaches because they got me to where I am today and a big thank you to them."
Besides USF, Nichols was looking at Iowa, Iowa State, Wisconsin, Creighton, Augustana (which is right next to USF in Sioux Falls), Briar Cliff and Buena Vista.
While the NCAA Division I schools showed some interest but USF showed a good amount of interest and felt like the right fit on the court and off it.
Off the court, USF provides the three-in-one program, which allows Nichols to get her both her bachelor's degree and master's degree in four years.
Nichols plans to major in business at USF.
"I know I want to major in business and there are a lot of minors I can go with," Nichols said. "For me, it was partly basketball but my parents have always said that you want to get a good education because basketball doesn't last forever. I want to find a good job and I will be focused a lot on academics and that's why I thought USF would be a good fit academics wise."
The 5'9 forward has been a standout for Cherokee since her freshman season when she averaged 12.2 points, 5.2 rebounds, 4.1 steals and 2.4 assists per game. As a sophomore, she averaged 14.0 points, 6.6 rebounds, 5.1 steals and 3.0 assists per game.
With the graduation of Kassidy Pingel, who is at Wayne State, and Payton Slaughter, who is at Briar Cliff, Nichols took over as the focal point of Cherokee's offense this past season, averaging a team-high 19.4 points per game. She also had 7.5 rebounds, 4.7 steals, 2.9 assists and 1.3 blocks per game.
Nichols feels her game will transition well at USF.
"They like to press, they like to run and gun the same as Cherokee," Nichols said. "That would be good for me because I am used to running fast up the court and whoever gets the rebounds likes to go. I am used to running the zone and not having to give it to a point guard every time. I think they do a good job of showing the same style as Cherokee."
Now Nichols won't have to worry about the recruiting process going into her senior season, either. The decision lifted some weight off her shoulders.
"Last year I was really trying to focus on the recruiting process like anyone. I am not the type of person to focus on how I look during the game like scoring or rebounding or passing wise," Nichols said. "Last year I felt that stress of was I looking good for college recruiters. Not everyone comes to Cherokee, Iowa. That was a huge stress for me and now I feel I don't have to do it and I feel I can have fun with basketball."
Nichols focus shifts from choosing her college to helping Cherokee reach the IGHSAU state tournament. The Braves went 17-6 this past season and lost in the Class 3A Region 1 title game to Bishop Heelan this past season.
Megan Boger and Kayden Waldner are the only two that graduated as the Braves return their top-eight scorers. After Nichols, Alexis Pingel averaged 14.4 points per game as a sophomore and Teagan Slaughter averaged 9.4 points, 4.4 steals and 4.1 assists per game. Freshman Kenna Mongan averaged 8.4 points per game.
"Last year we basically thought that was a rebuilding season since we lost so many good seniors. We really surprised ourselves and got very far," Nichols said. "I think knowing that we have everyone back, we can go as far or farther and make it to Des Moines. I want to get the younger kids and myself to Des Moines. That would be awesome as a senior to get to state."
Get in the game with our Prep Sports Newsletter
Sent weekly directly to your inbox!