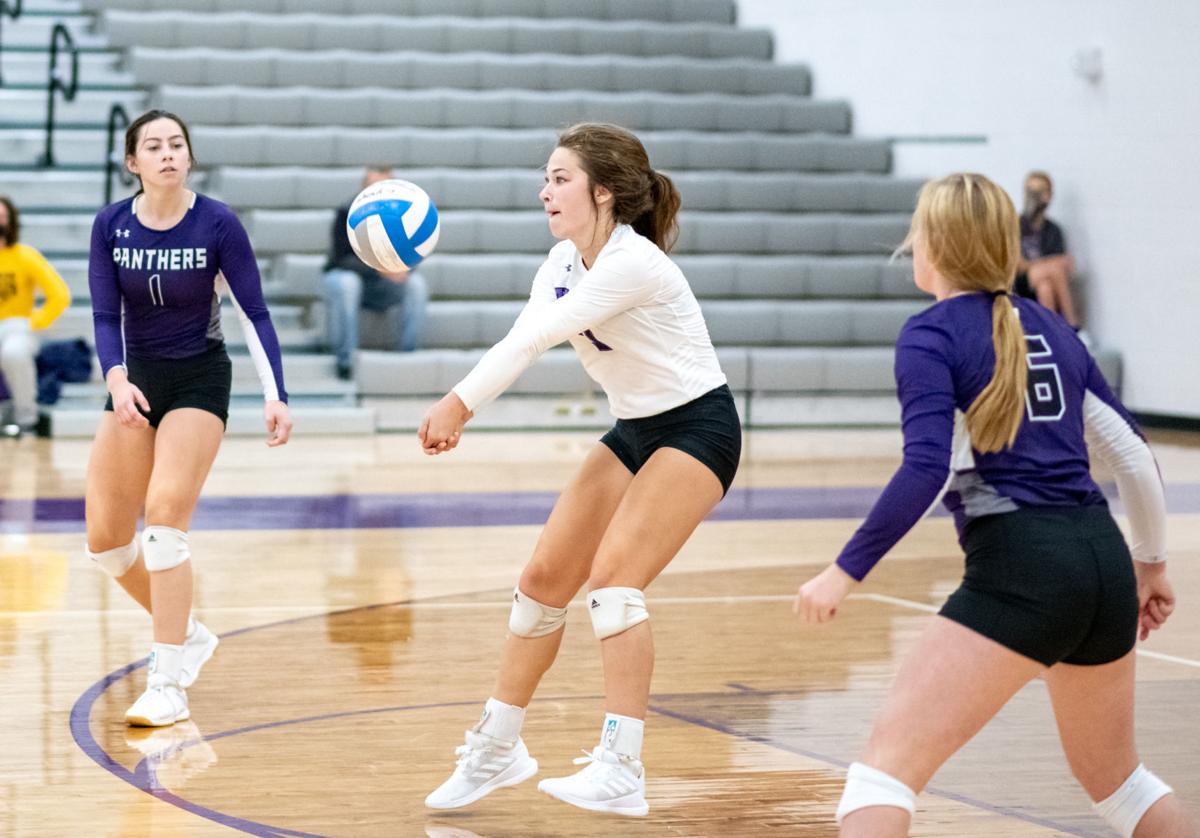 NORTH SIOUX CITY — For the last year, the Dakota Valley volleyball team has been prepping for a moment yet to hopefully come.
In last year's state championship match, the Panthers came back from an 0-2 deficit to force a fifth set, which Sioux Falls Christian won to claim the state title.
"Well, it's been a year. It's been in the back of their mind for a year," said Dakota Valley coach Mary Miller, who picked up her 900th career victory during the season. "We want to get to the finals and get a shot back at Sioux Falls Chrisitan. Everything we've done, we've been preparing for that point.
"The girls are definitely hungry."
Dakota Valley goes into the state tournament, which is in Watertown this season, with a 15-5 record. One of the losses came against the Chargers. Three more were to teams that qualified for the South Dakota state tournament (O'Gorman in AA, Madison in A and Northwestern in B).
The other loss was to Western Christian, which made it to the semifinals in Class 2A in the Iowa state volleyball tournament.
In order to have a Dakota Valley vs. Sioux Falls Christian title match, both teams have to get there first.
Sioux Falls Christian is the top seed and faces Madison, which is on a late-season surge, in the first round. Winner and Hamlin are also on the Chargers side of the bracket.
Hill City and Parker play in the other quarterfinal in Dakota Valley's bracket and the Panthers have a win over seventh-seeded Parker this season.
Dakota Valley earned the No. 6 seed and faces No. 3-seed Rapid City Christian, which is 28-4, at 5 p.m. Thursday.
The Comets' attack is led by sophomore Olivia Kieffer, who has 360 kills. Senior setter Riley Freeland, who is a Dordt recruit, is 6-foot-1 and has 689 assists on the season.
Miller said the Panthers aren't looking past the Comets or even their potential semifinal opponent.
"We know our first opponent is very, very good," Miller said. "We are going to take care of business in the first round or else there's no Sioux Falls Christian rematch."
The Panthers have had nine days since their SoDak 16 victory to prep for Rapid City Christian along with either Hill City or Parker and even Sioux Falls Christian.
While nine days seems like a long time, the players know what is at stake. Miller has kept the team on their toes with different drills throughout the nine days, too.
"They are excited and we mixed it up," Miller said. "They had their famous pajama practice, which has been a tradition here. We've done different drills and practices, our World Series ended (Monday). We've been spending a lot of time on the serve and pass game. If we stay in system, we are in great shape. All of these teams can put up some big hitters."
One of the key aspects Miller has had the team work on is its blocking. She's made no secret that in order to beat Sioux Falls Christian, and even Rapid City Christian, the Panthers block needs to be strong.
On the season, the Panthers have 111 total blocks. Sophomore middle hitter Jorja Van Den Hul and junior middle hitter Tori Schulz lead the team with 43 total blocks each. Senior outside hitter Rachel Rosenquist added 30 total blocks, junior outside hitter Sophia Atchison adds 22 and sophomore setter Logan Miller has 20.
"I thought we blocked really, really well against St. Thomas More in the last match," Miller said. "We've been doing a lot. We broke down our footwork and spacing and now six-on-six live drills working on blocking. I've seen an improvement in our technique. It's just a balance of at least a double block on all of their hitters."
Miller feels every other aspect of Dakota Valley's game — from the serving to the passing to the attack — are all clicking as the Panthers head to the Class A state tournament.
Atchison leads the team with 191 kills and Rosenquist has 184. Van Den Hul follows with 114 and freshman Sophia Tuttle has 102 kills. Logan Miller directs the offense with 636 assists and senior Taylor Wilshire leads the back row with 267 digs. Rosenquist has 231 digs, Sammi Archer has 202 and Atchison has 173.
The Panthers have 143 aces on the season. Archer has 33, Van Den Hul has 29 and Logan Miller adds 28.
"I think we are ready. I think we are to the point where we are ready physically," Mary Miller said. "It's a matter of keeping the confidence and you never know at state. Usually how you start isn't how you end. We've eliminated a lot of unforced errors in practice but if you give up runs of four to five points, you are in trouble so avoid that."
Get in the game with our Prep Sports Newsletter
Sent weekly directly to your inbox!