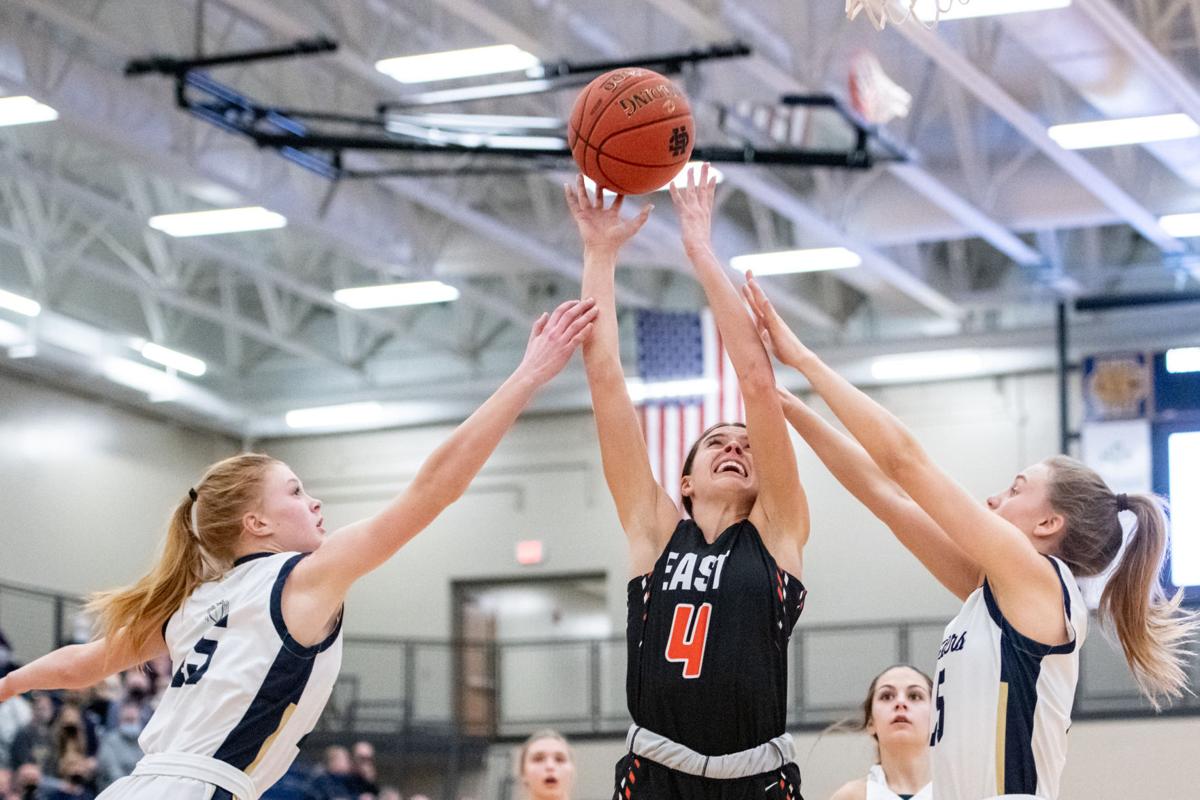 SIOUX CITY -- East remained unbeaten in the Missouri River Conference girls basketball standings, but had to fend off a furious rally by Bishop Heelan Tuesday night.
The Black Raiders, still unranked despite a 10-1 overall mark, escaped O'Gorman Fieldhouse with a 43-40 victory.
That ran East's MRAC record to 7-0, two games in front of Council Bluffs Abraham Lincoln (6-2). Heelan, which moved into the Iowa Class 3A rankings at No. 13 last week, slipped to 5-3 in the conference and 7-4 overall.
The Crusaders have dropped two in a row after putting together a seven-game winning streak. They nearly erased an 18-point second-half deficit against their longtime city rivals.
East built a 33-15 lead when Kyley Vondrak hit a 3-pointer with 5:18 left in the third quarter. Heelan, though, trimmed it to 37-25 at the end of the quarter and made it a one possession game late in the proceedings before the Black Raiders held on.
"I told the kids at halftime that they were going to make a run, they're a good basketball team, so I wasn't surprised," East coach Brian Drent said. "I was surprised about our offense not being able to score. I give them credit, they were really good defensively. They just matched up and locked onto us.
"We have to do a better job offensively of attacking the basket. We did enough to hold on and I guess that's why they count all four quarters."
Kaia Downs scored seven of her game-high 12 points in the first quarter as East took a 14-12 lead. The Black Raiders took control in the second quarter, outscoring Heelan 12-3 to garner a 26-15 halftime lead.
Taylor Drent and Megan Callahan opened the second half with baskets before Vondrak's trey gave East its biggest lead.
"We turned it over so many times in the first half," Heelan coach Jay Wright said. "We just kept throwing it to them. We gave up eight offensive rebounds and had 12 turnovers in the first half. That's 20 possessions where you didn't even get a shot on goal.
"I was a little nervous about pressing them but when we we press and get up and go full court we're active. Sometimes if you just make a shot or two you just play a little looser. You need to see the ball go in."
After whittling the advantage with its full-court man-to-man press at a dozen after three quarters, the Crusaders made 6 of 10 shots in the fourth.
They kept cutting into the East lead as the Black Raiders struggled to get anything going offensively.
After East's Kayla Benson and Lauryn Peck of Heelan traded 3-pointers, the Crusaders were within 43-39 with 2:38 remaining.
Joslyn Verzal made the second of two free throws with 1:34 left, but those turned out to be the final points of the game.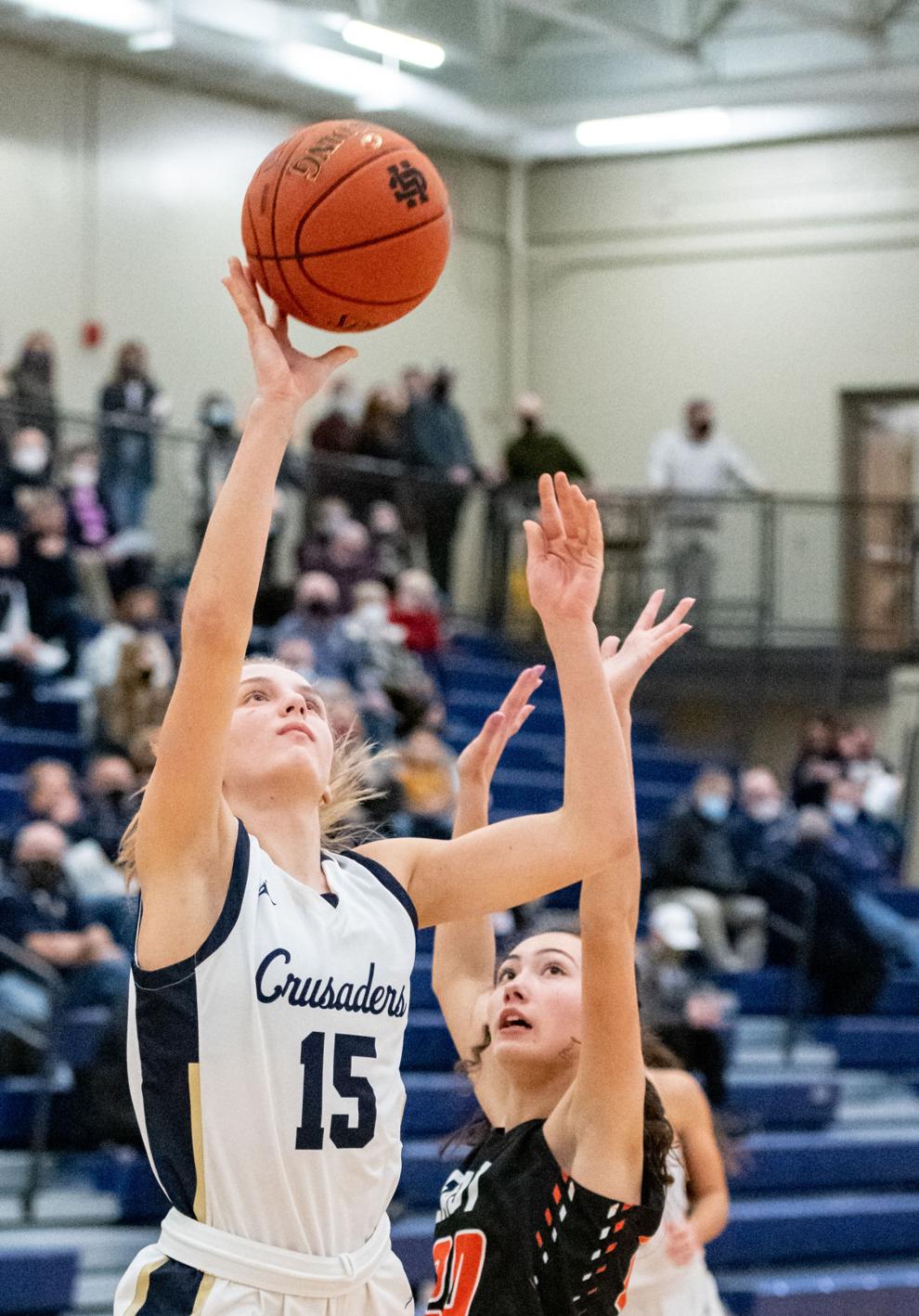 East pulled it out to try and kill some clock and did so successfully, taking nearly a minute before being fouled. However, the Black Raiders missed the front end of three one-and-ones in the final 38 seconds.
Heelan, though, wasn't able to take advantage.
"They're a championship program and this is a great facility," Drent said. "This is the first time in a long time that we've won two games over Heelan in the same season. We're starting the second half of the conference season with a bigger lead and that's exactly what we wanted and a goal for our team."
Downs was the only East player in double figures. Benson was next in line with nine points.
Heelan got 11 points each from Peck and Kenley Meis, but fell three games behind East in the league standings.
"We had our chances with drives to the basket a couple times but just couldn't get it to go," Wright said. "You can't be more proud than I am how they played, but just too many turnovers early and then you're scrambling from behind."
The Black Raiders have a tough assignment on Saturday, entertaining Class 5A top-ranked Johnston.
Heelan, meanwhile, is at North Thursday and Council Bluffs Lewis Central Saturday.