East grad Shelby Houlihan believes fellow Iowan Karissa Schweizer will break her American record in the 5,000-meter run.
Houlihan's not ready to give that record up just yet and made it tougher for Schweizer or anyone else to break it after Friday night's performance in Portland, Oregon.
Bowerman Track Club hosted the Portland Intrasquad Meet II, which Houlihan and Schweizer are both members of. Houlihan felt both runners had a chance to finish under her 14:30 on Friday, which would smash her previous time of 14:34.45 in 2018.
Houlihan was right and on Friday, she crushed her 2018 5,000-meter mark as she won the race against Schweizer in 14:23.92, almost 11 seconds faster than her previous American record.
"It was awesome. A couple of hours before we went, I was nervous because I hadn't raced in awhile and I set high goals and I was worried (Schweizer) would get the record," Houlihan said in a phone interview with the Journal on Saturday. "I think the biggest thing going into this race, I just wanted to keep my record. I knew Karissa was really fit and I thought we would both run in the 14:20s and I thought I would have a good kick to keep my record.
"It was a good race and my teammates paced it perfectly. I tried to squeeze it down in the last K and I think I can run faster even but one step at a time right now."
Schweizer, a Dowling Catholic grad, finished second in a time of 14:26.34, beating Houlihan's old record by eight seconds but finishing about three seconds behind Houlihan's new record.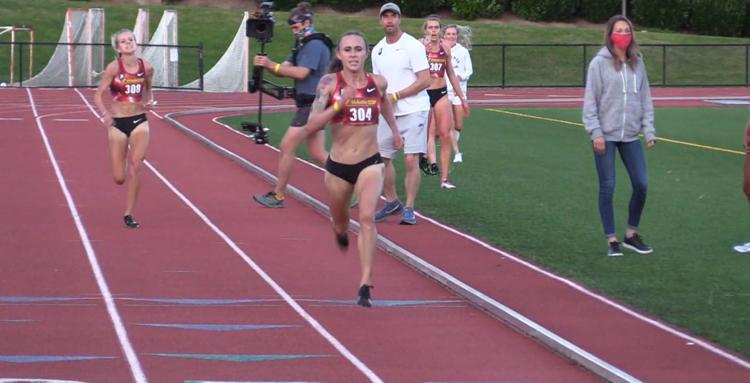 The two Iowa natives are the only two American women to run under 14:30 in the 5,000.
"That's honestly so incredible," the 2016 Olympian said. "We always joke Iowa Strong and some of our teammates call us Iowa. There is something to be said about the work ethic with where we come from. The grittiness, the running in the rain and the wind and it makes you gritty. It's what we were both trained to do and we embody that when we race."
Houlihan, who finished in fourth in the 5,000 at the 2019 World Championships, also saw her name move up the world's all-time 5,000 list. Her new time of 14:23.92 is No. 12 on the world's all-time list.
"I gotta keep scratching my name down that list, but I will take 12th for now," Houlihan said with a laugh. "I really would like to give some (props) to my teammates. I wouldn't be able to do that without them. To have three of them come out and pace us, it wouldn't have happened. I would just like to send some thanks to them."
In the men's 5,000 on Friday, Mo Ahmed broke the North American record with a time of 12:47.20, 10th on the world all-time list.
Houlihan said Bowerman track coach Jerry Schumacher is planning to host a few more races in July.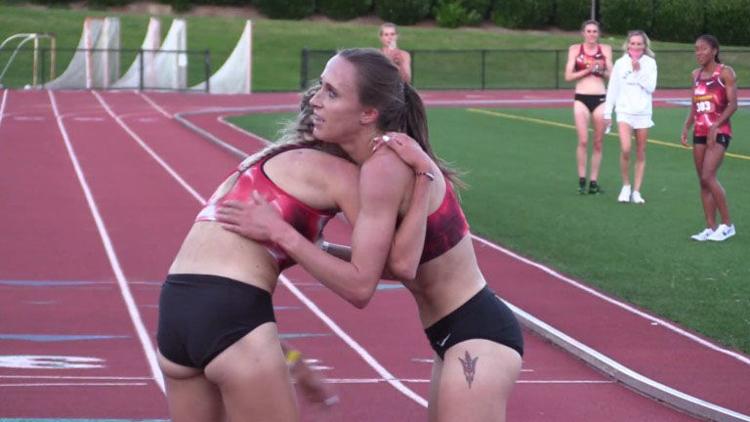 "I hope so. Maybe go after some 2K or 3K records and try and convince him to let me run a 10K," Houlihan joked.
It was the first competitive race for Houlihan since February. The COVID-19 pandemic later wiped out the season, including pushing back the 2020 Summer Olympics to 2021.
A week ago, Houlihan helped pace for some of her teammates, who later returned the favor on, and that gave her a good idea of what to expect for Friday's 5,000.
The time Houlihan finished with was basically exactly what she had in mind coming into the race.
"I don't want to sound arrogant but we both felt if everything went well, we would be in the 14:20s. That was our focus. We felt like if we ran to the best of our abilities, the record would go down," Houlihan said. "(That time) was actually what I was aiming for. My prediction was 14:24 so about spot-on. Still, you have to line up and do it. To be able to make it happen, the conditions were great and you don't get a lot of those opportunities.
"Honestly, it was a great night and I am glad we were able to do that."
Houlihan's strongest part of the race was the final 1,600, which she ran in 4:26.42. That was the plan, too, since Houlihan knew she had to be ahead of Schweizer going into the final 800 meters.
"I know her strengths and weaknesses and she knows mine. She knows if I am right there, I am going to go. That was her plan, to try and take the lead at 800. She is so fast, we joke that she is a windup toy. It's impossible to catch her so I had to be in front with 200 to go," Houlihan said. "The final 800, I still felt in control and I had a lot left, so just try and maintain that control and not give it up to her.
"Karissa tried to pass me, she tries with 800 to go in every race. I am going to keep control of the lead and squeeze it down. The last lap, I just tried to let it loose."
Houlihan ran the final 800 in 2:07 and finished the last lap in a fast 1:01.46 to break the record.
The two Iowa natives have been training partners and friends since Schweizer joined Bowerman Track Club in 2018. Houlihan has been with the club since 2015.
Houlihan believes her training partner will break her 5,000 record. It just wasn't on Friday night.
"I feel like she is my perfect training partner," Houlihan said. "We have the same mentality. If we aren't dying by the end of a workout, we didn't do it as well as we wanted. She feels like a little sister to me and I love how gritty she is and how she will push herself. At some point, she will get that record. I will try and defend it but at the end of the day, I do think she will eventually run faster."
Photos: Houlihan honored with Sioux City street naming
Get in the game with our Prep Sports Newsletter
Sent weekly directly to your inbox!