SIOUX CITY | Ron Schultz always considered the nickname of Bishop Heelan's basketball court to be derogatory.
Schultz took pride in the place he played long before the word was painted on the floor behind the basket on the venue otherwise known as "The Pit", something this lower-level gym was never called when he played.
"I always called it the 'Crusader Dome', but that was just me, I was the only one who did that," said Schultz, who played on the first of Heelan's 17 state tournament teams, the 22-4 third-place team of 1965-66 coached by Ray Nacke, who went on to coach Schultz and countless others at Briar Cliff.
Schultz coached Heelan's girls basketball for four seasons. Nowadays, he's often spotted on recruiting trips, accompanied by his much-younger boss, Briar Cliff men's basketball coach Mark Svagera. They often witness sweet shooters who take advantage of baskets on a court that seems small because of the closeness to the crowd, the front of the stage often filled with younger fans kicking their legs while their parents sat in metal bleachers about eight feet away.
The court is 94 feet long.
"It was a very good court to play on," said Schultz. "It was a college-sized court. People thought it was smaller, but it was bigger. It was a great shooter's gym. It had the close background, not the big gap between the basket and the wall. It was easy to focus on the basket. It helps your shooting."
A court whose first basketball game was played in January of 1950 saw its last one played on Feb. 19, 2019, when Heelan reached the Class 4A state girls basketball tournament following a 52-43 win over Le Mars. Construction continues on the soon-to-be new Heelan High School gymnasium where the Crusader varsity basketball teams are scheduled to play starting with the 2019-2020 season.
According to Doug Moody, who played on the court and had different stints as both the Crusaders' boys and girls basketball coach, former North boys basketball coach Tom Goodman is credited with the quote that gave "The Pit" its name in 1983.
Goodman's Stars, behind a 21-point effort from Jeff Donaldson and 13 key bench points from his son Tommy, rallied from a 15-point third-quarter deficit to post a 66-65 victory.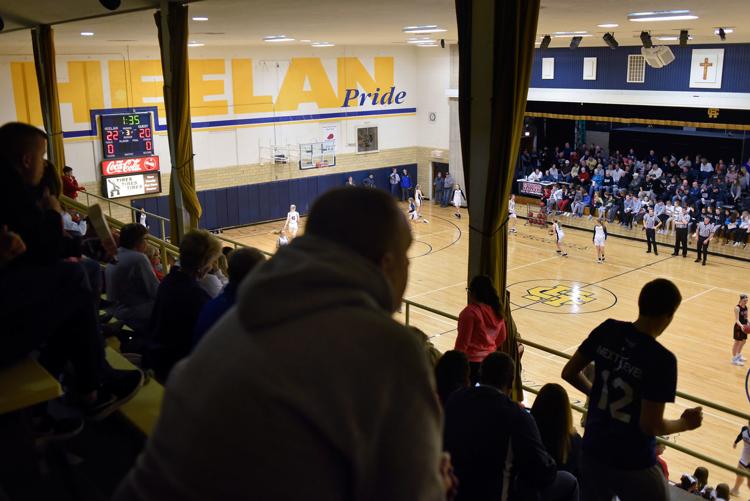 "Yes, after we had a really good game there and played well, it was still a tough place to play," said Goodman. "I made a comment (to the Sioux City Journal) it's like playing in a pit … because it was so confined at both ends of the floor. Everyone's so close to you at both ends of the floor. The out-of-bounds line was against the wall, confined to a small area.
"I know New Mexico State calls their gym 'The Pit', but I don't know if it was before I named (Heelan's gym) 'The Pit'. It was hard to play there. I got telephone calls from Heelan fans the next day, saying why would you call it a pit? I said it was a great home advantage. I wish I had a confined gym like that. I tried to say it nicely when I said it, but people took it like I was mean to them about their facility."
Oh, but "Tommy John", the son of North's head coach, loved it that night.
It was the first year of the 3-point shot, an experimental move by the Iowa High School Athletic Association. The seldom-used sophomore buried three in a row – from distances of 22, 25 and 22 feet – in a 90-second span, sparking the Stars to the incredible rally.
"The crowd's right on top of you," said Tommy. "It got very loud in there. The sound just echoed off the ceiling. You couldn't hear yourself talk on the floor, but it was a really fun place to play. I really enjoyed it.
"I had great depth perception. It was a shooter's gym. There was a solid background. It was easy to see the rim, easy to pick everything up, easy to fire away. As a shooter, you like a solid background. The rims are soft, softer than a lot of places. You get an extra roll. The bounce in helps you because on other courts, the rims are tight. It hits and it bounces away."
Tommy's 1,140 points at North also includes a 1984 game at 'The Pit' where he buried five threes in a 32-point performance.
"Shooters can be finicky," said Moody. "From a coach's perspective, you want to play at home. It's worth four to 10 points a game."
Needless to say, back when the gym opened, games weren't high scoring. Dave Sabag was a senior when he averaged four points a game to earn All-City honors along with classmates Walt Wagner and Bob Curry, both who scored at 10-point clips.
"Prior to that, we played at the Armory on 9th and Pearl Streets," said Sabag, a point guard. "At the time, of our new gym, it was the best gym in town. Allee Gym at Morningside opened the next year. We sold out every game we played. There was no TV back then, so people had to do something for entertainment. High school was it.
"I don't know the dimensions of the old armory. It appeared to be the same size as our old gym. I don't know if we had any advantage to speak of. We had our own locker rooms. We felt comfortable at home, if you will."
Here's how comfortable Tom Betz felt in his 14 seasons (2002-15) as Heelan's boys basketball coach at The Pit. There, his teams were a combined 103-22.
Nate Funk averaged 24.6 points as a senior for Betz's first team, which went 22-4 and was the 2002 Class 3A state runner-up. Six-foot-nine Brennan Cougill scored at an 18.2 clip as a 2009 senior, helping Heelan go 25-2 and win the first of three straight 3A titles.
A year later, 6-7 senior Zach McCabe averaged 19.1 points as the Crusaders, despite not winning the Missouri River Activities Conference championship, went 22-4 and repeated as the state champ. Heelan made it a three-peat in 2011, as Wesley Staten scored at a 19.3 rate and ended the season with a 25-2 record.
By the way, the combined record of those three teams at The Pit was 25-1.
"Like any home court, you practice there," said Betz. "But The Pit was unlike any modern day gym. Fans on top of you ... not only players, but coaches and teams on the bench. The stage on one side with kids sitting on the court, basically. It is hard for opponents to prepare for that. Even though the court is the longest high school court in Sioux City, it didn't feel like it for players and fans."
John Adams, Heelan's first girls basketball coach, recalled his first day at The Pit. It was in early October of 1969 and the school had just decided to start a girls program.
Adams was told by then athletic director Beanie Cooper that his team couldn't practice there, it was strictly for the boys team.
"He said there's a gym floor that's painted on the stage and there's a basket attached to the wall on each end and that's where you're going to practice," Adams said. "So the announcement goes out that we're having tryouts for the Heelan girls basketball program and it's going to be on the stage. I had six basketballs, me and no assistant coach, and 180 girls showed up on the stage.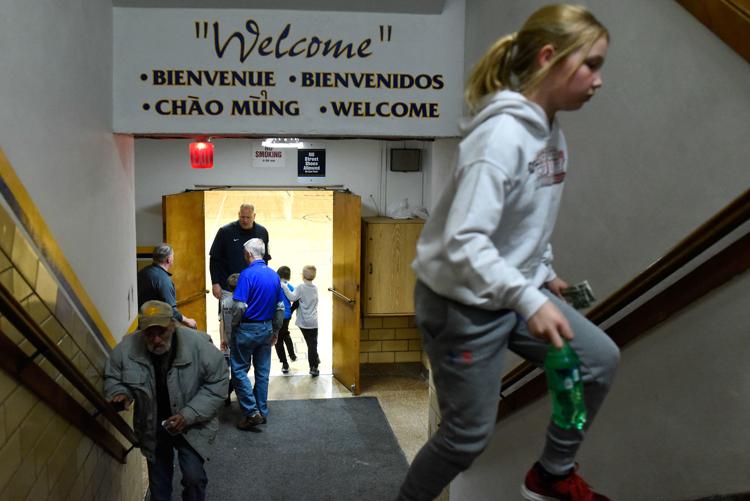 "We practiced there until they finally figured out that wasn't going to work and so for three days they let us practice at the CYO. Then they got the idea that they were going to build us a facility, which is now the wrestling room in the basement of the CYO, but it was a swimming pool then and they brought a floor from the auditorium, put some braces and joists inside the swimming pool and laid the floor over the top of it. You couldn't bounce a ball on the floor because it was hollow underneath and the ball didn't come back to you. That was where we practiced and it was called the 'mole hole.'"
The only time the girls team ever saw 'The Pit' was for home games. They held all of their practices across the street in the 'mole hole.'
"We played a lot of good teams and games there," Adams said. "I don't think we lost over five games in eight years to city schools at The Pit."
Carli Tritz, among the best girls basketball players Sioux City has ever produced, has a soft spot in her heart for the cozy confines of the Heelan Gym.
"There's nothing like when you're in elementary or middle school and you have your camp t-shirt on or some basketball gear and you're sitting on the stage and, what, basically two feet from the players taking it out of bounds and you're basically kicking them in the back," said Tritz, Iowa's Miss Basketball in 2010. "I also remember playing in the middle school games there and adults telling us they were excited about us coming to Heelan. Playing in 'The Pit' when you're in middle school is like playing in Century Link (in Omaha) and I can name a bunch of players I remember watching there that you think are the world."
Tritz played on two state championship teams at Heelan and went on to star at Creighton, although her collegiate career was derailed because of a knee injury. She is currently an assistant coach for the Creighton women's team.
"It was extremely advantageous (to play at The Pit)," Tritz said. "What other gym is structurally built like that and then you have the little kids on the stage and you always know where the student section is. Everything is so extremely intimate. But The Pit is so unique because there is a sense that visiting teams know if they win there it's a big deal. Even if they're the better team. I definitely had a better sense of pride when I played at home than somewhere else because you know the decades of people who played before you in that same exact spot."