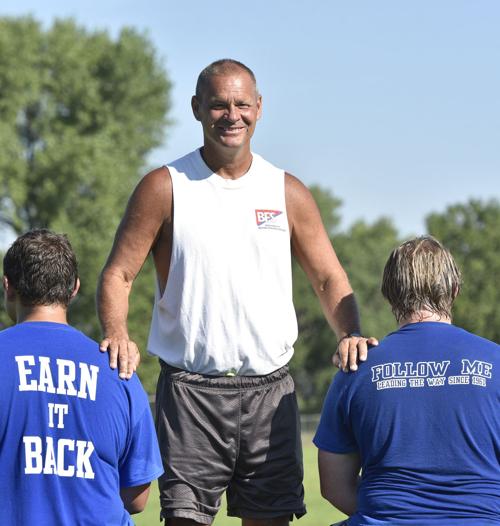 INWOOD, Iowa | Jay Rozeboom won't go out of his way to make sure his name is front and center, but that doesn't mean the nearly countless players, parents and fans he has impacted won't do it for him.
West Lyon's head football coach since 1992 has amassed 242 wins and never had a .500 season while winning four state titles in three classes. That success has made the Wildcats one of the premier programs not only in Siouxland, but in the state of Iowa.
In 2015, the West Lyon community wanted to show its appreciation to a man that does as much away from the football field for others as he does for his players on it. With that came the renaming of the football field the "Jay Rozeboom Complex." A sign now hangs by the field with the coach's name prominently displayed.
"There were just a lot of parents and a lot of former players that were part of that group that have experienced Coach Rozeboom's influence on our community, on themselves and on their sons, and they wanted to give credit where credit was due," said West Lyon athletic director Jeremy Childress.
Childress noted the renaming kicked off significant renovations to the football complex that were completed in time for the 2016 season.
Rozeboom, a defensive lineman, was a co-captain of Coach Larry Korver's national champion 1983 Northwestern College football team in Orange City. Korver's philosophies, leading Northwestern to 11 NAIA playoff appearances with two national titles and three runner-up finishes, heavily influenced Rozeboom.
"He had a great philosophy and a great work ethic and he expected that out of his players and assistant coaches," Rozeboom said. "He worked you hard and had high expectations. He got great results."
Rozeboom, who played high school football at Boyden-Hull, taught and coached at Central Lyon his first two years out of college. Then came the move to West Lyon, where he was the defensive coordinator for seven years.
He learned under two of Iowa's best prep coaches in Dick Null at Central Lyon and Daryl Hoogeveen with the Wildcats.
Part of the program's success under Rozeboom is continuity in a coaching staff that includes defensive assistant Eric Te Grootenhuis, who was a teammate with him at Northwestern and joined him on the sidelines in Inwood in 1987.
Te Grootenhuis said there is no great mystery to what the Wildcats do on the football field because Rozeboom is able to pull so much out of his players.
"Coach is so easy-going and friendly," Te Grootenhuis said. "That is why the kids love him because he has a great personality and genuinely cares about people.
"We don't like to lose, so it is an expectation that we want to be district champs and in the playoffs and play in the dome each year."
Two players that helped the Wildcats succeed over the years were Rozeboom's sons, Jayme and Trevor. Jayme was a three-year starting QB who graduated in 2007 while Trevor was a linebacker and tight end who graduated in 2016. Both were all-state selections.
Rozeboom and Te Grootenhuis, who is the only assistant coach not to have played for Rozeboom on the West Lyon staff, implemented the Northwestern defense when they started coaching in Inwood and have used a Power-I offense during that time. While football has seen the spread and the pass become increasingly important, the trends haven't altered the Wildcats' attack.
"You still have to block and tackle and execute in order to win and I think that is the key thing," Rozeboom said. "I don't think it matters what scheme you are going to run. You have to execute and have everyone on the same page. Execute well no matter what formation we have out there."
The standard of excellence led to a nine-year streak of playoff berths beginning in 1988. After missing the playoffs in 1997, West Lyon responded with back-to-back titles the following two seasons and currently is working on a playoff streak of 14 consecutive campaigns.
SUCCESS COMES AFTER HEARTACHE
For as much winning as Rozeboom and his Wildcats have done, they have had their share of heartbreaking losses.
The Wildcats' first trip to a state title game came in 1995 and saw them suffer a 14-10 setback to Sigourney/Keota. There were also runner-up finishes in 2008 and 2014.
However, one of the most painful endings to a season came in 1997.
"It was a tough situation," Rozeboom said. "Back then only the district champion got a chance to go on (to the postseason) and a couple at-larges. We had been beaten by Emmetsburg in the regular season by 14 points. We were at minus-13 points and we won the rest of our games by 13 points (or more). We were looking at the point totals going into that final game.
"We weren't sure about that last game and Mediapolis was playing a team and went to overtime and the game was supposed to be over with, but (Mediapolis) was allowed to go for two. It gave them a certain percentile over us, so they made it and we didn't."
West Lyon tried to fight what it rightly felt was a wrong, denying its team a postseason opportunity and halting its impressive sting of consecutive berths. Rozeboom called the state and asked how he was to explain this to his team?
"'Life isn't always fair,' was their comment," Rozeboom said.
Kyle Vanden Bosch was a member of the 1997 Wildcat team and went on to star at the University of Nebraska and was a three-time Pro Bowl selection during a 12-year NFL career (2001-12) with the Cardinals, Titans and Lions.
He remembers the lessons that Rozeboom taught from situations like the 1997 season.
"He is out front and he accepts responsibility for whatever happens," Vanden Bosch said. "He is the one in charge making a lot of decisions. There are a handful of people in my life that taught me what it is to be a man and he is on that list."
It was a difficult end to the season for West Lyon, but helped propel them to back-to-back titles the following two seasons.
"It was something growing up, West Lyon always had a really good football tradition and you wanted to be part of that first group (to win a title)," said current Northwestern Coach Matt McCarty, who was a senior on the 1998 team.
"The one thing Coach Rozeboom always did was he made you work hard. He never let guys get complacent and just made you focus on the little things. He really cared about the players a lot, taught you a lot of life lessons. It wasn't just about football."
Rozeboom has been in numerous situations throughout his career where he has been forced to make decisions on the field that decided seasons. Some worked out very well while others did not.
"There were a couple of times, two semifinal games back in 2003 and 2004, the other team scored and they kicked and we go for the win -- 3-yard line, we have to be able to make it," he said. "Came up short in back-to-back years. That was tough because we came up short both times and it was on me, my choice. You take that pretty hard when it is your fault, but (looking back) I would do the same thing."
The program's rise came with one major addition.
"We built a free-standing weight room," Te Grootenhuis said. "The school had never had a weight room – they had a little closet they called a weight room -- but we built a weight room in 1995. Kyle (Vanden Bosch) had a weight room in his parents' machine shed where a lot of kids lifted, but that is what really turned the program to the upper level."
Rozeboom, who was 8-1 in his first season as head coach, knows that the special athletes go a long way to help build a program and sustain its success by the example they set. He has had two of the finest football players the state has produced in LeVar Woods and Vanden Bosch.
"They were great talents. Unbelievably big, strong, fast guys and we were lucky they were high character guys with great work ethics," said Rozeboom while noting that both still give back to the program to this day. "That kind of rubs off on other guys and so it is pretty easy to sell kids on doing things the right way when your leaders and great players are doing it."
Woods, who went on to play at the University of Iowa and the NFL, said the lessons he learned from Rozeboom continue to guide him to this day.
"Coach Rozeboom is a caring guy, he cares about you as a person first," said Woods, now an assistant coach with the Hawkeyes. "He was definitely demanding, is a very intense coach, high energy, but you know what, he never used a curse word.
"Growing up in that area you either worked or you go play sports, and I chose to go play sports. It is a community that prides itself on hard work."
Rozeboom's impact on Vanden Bosch is undeniable.
"He is the perfect coach," Vanden Bosch said. "He is tough and he has high expectations for the players and he is the kind of guy that can yell at you and you don't get upset about it because you know where his heart is, you know that he cares.
"He will yell at you to get you motivated and the next moment he will have his arm around you and talk some things through. It seems like he always has his finger on just what each individual person and what the team needs at that moment."
A program that has been built on hard work and doing things the right way, it is little wonder that Rozeboom succeeds using players from a community that have so many common traits.
"We take blue-collar guys that want to work hard, play hard for the guy next to them, put the guy next to them first," he said. "Just try to outwork people on the practice field, in the film room and in the weight room. I think that has done a great job in keeping us competitive over the years."
Rozeboom, who teaches students that have mild learning disabilities at West Lyon, focuses on getting as many kids active in the school as possible. He leans toward football, naturally, but just wants students to find something they can enjoy.
Te Grootenhuis believes the success the head coach has had is evident in how he interacts with students in his classroom.
"He is so patient as a person," Te Grootenhuis said. "He can deal with kids so well. Everyone is treated with respect and that is why kids play so hard for him, they respect him."
"It is a very rewarding career," Rozeboom said. "I get a chance to work with the kids in a small group setting and see them succeed. A new challenge every day."
Rozeboom has met those challenges head on and left a lasting impression on the West Lyon community that will far outlast his coaching days.
"I don't think any other name (on the football field) would have been appropriate," Vanden Bosch said. "He has done so much for the football program, for the school, from a personal standpoint for the lives of the athletes and students he has taught."
Get in the game with our Prep Sports Newsletter
Sent weekly directly to your inbox!