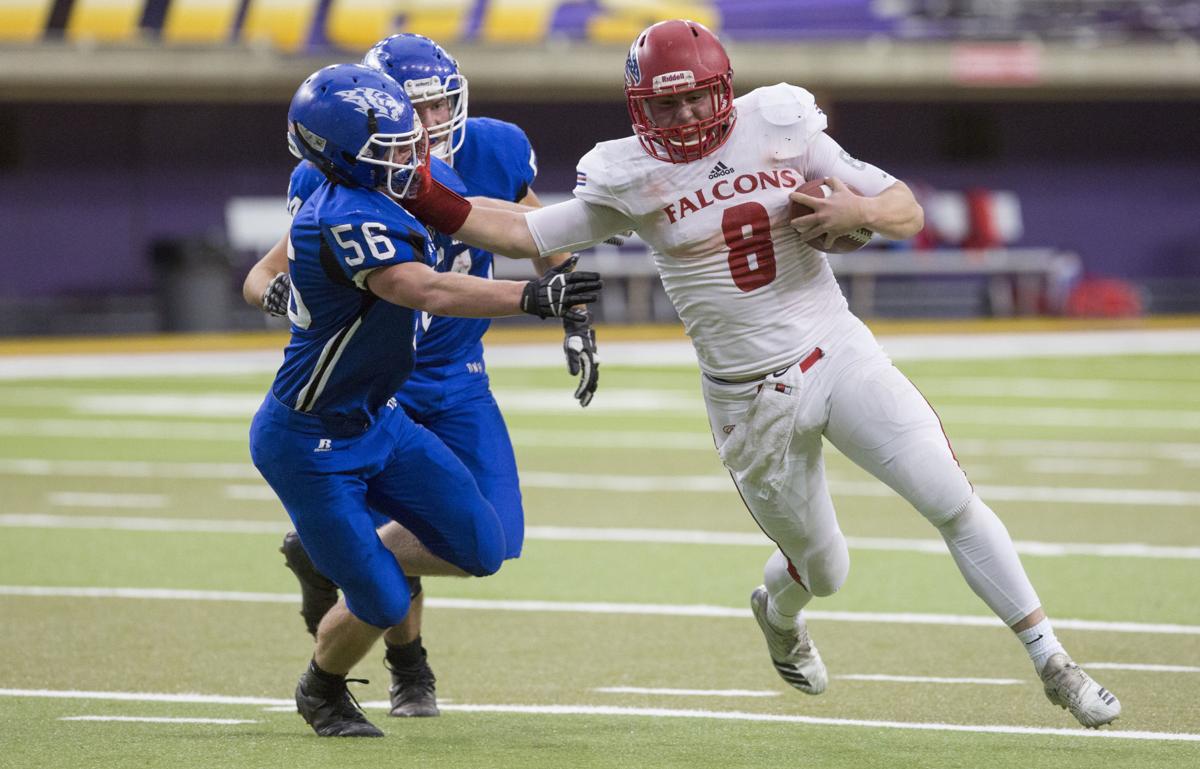 He had his opportunities to make a rash decision. Ohio State was the first Power 5 program to show interest in the West Sioux quarterback. Dekkers also clicked with Indiana offensive coordinator Kalen DeBoer.
While Ohio State didn't officially offer - the Buckeyes were waiting for Dekkers to come to their camp, which he wasn't able to because of other conflicts - Indiana did. So did Purdue and Kansas State. Dekkers also had an FBS offer from Central Michigan and FCS offers from South Dakota, South Dakota State and Northern Iowa.
But it was the in-state offer from Iowa State that caught Dekkers attention the most.
Dekkers went to Iowa State's camp and the 6'2, 220-pound dual-threat quarterback caught Iowa State head coach Matt Campbell's attention.
Shortly after the camp, Dekkers received an offer from Iowa State.
After thinking about it, Dekkers knew Iowa State had everything he wanted in a school and he verbally committed to continue his football career as a Cyclone.
"I am very happy. I wanted to take my time and whatever felt right, I would commit," Dekkers said. "For me, it was everything (about Iowa State). The coaches, the players, the school, everything was perfect. They have the perfect education for me. The coaches stand for everything I stand for and they hold everyone to a certain standard and they preach culture."
West Sioux coach Ryan Schwiesow said Dekkers was grinning from ear-to-ear when he told him he was committing.
"I was definitely rooting for the in-state commitment. I am happy that he will stay close. It's great for the program, the community and the school district," Schwiesow said. "He seemed truly happy about where he is going. He has a heck of a bright future at Iowa State."
You have free articles remaining.
Dekkers, who plans to major in Ag Business, is a three-star recruit, according to 247sports.com, and is considered the 19th-best dual-threat 2020 quarterback recruit in the nation.
He's been playing quarterback since his freshman season for the Falcons. He passed for 951 yards and nine touchdowns for West Sioux.
His sophomore season, Dekkers helped lead the Falcons to a state title after passing for 2,396 yards, the fifth-most in the state, and 33 touchdowns, tied for the second-most in the state.
Last season the Falcons won their second straight state title as Dekkers led the state with 3,641 yards and 48 touchdowns. He also rushed for 574 yards and seven touchdowns.
He's 3,022 yards shy of becoming the first quarterback in Iowa's history to pass 10,000 yards in a career. He needs 17 touchdowns to break the state record.
Dekkers also caught the attention of one of the best quarterback camps in the nation - Elite 11. Dekkers advanced through different rounds of the camp and was invited to the final camp, which included some of the top 2020 quarterback recruits in the nation.
The final Elite 11 camp was last week.
"It went very well. It was a great experience. I went there not knowing what to think but I came out as a better player and a better person," Dekkers said. "We met kids who are dealing with cancer and we had two (retired) NFL players come in and speak to us. They had different stories about their lives and some different perspectives."
Now Dekkers is back and pitching for the West Sioux baseball team. He had 17 strikeouts in a win over Hinton earlier this week. Now he can just focus on the rest of the baseball season and the upcoming football.
"Hunter is a mature kid. I had no doubt that he would handle it with great poise," Schwiesow said. "I am sure he is happy to have the monkey off his back. It's a testament of the kids that played around Hunter. He has to have guys to block for him and to pass to. The success we've had as a team, he's been fortunate enough to parlay that into an offer and it's a great honor for him and all of the kids that have helped him."
Now that Dekkers has commitment out of the way, one of his next goals is to help some of his teammates receive offers, such as receiver Kade Lynott and kicker Jason Topete.
"(Jason) wants to kick in college. Kade, I don't think he's gotten the respect he should've for what he's done and how he does," Dekkers said. "Just having their name out there and how well they will perform, that will definitely help them."