CEDAR FALLS, Iowa -- When OABCIG opened up fall camp, the goals were simple after a 7-3 2018 campaign: Compete for a district title and try and see if a deep playoff run was possible.
"Realistically you think, 'Okay we can get to the playoffs, maybe win a game or two in the playoffs,'" OABCIG coach Larry Allen said. "After the scrimmage, William (Grote) went up to coach (Travis) Chizek and said 'We have 13 weeks left coach.' Low and behold, he knew it."
OABCIG's run continued to the championship game and in its first-ever state title appearance, the Falcons took down top-seeded Waukon 37-12 on Friday at the UNI-Dome to win the Class 3A championship.
After each dominating victory, more players and coaches started to believe.
After knocking off Greene County in convincing fashion in the regular-season finale to win the district title, the whole team was bought in and that carried through the playoffs and landed the Falcons in the UNI-Dome for the first time ever, which ended in a title.
"It's been a long time coming," Allen said. "I think this is our 10th year together as one school. The crowd was just huge. The kids joke that they are celebrities around the towns and I think they will be celebrities for a little while longer."
OABCIG (13-0) consists of Odebolt, Arthur, Battle Creek and Ida Grove. It was the first trip to the UNI-Dome for any combination of the consolidation.
"It feels great to finally win a title for this community," OABCIG junior quarterback Cooper DeJean said. "We knew after those first couple of games, it was going to be tough to stop us when we were putting up all of those points. We just had to keep it rolling throughout the year and we finally got to bring home a state title."
OABCIG senior wide receiver/defensive back Jake Nieman said the title means everything for the community.
"We are going to gather around this, keep pushing our athletics so we can win other things," Nieman said. "For it to happen just means the world to me. To win 13 games, the most you can it, it just makes me feel amazing."
PHOTOS: OABCIG's state title-winning 2019 football season in 16 images
111619bp-oabcig-algona-01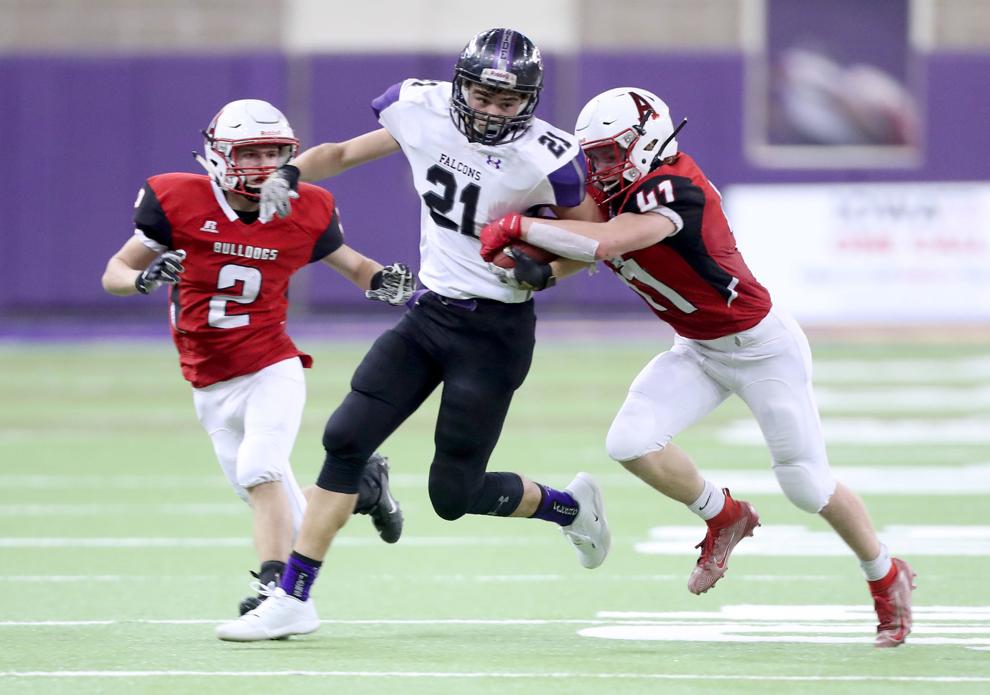 111619bp-oabcig-algona-05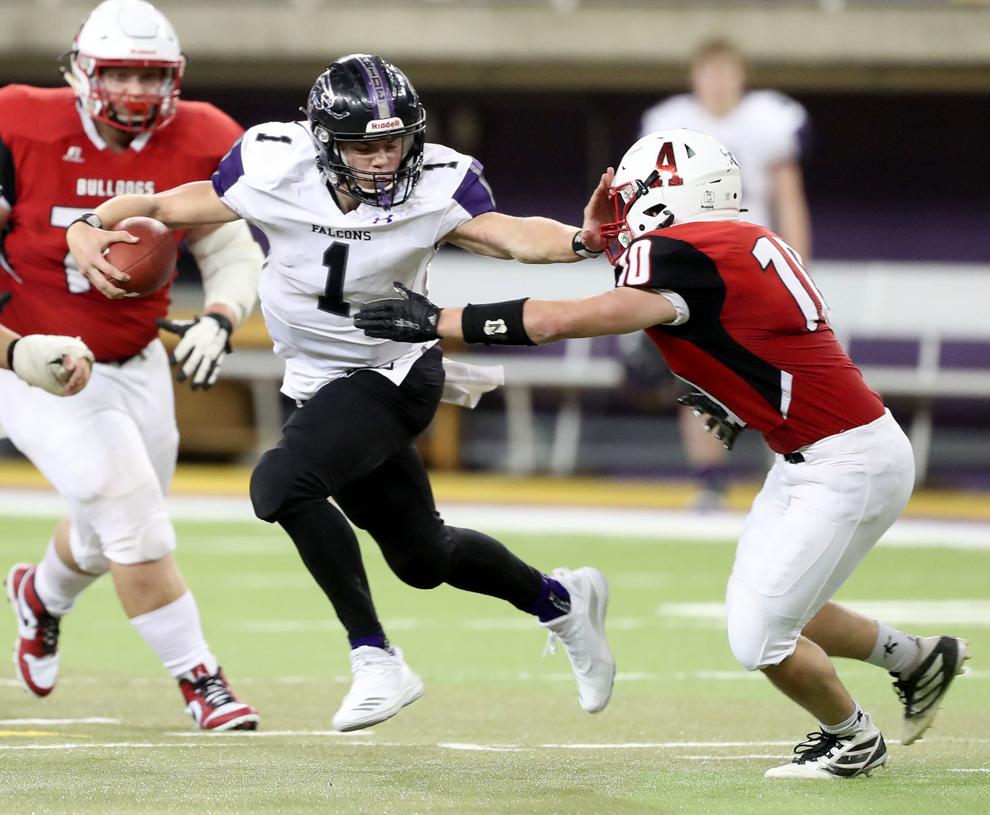 111619bp-oabcig-algona-10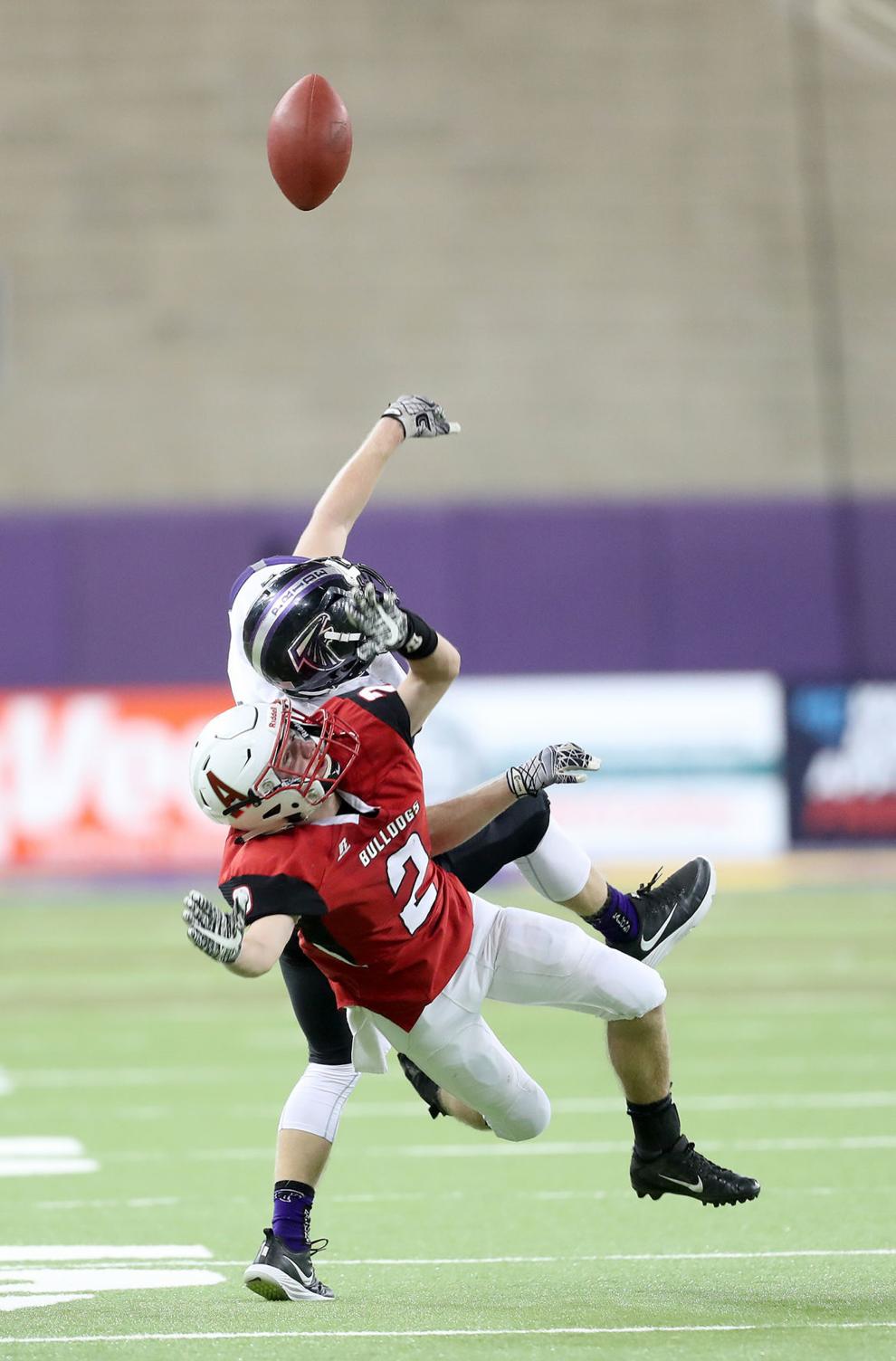 111619bp-oabcig-algona-13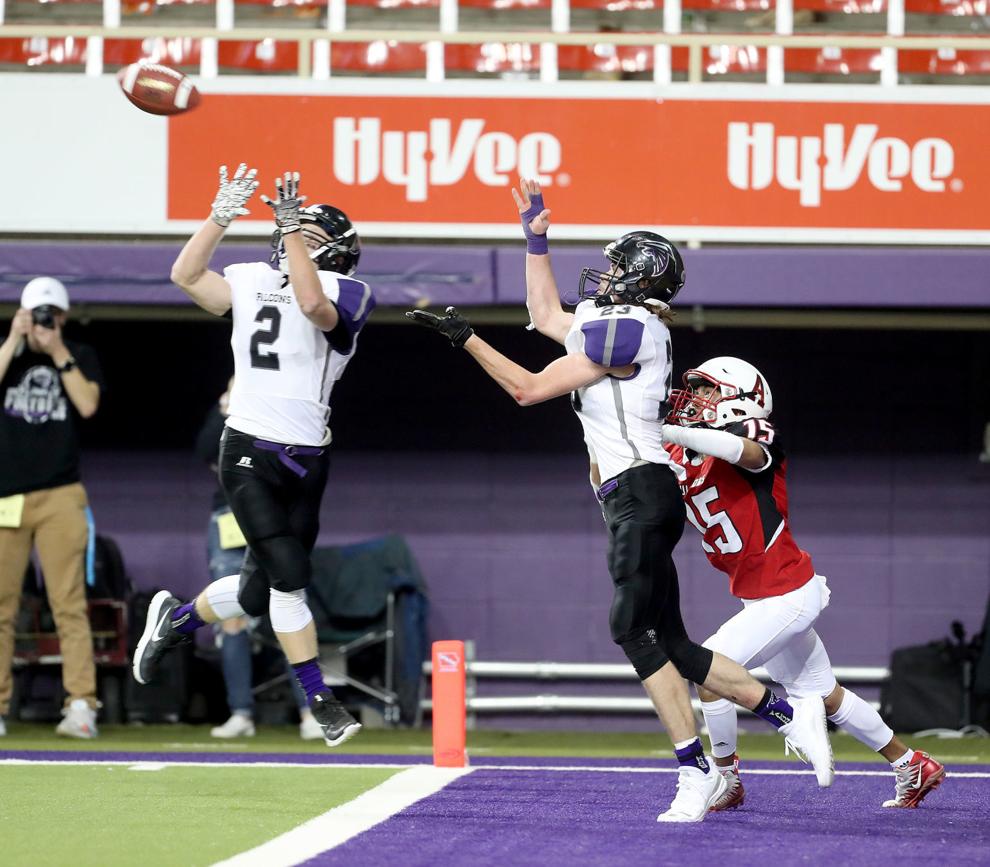 111619bp-oabcig-algona-07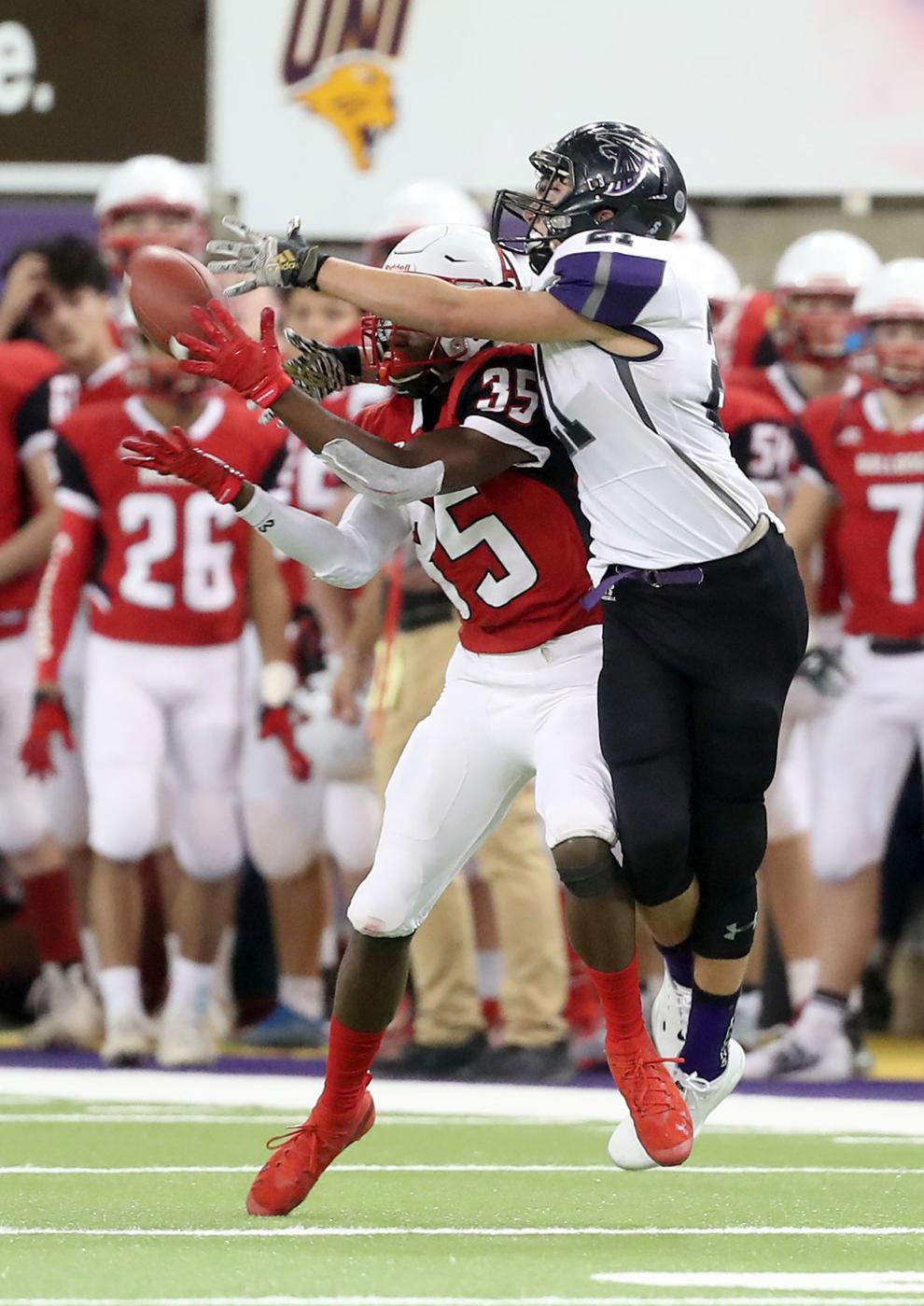 111619bp-oabcig-algona-12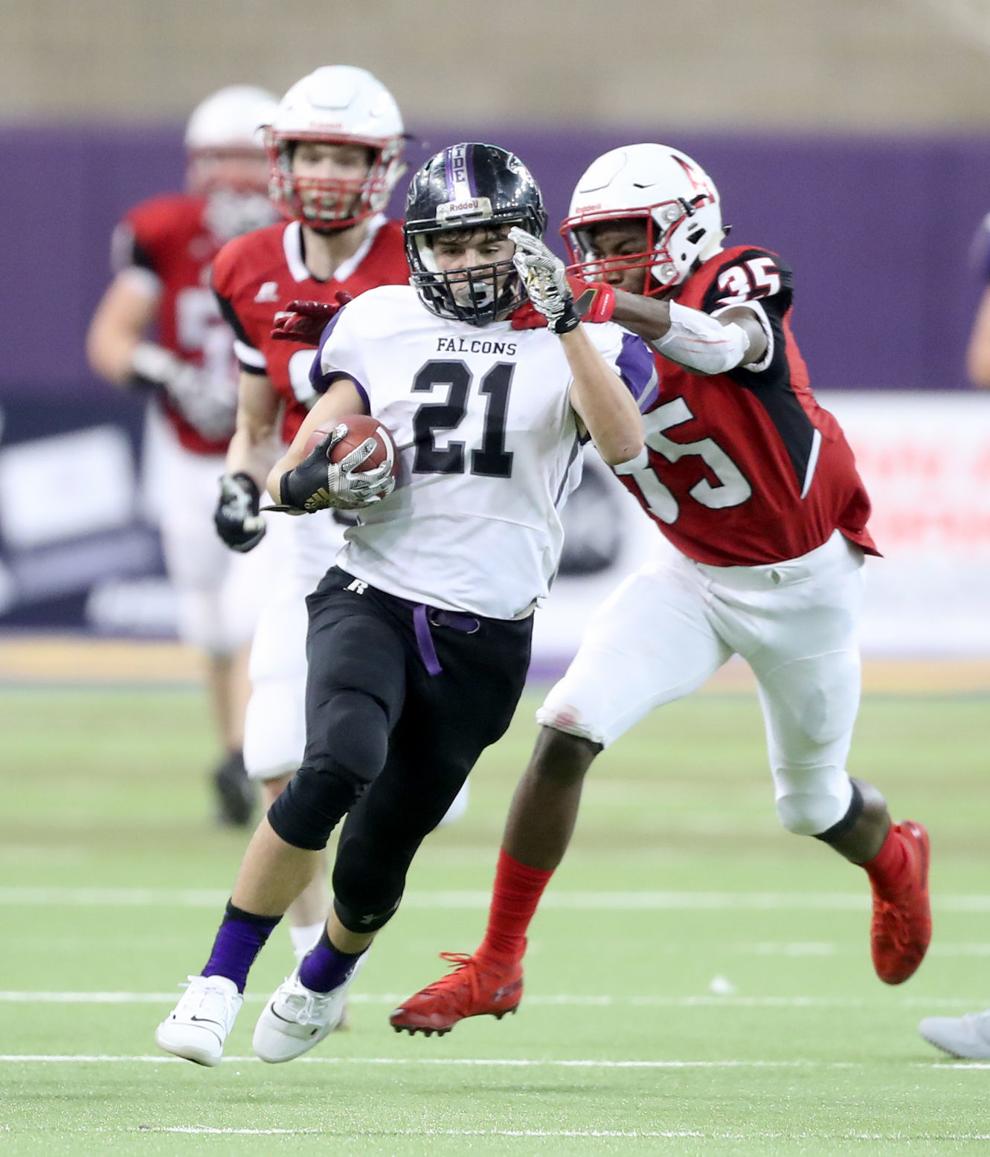 111619bp-oabcig-algona-16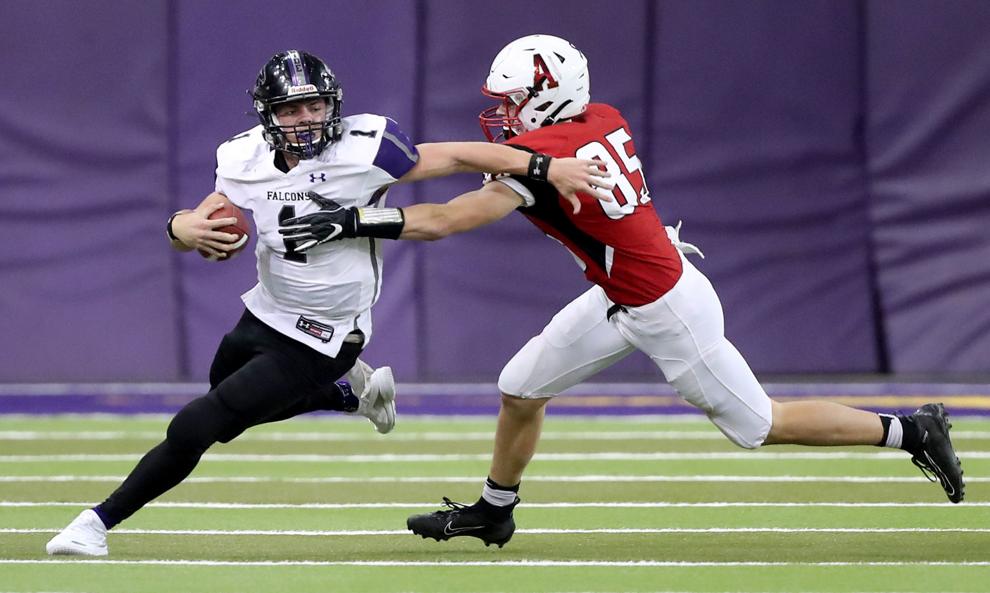 OABCIG vs. Algona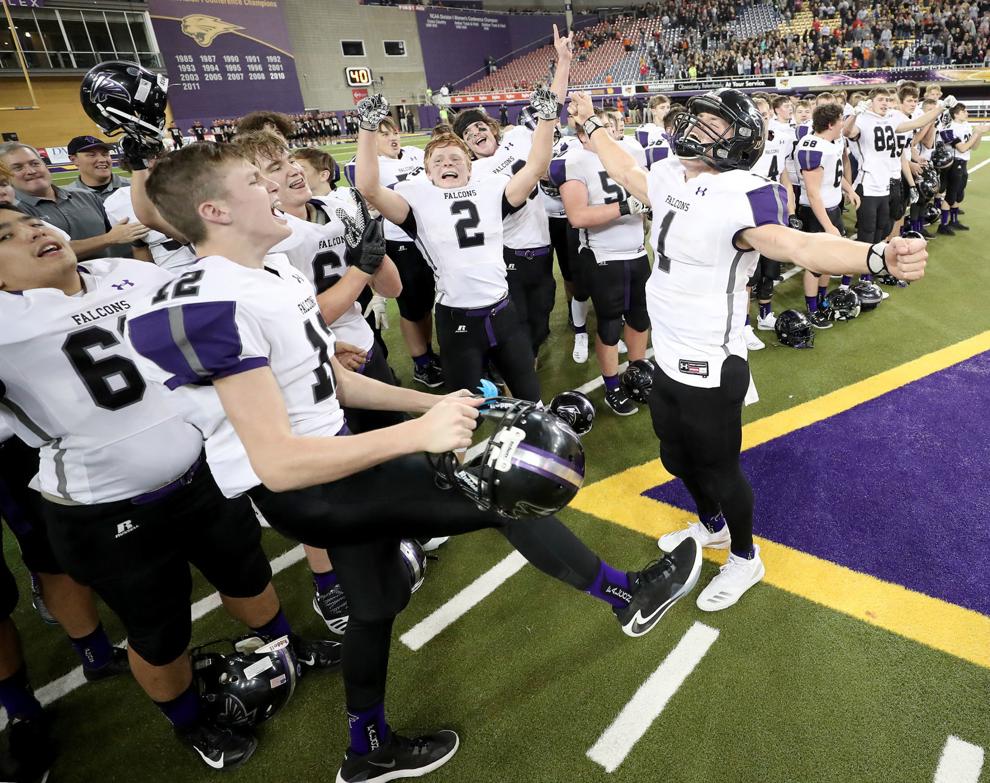 112219-oabcig-state-championship-01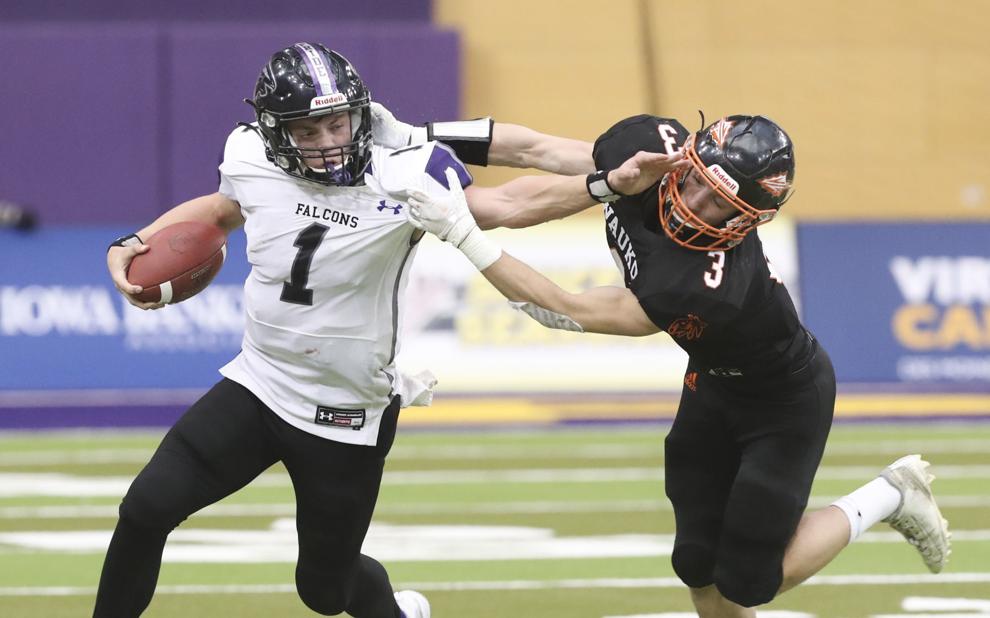 112219-oabcig-state-championship-02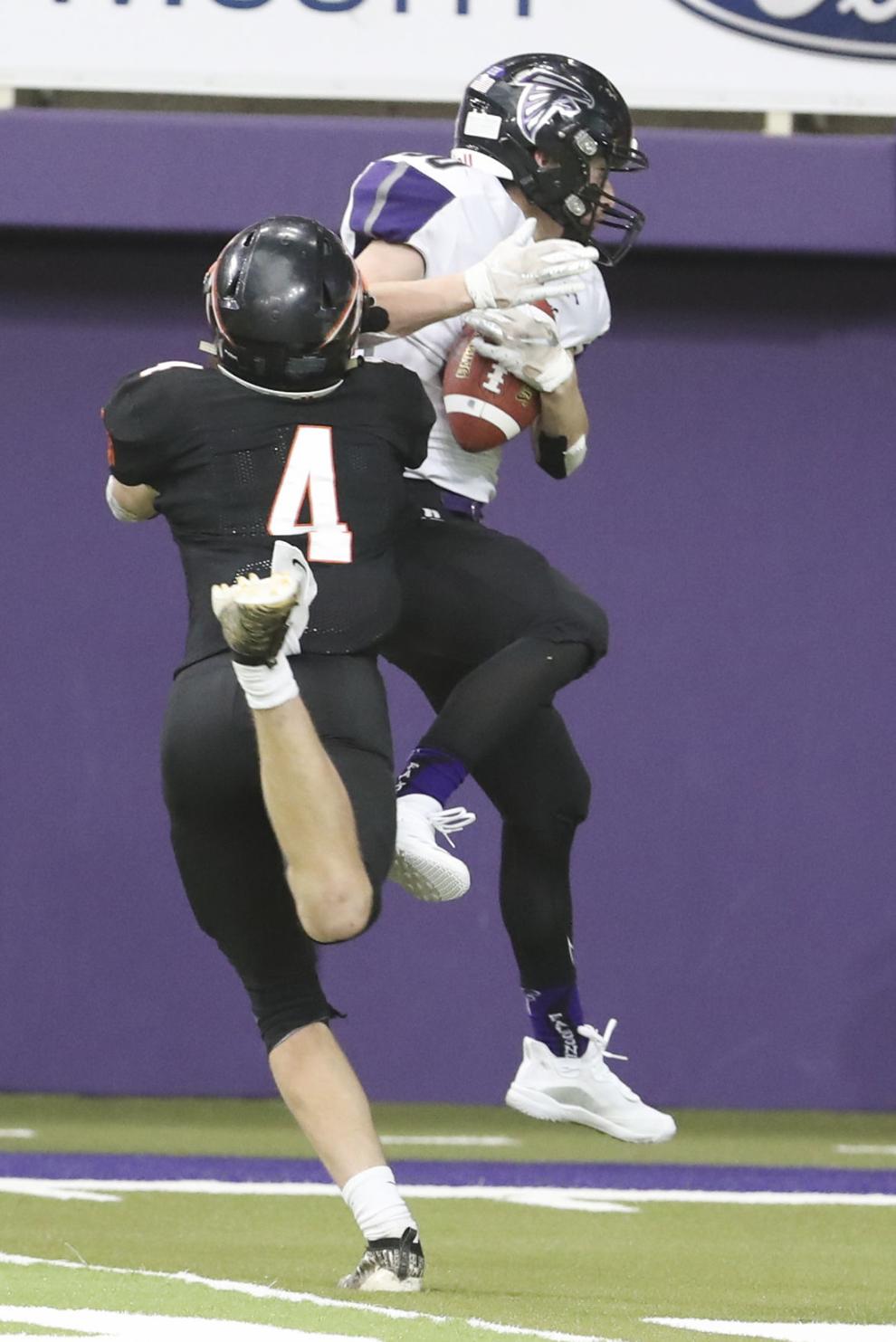 112219-oabcig-state-championship-04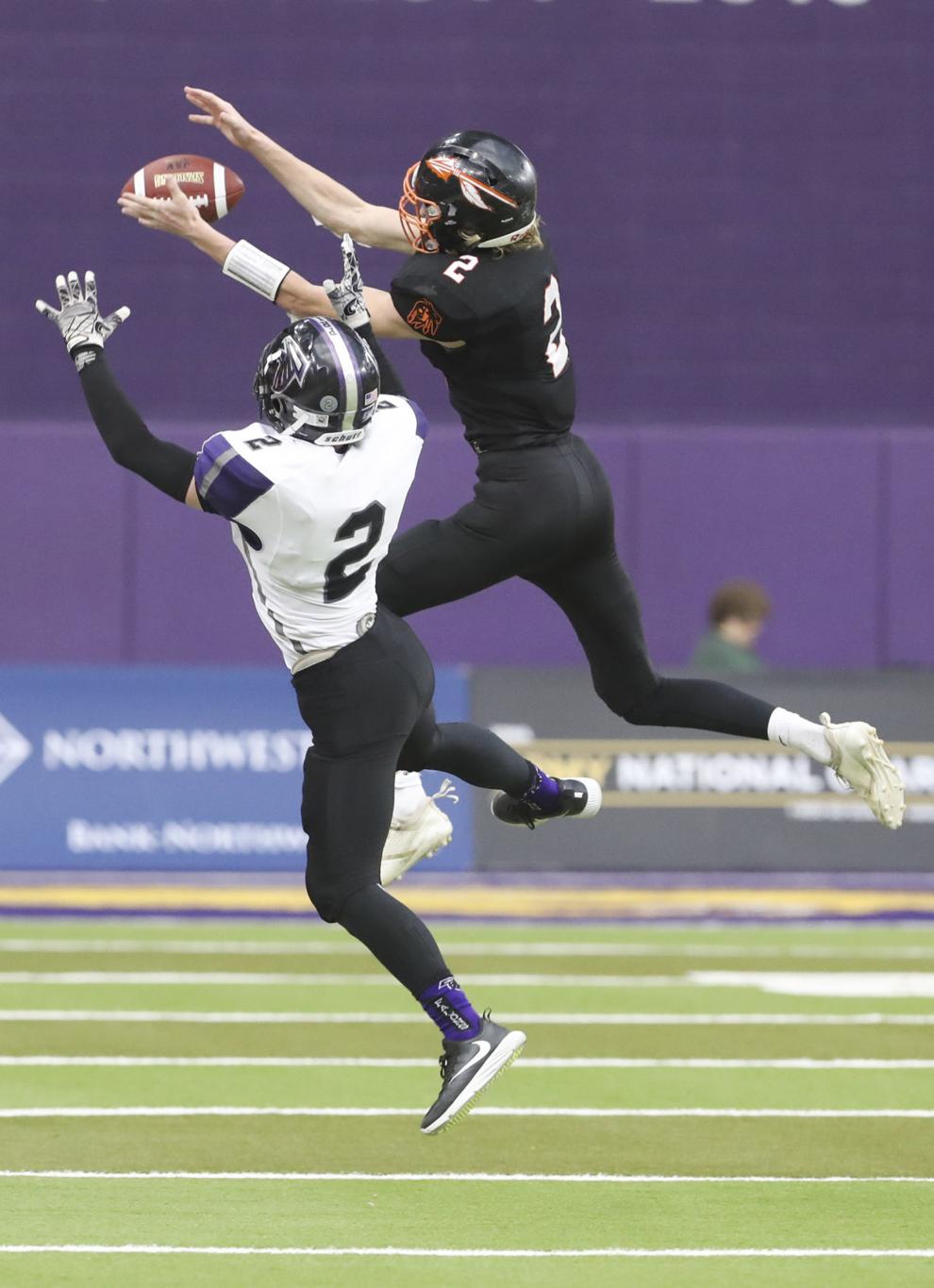 112219-oabcig-state-championship-06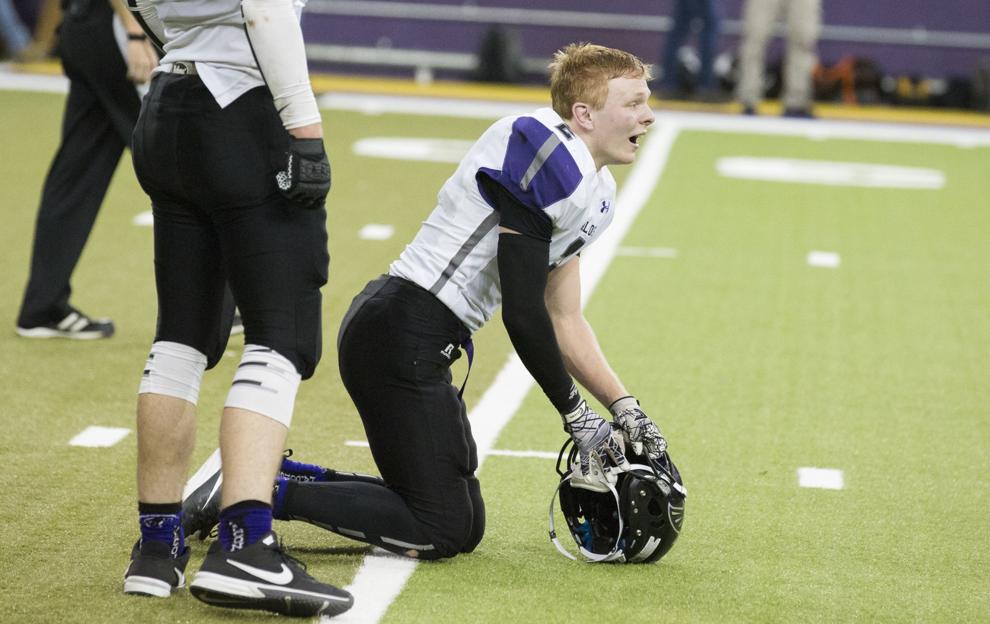 112219-oabcig-state-championship-08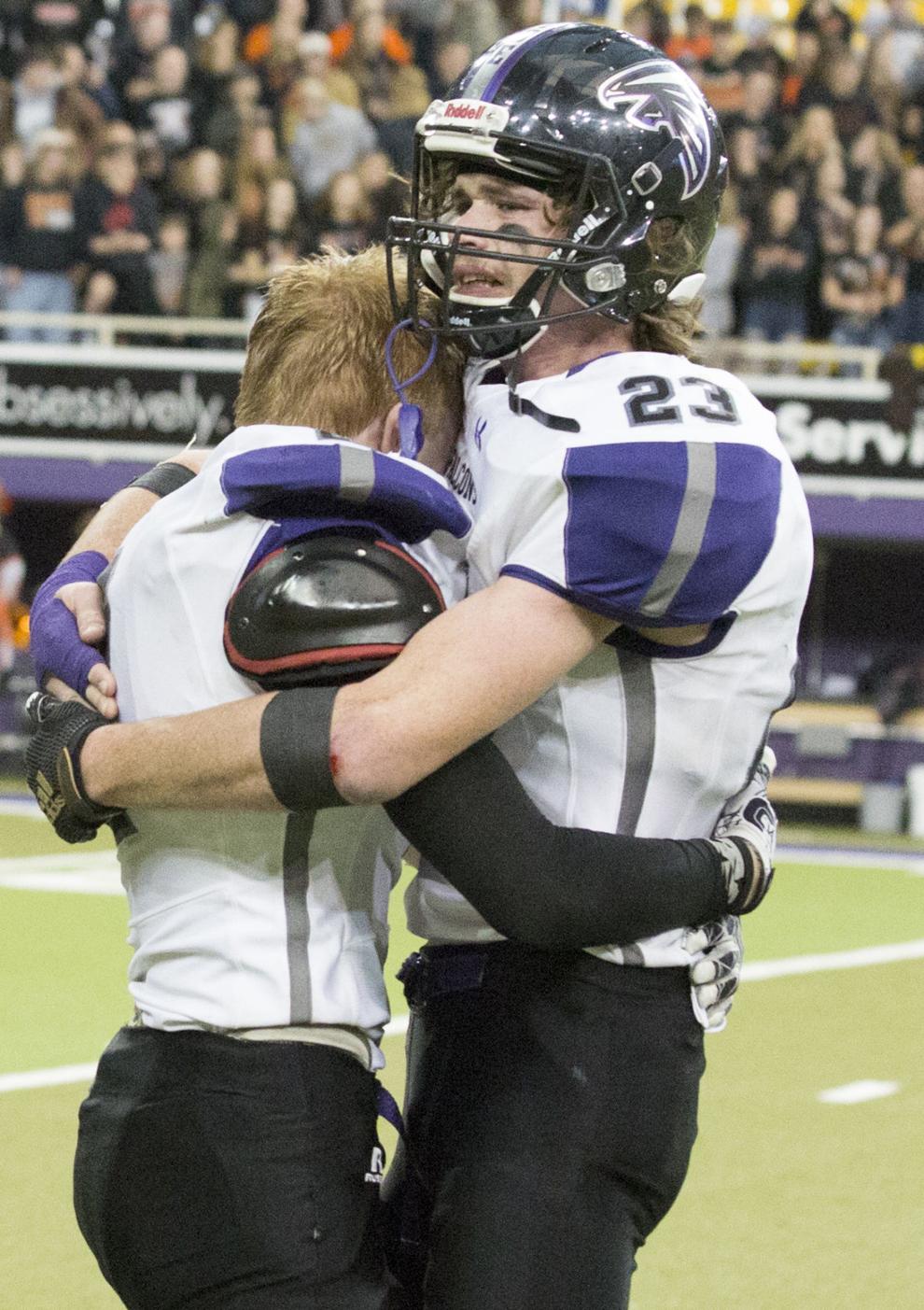 112219-oabcig-state-championship-07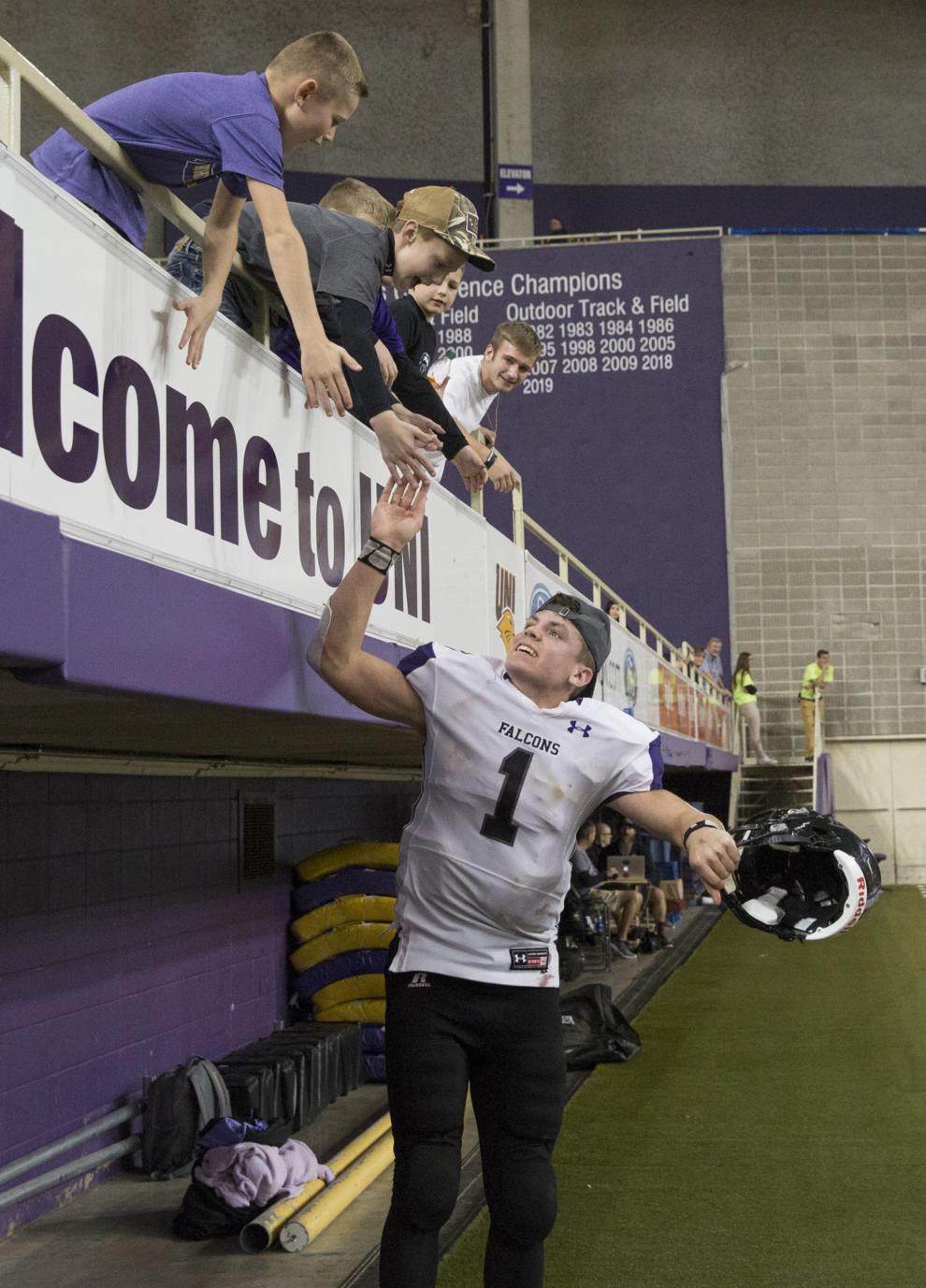 OABCIG football
OABCIG vs. Waukon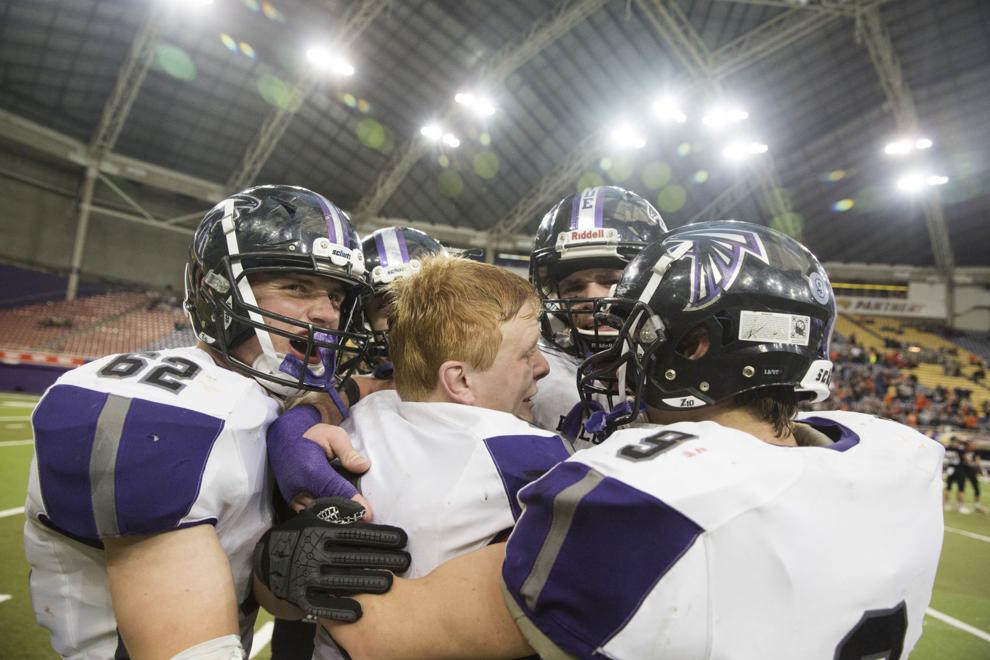 The win is even more remarkable since the Falcons were playing without wide receiver Easton Harms, who suffered a major ankle injury in the semifinal win. The sophomore was second in the state with 89 receptions and he had 1,114 yards.
Nieman, who came into the game with the fourth-most receiving yards, did his thing with seven receptions for 98 yards and a touchdown and others stepped up to fill Harms role. Trust Wells had five receptions for 64 yards and Kolton Knop, who had two receptions for 36 yards on the season, had two catches for 48 yards and a score.
"I have confidence in all of my guys. I know they will make plays for me," DeJean said. "Obviously not having Easton out there was a big blow to our team. He's a great player and it means a lot to win that state title for him and for this community."
The Falcons were tasked with not only beating a Waukon team that has been No. 1 all season, but they also had to find ways to stop the Indians' offense, which scored the second-most points in 2A all season, behind only the Falcons.
OABCIG has given up some yards this season, but the Falcons had 21 interceptions on the season and they thought they could get Waukon quarterback Creed Welch to throw at least a couple of picks in the game.
It happened right away in the first drive. DeJean jumped in front of a pass and made a one-handed interception. That turned into a 27-yard field goal by Caden Wareham for a 3-0 lead.
The Falcons led for the rest of the game.
"Once we got done with the first quarter, I thought we could keep holding them to very little points," Nieman said. "They got a lot of yards on us but yards don't mean anything if you aren't scoring touchdowns.
"That quarterback is really good but if he scrambles around and throws it up, our DBs are going to go up there and intercept that ball."
OABCIG held Waukon scoreless for much of the half and the Falcons added the lead on a seven-yard pass from DeJean to Nieman and a DeJean hit Kolton Knop for a 45-yard pass with 1:59 left in the half for a 17-0 lead.
Waukon never had an answer for OABCIG's offense as the Falcons racked up 458 total yards. DeJean passed for 250 yards and two touchdowns and he rushed for 167 yards and two scores.
"All the credit goes to my offensive line and receivers. They block for me, they get open for me. They do everything for me so it makes it a lot easier on me," DeJean said. "We knew momentum was in our favor when we were up 17-0. We just had to keep getting stops and keep putting points on the board."
Waukon did get a score on a three-yard run by Welch 21 seconds before the half but the Falcons opened the second half with a 31-yard touchdown run by DeJean.
Waukon did get a two-yard run by Ethan O'Neill with 2:55 left in the third but once again, the Falcons had an answer.
DeJean fielded the kickoff and handed off to Nieman for a reverse. He had a big hole and went 77 yards untouched for OABCIG's first kickoff return for a touchdown this season to make it 31-12.
"We run that every week, we try to at least. Once I got it and saw the green, it was amazing," Nieman said. "I just hauled it and made sure I got to the endzone so I wouldn't get caught."
Waukon couldn't get another score in the game. OABCIG held the Indians to 323 yards and picked off Welch three times. The Falcons put constant pressure on Welch throughout the game.
"Coach Chizek had a tremendous gameplan. He scouted them well and our kids were prepared with what they were going to try and do," Allen said. "Every time they brought something out formationally that was out of the ordinary, our kids knew exactly how to line up and how to defend it. That's a credit to coach Chizek and what he did."
With 4:41 left in the game, DeJean scored on a 20-yard run to seal the Falcons first-ever state title.
"Unbelievable. Waukon had a great gameplan for us and took away some of the things we wanted to do. We struggled there in the first half at times," Allen said. "Bless those kids hearts, we came out in the second half and were able to execute a little bit better and make some plays. Unbelievable feeling."