SIOUX CITY – If indeed this was the last game in 'The Pit," the Bishop Heelan girls basketball team made it one to remember.
Heelan turned back Le Mars 52-43 in a Class 4A regional final, believed to be the final game played in Heelan's venerable basketball home for decades. The Crusaders are scheduled to move into a new facility beginning next season.
In a matchup of sixth and seventh-ranked teams in the final Iowa Girls High School Athletic Union ratings, it came down to free throws and Heelan knocked them down, earning its 10th state tournament trip and first since 2015.
"You have to give our kids a lot of credit for focusing on free throws since last summer," Heelan Coach Darron Koolstra said. "We talked a lot about it that it's going to win a lot of games for us. We've been one of the leaders in 4A and track our free throw shooting every day and run if we don't get to 70 percent. It paid off."
Heelan was dead-eye from the charity stripe, cashing in on 22 of 25. The Crusaders were especially accurate in the fourth quarter, making 11 of 12 with the game on the line.
"Teams that make free throws go deep into the post season and Heelan is obviously a real good free throw shooting team and made them when they counted tonight," Le Mars Coach Judd Kopperud said. "I'll give all the credit to Heelan because they played a great game.
"I texted Darron the other day and said I still feel like our teams are two of the best eight in the state but we both got put in the same region. But that's the way it goes and you can't worry about you can't control."
Ella Skinner scored 18 points and pulled down nine rebounds for Heelan, which will take an 18-5 record into a first-round game at Wells Fargo Arena next week. Katelyn Stanley made six free throws in the final minute of the game and finished with 12 points.
"It's a crazy good feeling, I've been wanting this since my freshman year," said Skinner, one of four junior starters for Heelan. "I thought it was going to be a 60-point game and our shots weren't really falling. We really worked on our defense so that we could get them to turn over and we had our time down there."
Skinner reached her season average of 17.8 points per game and has been the Crusaders' offensive leader all season. Super sub Amber Aesoph -- another junior -- contributed 10 points.
Katie Cooke made a layup in the closing seconds of the second quarter, giving Heelan a 22-20 lead at the end of a deliberate low-scoring first half. The Crusaders scored the first six points of the third quarter and never relinquished the lead.
Le Mars, a state semifinalist last season, trailed 37-29 after three quarters but pulled within two on a 3-pointer by Madison Dreckman two minutes into the fourth. The Bulldogs, though, went four minutes without scoring and in that stretch Heelan took a 43-37 lead on two free throws and two straight buckets by Skinner.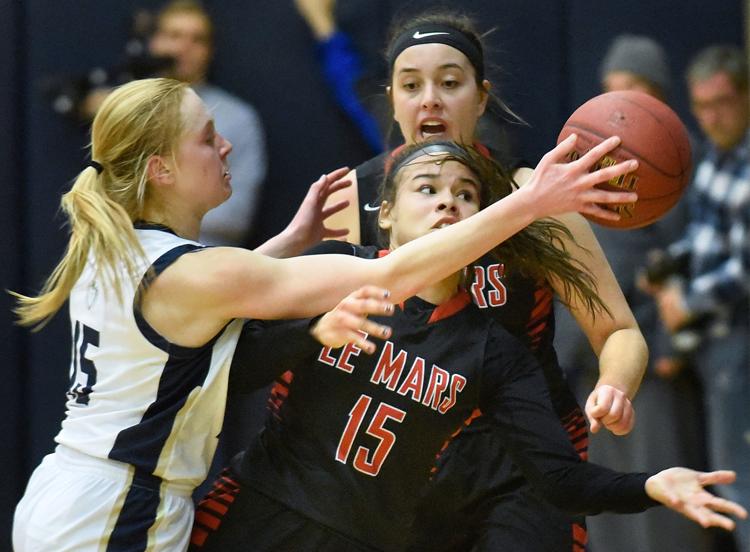 The final game at 'The Pit' attracted a near capacity crowd.
"They put this in a few years ago for teams to host to get good crowds and this couldn't disappoint you," Koolstra said. "But getting in the top eight and staying ahead of Le Mars gave us a chance to host this game. I think our kids deserve it and we were fortunate to play here. What a way for 'The Pit' to go out.
Dreckman, a Nebraska-Kearney recruit, tossed in 18 points in her final prep game. Dreckman has already earned all-state honors each of the last two seasons and most assuredly will again this year.
Jaelynn Dreckman, her cousin and a junior who will be a key performer for the Bulldogs next season, added 12 points. Le Mars had a 13-game win streak snapped and closed with a 19-4 record.
"Their defense is outstanding and they take your strengths away," Koolstra said. "Ella made some really tough shots in the fourth quarter and got us over the hump after they made a run. Our kids work together and don't care who scores. They know who can score, too, which is a good thing."
This was the second win of the season for Heelan over Le Mars. The Crusaders came away a 53-47 winner at home on Dec. 20, which went a long way toward determining who would host the regional final.