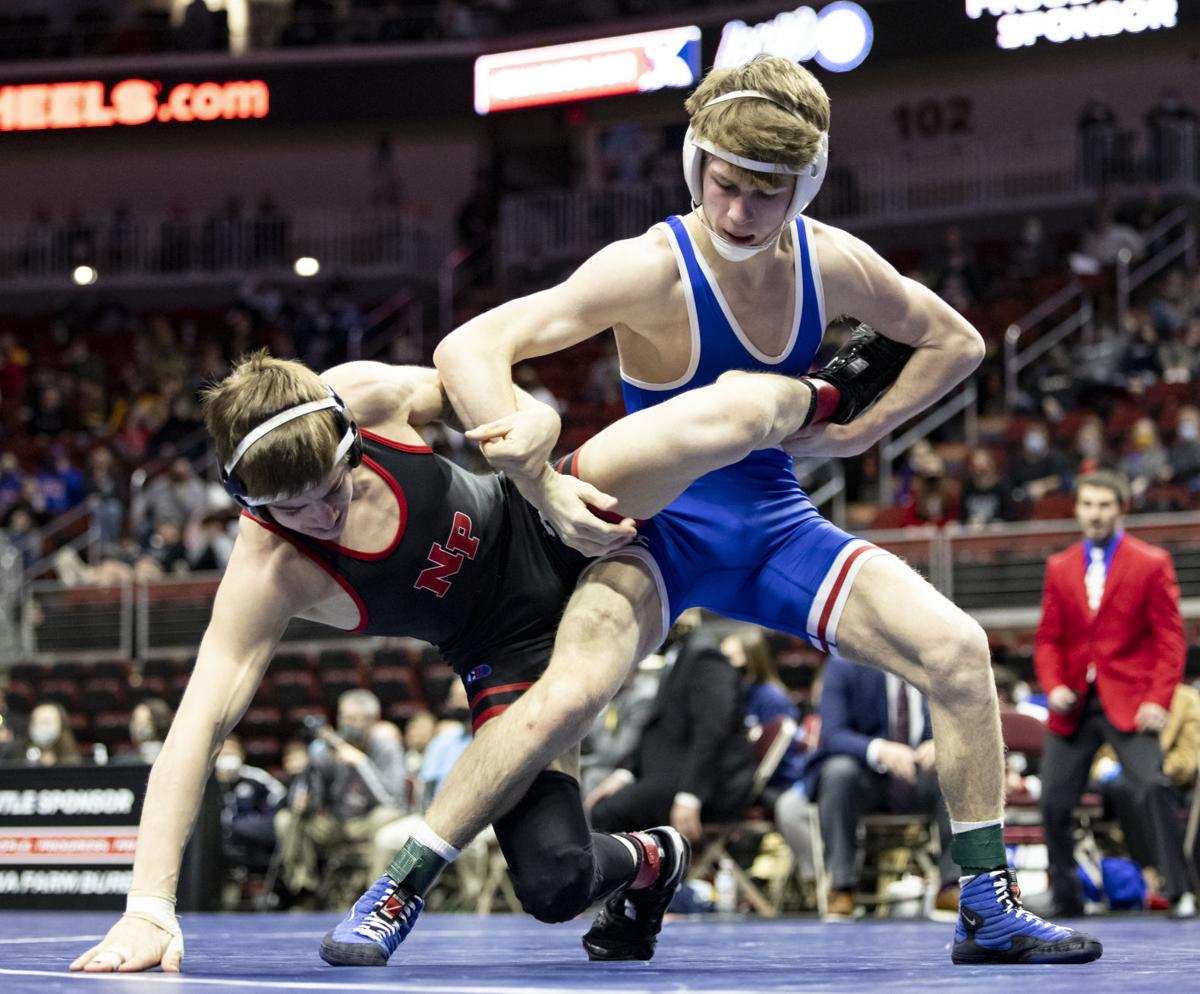 DES MOINES — Garrett Rinken wouldn't let West Sioux High School junior Braden Graff on top much during the 113-pound state championship on Saturday night in Des Moines. 
Rinken recorded a takedown good for two points in the third period with about a minute left, and Graff just couldn't get that one move to negate the shot that Rinken took. 
Graff led early 20-0 with a takedown early in the first period. 
The two wrestlers started neutral to start the second period, and Rinken tied the match in the second with a takedown near the halfway mark.
Rinken wore Graff down in the second period on top, giving the Nashua-Plainfield sophomore a chance to take that third-period shot. 
West Sioux sent five athletes to the state tournament, and the Falcons finished with 84.5 points, good for 12th overall. 
The metro area, however, will have five placewinners come home. Those four wrestlers are Bishop Heelan's Ethan DeLeon and Mitchell Joines, North senior Nick Walters, Sergeant Bluff-Luton senior Jack Gaukel and West senior Ethan Emmick. 
DeLeon placed sixth at 145 pounds in Class 2A. DeLeon's final win of the season came against West Delaware's Logan Peyton in the third round of the consolation round, but Camanche's Eric Kinkaid (7-1) and PCM's Landon Fenton (4-3) defeated DeLeon in the final two rounds. 
Mitchell Joines was going for a championship at 170 pounds, but that match ended after Journal press time. 
Gaukel was also competing for a first-place finish at 152 pounds in Class 2A, and that match also ended after the Journal's deadline. 
Walters, the Stars' 126-pounder, beat Ankeny's Cael Cox for the third time this season on Saturday, and the second time in as many weeks. 
This time around, Walters beat Cox in a 3-2 battle after beating the Hawks senior 5-2 last week at the Fort Dodge districts. 
Walters scored all three points in the third period on an escape and a takedown, both within 22 seconds of one another. 
"I knew I could get up from the bottom," Walters said on Saturday. "I've gotten up in previous matches on him and keep the pace up and keep after him. I just had to be confident. I knew I that I could win and just wrestle my wrestling."
Walters, of course, wanted to be wrestling in the 126-pound title match, but Bettendorf's Dustin Bohren and Waukee's Thurman Christensen took the top-two spots in the bracket. 
Walters was happy to take third place. 
"It's pretty cool," Walters said. "I've been wanting to be high up there in the podium."
Walters had two knee surgeries in the last calendar year. Even through thos struggles, Walters was still confident he could end the year with a spot on the podium.
"I knew I could come back," Walters said. "I knew what I was capable of. After two surgeries, I knew I could wrestle better than I did before."
Emmick lost his match on Friday night to Dubuque Hempstead's Josiah Schaetzle, 6-0. 
Emmick faces Ames' Brent Slade in the seventh-place match, and Slade won, 14-2.
Emmick will be the first Wolverines wrestler to stand on a state tournament podium since 2006, according to West activities director Allan Pace. He finished eighth. 
Here is a look at all the Siouxland placewinners, categorized alphabetically by school: 
Brandon Mier placed seventh at 195 pounds in Class 1A. He won his final match of the season, winning by pinfall in 6 minutes over South Hamilton's West Hancock. 
Central Lyon/George-Little Rock
Lions 170-pounder Kalen Meyer placed fourth in the Class 2A field. He won in the consolation semifinals in a 10-2 major decision over West Delaware's Jared Voss.
However, in Saturday's third-place match, C.J. Walrath of the Burlington Notre Dame/West Burlington/Danville co-op pinner Meyer in 3 minutes, 13 seconds. 
Dylan Winkel, the Lions' 220-pounder was wrestling for a Class 2A championship late Saturday night. 
Blackhawks 220-pounder Derek Anderson was wrestling for a chance at a Class 2A championship late Saturday night.
Kole Reis placed sixth at 160 pounds in Class 1A. Reis won three straight matches throughout the week in the consolation bracket, but lost is last two, including a 3-1 loss Saturday against West Hancock's Bryer Subject. 
Colton Hoag got fourth place Saturday in the 220-pound Class 3A bracket. Goag lost to Southeast Polk's Kalob Runyan in a 3:34 pin. 
Hoag won in the consolation semifinals in a 1-0 nailbiter over Marshalltown's Carson Williams. 
Kolby Scott got eighth place in the Class 1A 170-pound field. Scott lost in the seventh-place match against Carson Hartz of Waterloo Columbus. Scott won two matches at state. 
Nick Bronstad placed eighth as a 285-pounder in Class 2A. Bronstad lost in a 1-0 close match against Keean Kamering of Mount Vernon. Bronstad won back-to-back matches earlier this week in the consolation bracket. 
Zander Ernst placed fourth in the Class 2A 152-pound field. The Raptors junior was pinned by Jadyn Peyton of West Delaware. Ernst beat PCM's Colby Tool in the consolation semifinals, 8-6. 
Osvaldo Ocampo placed eighth as a 113-pounder in Class 2A. He lost in his final match to Osvaldo Ocampo ina 15-2 major decision. He earned his spot on the podium earlier this week by beating Luke Freund of Harlan in a 9-8 decision. 
The Generals had two placewinners on Saturday. 
First, Garrett Sarringar won the Class 1A 145-pound seventh-place match with a 3:31 pin over Lake Mills' Alex Beaty.
Dahson DeJong got sixth place at 170 pounds, and his final match came in a 3-1 loss to Council Bluffs St. Albert's Cael McLaren. 
DeJong got a 7-5 sudden victory over Scott in the third round of the consolation bracket. 
Dao Keokhamthong placed fourth at the 138-pound division of Class 2A. 
Keokhamthong won in the consolation semifinals in a 9-7 win over Brady Ortner of Vinton-Shellsburg. 
In the third-place match, Crestwood's Chase Thomas beat Keokhamthong, 12-7. 
Jonathan Burnette placed sixth in Class 2A at 220 pounds. Burnette lost in the fifth-place match to Atlantic-CAM's Ethan Follmann 4-3. Burnette beat Follmann in the first round. 
The Wildcats had two placewinners in Class 2A. Wildcats 285-pounder Jordan Ver Meer placed third, as he beat Aaron Graves in a 6-3 decision. 
He also won in the consolation semifinal, pinning Sioux Center's Ethan Hooyer in 4:!7. 
The Falcons had four non-championship placewinners, two in third place and two in fourth. 
Cullen Koedam placed third with an 11-3 major decision over Hudson's Karter Krapfl. 
Carson Lynott also got third, at 182 pounds, with a 5-2 win against Lake Mills' Elijah Wagner. 
Cameron Clark won fourth place at 126 pounds, as he lost to Central Springs' Clayton McDonough in a 2-0 decision. 
Mikey Baker was the fourth West Sioux placewinner. Baker, the Falcons' 132-pounder, lost in a 9-6 decision to Hagen Heistand of Logan-Magnolia. 
Jace Mulder got sixth in the Class 1A 152-pound division. He lost to Denver's Ben Foelske in a 3-1 decision. 
Tristan Mulder was wrestling in the 195-pound championship.
The Wildcats had two sixth-place winners at the Class 1A state tournament. 
Beau Klingensmith lost his last three matches, en route to sixth place. In the fifth-place match, Klingensmith lost to Denver's Brooks Meyer in a 55-second pin. 
Ty Dennison placed sixth at 182 pounds. He lost to Cayden Miller of Midland (Wyoming) in an 11-2 loss.