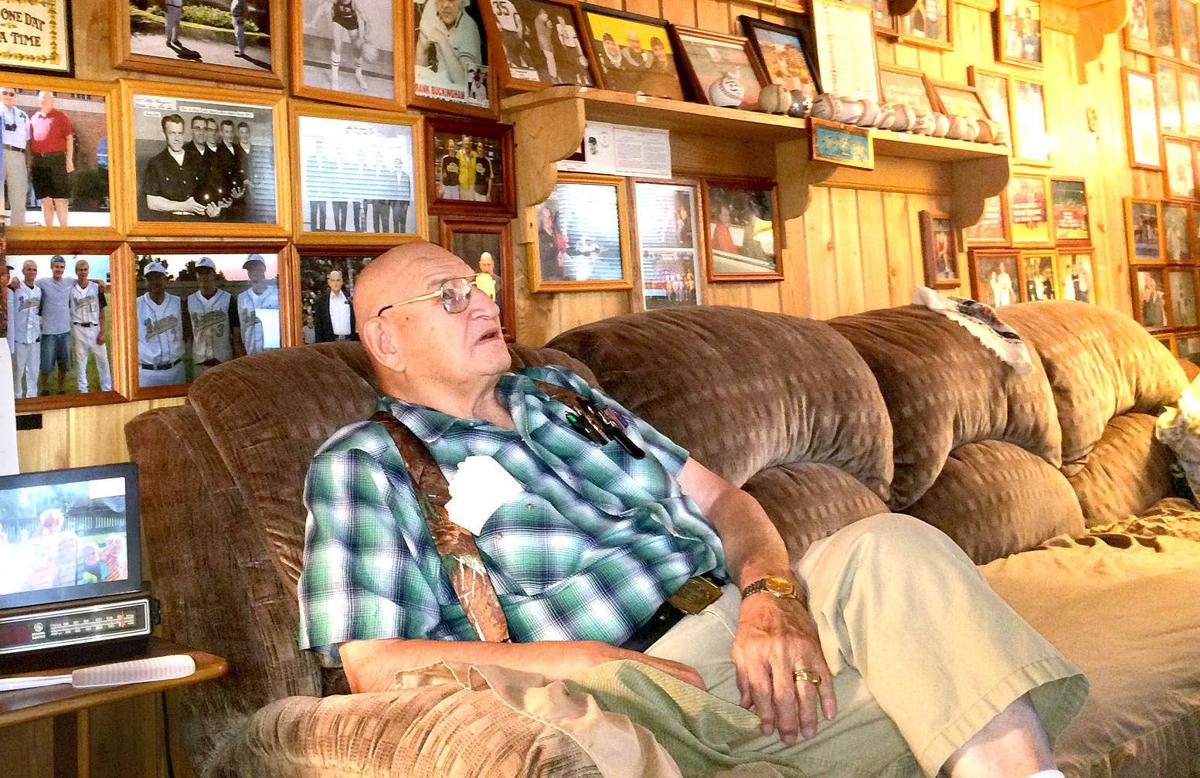 SIOUX CITY – There won't be any games today, but even if there were, one of the greatest sports fans ever wouldn't be there.
Kenny Bern, recognized far and wide as Iowa's No. 1 sports fan, died on Tuesday. He's now in heaven, reunited with his beloved wife Olga, and probably swapping stories with our friend Steve Allspach.
It's hard to put into words how everyone – and I mean everyone – felt about Kenny Bern. He left this Earth two months shy of his 93rd birthday and, believe me, my friend made the most of each and every one of those years.
So beloved was Kenny, the baseball field in Cherokee – his longtime home where he touched so many lives – was named after him last summer.
People of all ages gravitated toward Kenny. He was as genuine and down to earth as you could possibly be. Once you became his friend, you were a friend for life.
I can't recall the first time I met Kenny. It was sometime in the early 1980s when I was covering an event while working at the Storm Lake Pilot-Tribune.
He came up to me and told me he knew who I was and to keep up the good work. That meant a lot since I was just beginning my long career in sports journalism.
After that, every time I ran into Kenny and Olga – who made it their mission over 50-plus years to keep tabs on nearly every high school or college athlete and coach within a 70-mile radius of Cherokee – they went out of their way to greet me with a smile and well wishes.
Through the years, Kenny and I became much closer friends and were able to share many a long conversation. A lot of those ended in hugs.
That's what I will miss the most.
Kenny graduated from Larrabee High School in 1944. He left Cherokee County only briefly, to serve in the U.S. Navy during World War II, but returned for good in 1947. He worked at a packing plant in Storm Lake for 34 years.
He and Olga were married in 1949 and spent over 50 years together. When Olga died in 2008, it left a huge hole in Kenny's heart, but he continued their legacy of attending every sporting event he possibly could.
The medical problems that eventually ended his life put to rest a streak of being at every Iowa Boys High School State Basketball Tournament since 1946. He also never missed a state football championship since they started in 1972 and rarely missed a state baseball tournament.
"I thought Kenny Bern was the No. 1 sports fan in the state of Iowa," said longtime Sioux City Journal sports editor Terry Hersom. "He and Olga had their 50th wedding anniversary on a Sunday afternoon and Steve (Allspach) and I went to that and it was quite the deal.
"He would always go out of his way at state track meets, Drake Relays, you name it, if he was there he would always get over to say hi to me. It was so much fun to run into him."
Although he loved his high school sports, Kenny had enough spare time to become an Iowa Bowling Association Hall of Famer.
"He bowled in the classic leagues in Des Moines, so he drove from Cherokee to Des Moines every week," Hersom continued. "He said there was a truck stop just outside of Des Moines and on his way back from Cherokee he would have breakfast with Maury John, who coached Drake to the Final Four and later coached at Iowa State. A couple of times he ate with Chris Taylor, the 400-pound wrestler from Iowa State.
"We lost quite a resource. He had so many stories to tell. I'm just proud that I knew him."
Kenny became close friends with Jim Fanning, who grew up in tiny Moneta, Iowa, and was one grade behind him in school. Fanning went on to play professional baseball and later serves as a manager and general manager.
That's just one of the many contacts he made with professional athletes. Kenny and his late friend, Bob Hoffman of Denison, Iowa, trekked to baseball spring training in Florida for over 30 years.
Kenny became especially close to pitcher Bert Blyleven, whom he met at a Minnesota Twins caravan. Bern was invited to Blyleven's Hall of Fame induction.
Blyleven posted this on his Twitter account Tuesday:
"Just heard some sad news about the passing of Kenny Bern from Cherokee, Iowa. Kenny was a great Twins fan and we became good friends when we met many years ago on the Twins Caravan. Kenny was 92 years old and was loved by everyone. RIP Kenny."
Youngsters far and wide flocked to Kenny to pose for a picture. More times than not, he would reach into his shirt pocket – always full of pencils and pens – and pull out a piece of candy for a kid.
"I just love people and kids and I just try to be good," Kenny told me last summer. "You might notice those napkins I carry in the right pocket of my shirt. I buy these little kids treats and their hands might get sticky and they have a napkin to wipe it off."
There are so many stories that could be told, but one of my favorites occurred just a couple of years ago. He was asleep at 8 o'clock in the morning and woke up and found his neighbor at the foot of his bed. She told him they were going to re-roof his house as a present for his 90th birthday.
In the proudest moment of his long and unforgettable life, he threw the ceremonial first pitch at Kenny Bern Field last June.
He always sat under the only tree on the property. From now on, they should leave an empty chair there.
Rest in peace, my good friend, you will be dearly missed.
Get in the game with our Prep Sports Newsletter
Sent weekly directly to your inbox!