KINGSLEY, Iowa -- Kingsley-Pierson needed every bit of its relentless brand of basketball to turn back Akron-Westfield, 72-61, in an Iowa girls Class 1A regional quarterfinal here Tuesday night.
The 10th-ranked Panthers picked up their 17th consecutive victory, but had to exert a lot of energy to do so.
Akron-Westfield, which carried its own six-game streak into the contest, cut a 15-point deficit to three early in the third quarter. K-P, though, stretched the advantage a little more before the end of the stanza, then converted some clutch free throws down the stretch.
"We were expecting a battle with their two bigs," K-P Coach Nicole Goodwin said. "When you have a 6-2 and a 6-3 on the front line, our big thing was you're going to get blocked, you're going to get swiped, you really have to go in strong and give them one shot only.
"Their guards were on tonight and they were able to find them and kind of pick our defense apart in the first half. We made a defensive switch and down the stretch we were able to make them work a little bit and were able to pull away and knock our free throws down to finish it up."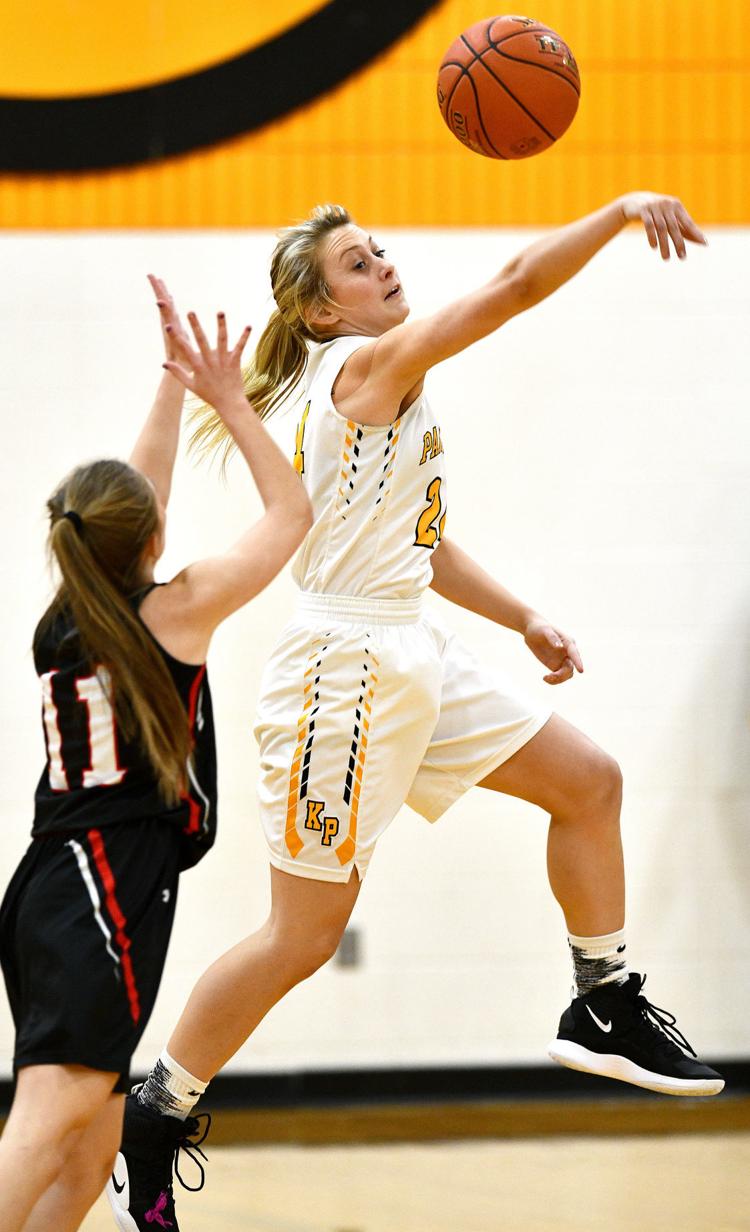 Talented junior Jayde Barto fired in a game-high 28 points for the Panthers, who will take a 21-1 record into a semifinal game here Friday. Barto had 19 of those before halftime while Madison and McKenzie Goodwin -- the coach's daughters -- picked up the slack in the second half.
Madison Goodwin scored 11 of her 18 points in the final two quarters while McKenzie Goodwin, a freshman, tallied nine of her 12 in the second half.
Kingsley-Pierson shot just 25 of 68 from the field, but held a 50-41 rebound advantage and turned a lot of those into second-chance points.
"I knew their speed would hurt us, we didn't match up defensively at times, we have big girls but we're not the fastest team," Akron-Westfield Coach Kent Johnson said. "I told the girls I wasn't disappointed in the game at all, just the second chances we gave them on rebounds."
Natalie Nielsen, a 6-3 freshman, had a monster performance with 19 points, 16 rebounds and four blocked shots. Nielsen, who wasn't a starter at the beginning of the season, came in averaging 10.9 points per game.
Guards Chloe Colt (11 points) and Jaden Harris (seven points) combined for 18 points for the Westerners, who closed their season at 14-9.
K-P bolted to an 18-9 lead after one quarter and stretched it to 37-22 late in the second on a 3-pointer by Barto. The Westerners scored the final eight points of the second quarter, cutting it to 37-30 at halftime, and were within 39-36 two minutes into the third quarter and at the free throw line.
But, after a missed free throw, the Panthers ran off six unanswered points and eventually broke for the third quarter with a 55-48 advantage.
Kingsley-Pierson made 8 of 13 free throws in the fourth quarter.
"We looked rushed on our shots tonight and you're going to have that, but we were able to do a few more things," Goodwin said. "That's what a team's for, you're going to have nights where you're not shooting but everybody come together. This is when you want them to come together and peak."
The Panthers host either MMCRU or Le Mars Gehlen in a semifinal. MMCRU and Gehlen had their game postponed until Wednesday night.